Get, set, vroom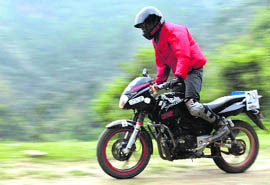 Once at a musical concert, the host asked AR Rahman what was so special about him. The musician took the mike and in his hardly audible voice answered - "There is something special in each one of us!" A good group of guys probably heard this interview somewhere. Out with their roaring engines, a 'bring-it-on' attitude, and a heady mix of passion, they are getting ready for the upcoming Mughal Rally organised by Himalayan Motorsport Club.

RACING AHEAD: Harpreet Bawa

Another chance
Life imitates art, or art life - the debate goes on! Director Gaurav Panjwani has picked up the idea for his debut movie from life itself. Second Marriage Dot Com that hits the screens next month, addresses the issue of second marriage. Not before long, marriage was just one time event in a person's life, at least in India.


A still from Second Marriage Dot Com

Touch of health
It takes five minutes of hunting and asking around to get to the two shelves of organic stuff at a grocery store. Though not many still know about the health benefits of the organic food, the selection now offers more than cereals and pulses. But for the people who swear by organic stuff, it's the way of healthy living. Switching to organic food is a lifestyle trend which is catching up faster than ever.
stress buster
Happy holidays
"Where are you going this holiday season, any plans,'' a clichéd enough question. In order to avoid a clichéd response, I never plan a vacation during holiday times. It also helps me avoid crowd and the long queues everywhere worth a visit.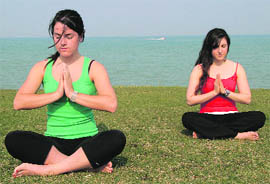 Get going with Yoga
Feeling stressed? You're not alone. Now a days, stress is an inherent aspect of life. It is a common condition, a response to a physical threat or psychological distress that generates a host of chemical and hormonal reactions in the body. State of accumulated stress can increase the risk of both acute and chronic psychosomatic illnesses and weaken the immune system.
Fashion funda
Draped to perfection
It's the fashion designer duo of Shantanu-Nikhil, who made the concept of drapes so popular in India. Not that it was a novel concept, but it was them who took it forward from sarees to western wear. It adds volume to the plain dresses and upped the fashion quotient of India's glitterati. They foretell the fashion for the season.
star track
Bebo's basic fashion
Kareena Kapoor is one of the most stylish superstars in the country. She always turns out perfectly and it is very difficult, if not impossible to not to gaze at her.



AB deals with flops, the right way


Prachi Desai's struggle to stardom


Marilyn Monroe my style icon: Eva Longoria


Angelina Jolie's brave shots


Blake Lively's fragrance


Vampire overdose


Stacy Keibler is not preggers
chatter box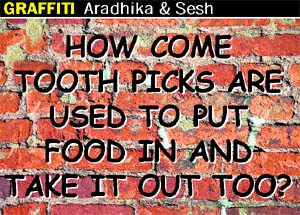 Talat's at work!
Celebrating a 100 years of cinema this week on Jhalak Dikhhla Jaa, ghazal maestro Talat Aziz has chosen to pay a tribute to Bollywood's shahenshah - Amitabh Bachchan. Grooving to songs like Khaike Paan Banaraswala and Ye Mera Dil, Talat and his partner Ankita are all set to prove to the world that he clearly is the Don. Bringing elements of romance, comedy and fun to the stage, we hope this duo will be able to garner the judges praises and more importantly, their marks. Hats off to the shahenshah!



Chilling out


Celebrating old times of Bollywood


THAT IS ENOUGH!


Finding true love


Sour dreams