M A I N N E W S
race to raisina

Pranab, Sangma to file nomination papers today
Anita Katyal/TNS
New Delhi, June 27
The Presidential race will get underway tomorrow when UPA candidate Pranab Mukherjee and the Opposition nominee PA Sangma file their nomination papers.
Mukherjee, whose victory in the July 19 Presidential election is a foregone conclusion, will file his papers at 11 am tomorrow in the presence of senior Congress leaders and representatives of UPA allies and supporting parties.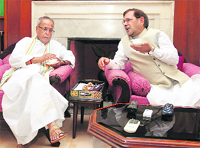 Pranab Mukherjee (L) and JD(U) leader and NDA convener Sharad Yadav in New Delhi. Tribune photo: Mukesh Aggarwal
Having been at the receiving end for a variety of reasons, the ruling coalition plans to use this occasion to put up a united front although a key UPA partner Trinamool Congress chief Mamata Banerjee will be missing.
Besides Congress president Sonia Gandhi and Prime Minister Manmohan Singh, others who will be present on the occasion include Sharad Pawar of the NCP, National Conference leader Farooq Abdullah, DMK's TR Baalu and E Ahmed of the IUML.
The ruling coalition is drawing solace from the fact that their candidate has drawn widespread support from across the political spectrum. Arch political rivals, the Samajwadi Party (SP) and the Bahujan Samaj Party (BSP), which never see eye to eye on any issue, are backing Mukherjee while two key NDA allies, Janata Dal (U) and the Shiv Sena, have broken ranks with the BJP to support the UPA nominee.
Mukherjee will file four sets of nomination papers. The Congress President and the PM are among the first signatories along with other senior party leaders and chief ministers. JD(U) leader and NDA convener Sharad Yadav has also appended his signature on one of the sets while SP leader Mulayam Singh Yadav and BSP chief Mayawati have also proposed Pranab Mukherjee's candidature.
As a goodwill gesture, Mukherjee called on Sharad Yadav at his residence today to thank him for his party's support. He will also meet Bihar Chief Minister Nitish Kumar and JD (U) legislators when he visits Patna as part of his election tour which starts on June 30 from Chennai to be followed by Hyderabad and Bengaluru.
An informal 12-member coordination committee headed by Pawan Kumar Bansal has been meeting regularly at the Congress party's "war room" at Gurdwara Rakabganj Road to manage Mukherjee's campaign.
Sangma, who recently resigned from the NCP to join the presidential fray, will also file his papers tomorrow in the presence of Janata Party president Subramaniam Swamy, senior BJP and AIADMK leaders and Odisha CM Naveen Patnaik.