Fan following
From the dowdy white 3-blader, the ceiling fan has today metamorphosed into an indoor decorative item that comes in a multitude of colours, shapes and sizes
Subodh Samuel
Back in the 1940s when a Canadian was introduced to a contraption called the ceiling fan, he thought it could be a profitable business proposition for crowded places in western countries like restaurants, bars and cinema halls. He wrote a letter to the Hong Kong manufacturer asking if these were available in different colours and sizes.
"Of course", wrote back the Hong Kong fan-maker, "You can have any kind of fans you like as long as they are 56 inches in diameter and white in colour!"
Look, how times change. From the dowdy white three-blade, the ceiling fan has today metamorphosed into an indoor decorative item that comes in a multitude of colours, shapes and sizes. Its job is not just to silently and efficiently manage air but in addition, it has become an object of great ornamental value that enhances the interiors of a room as much as other ornamental pieces.
Colours and materials
First, about the colours and materials. Today, fans come in a spectrum of colours ranging from the basic hues to the exotic sounding colours like antique copper, oil-rubbed bronze, brushed steel, matte black, vintage wine, satin nickel and more. The material used in making a fan is no longer confined to stainless steel. Blades can be made from bamboo, wood, plastic, aluminium and a host of other materials.
The shapes of fans, too, are being transformed in wildly creative ways. There are fans whose blades retract when not in use. Twin fans, triple fans, a quartet of fans on one mount. Then you can also have a series of fans strung to a pole or two, attractively designed fans on either side of an aluminium pipe.
Then there are the art deco, contemporary and geek chic fans. There are special doll-faced fans for young girls, and for boys, fans come in the shape of airplanes and helicopters. Disney has collaborated with Bajaj in India to come up with two fans — The Little Mermaid and Mickey & Donald costing Rs 3,200 a fan.
Artistic blades
When it comes to creating blades for high-end modern fans, the designers' imagination literally takes wing. The artistic blades can come in the shape of feathers, outstretched arms, satellite orbiting a planet, single-blade fans, multiple blade fans and — believe it or not — fans with no blades at all.
The bladeless fans are the newest fad that has taken the western world by storm. For example, the Dyson Air Multiplier is a pedestal fan without any visible blades. It is a circular tube mounted on a pedestal that throws a powerful draft of air as if by magic. In reality it uses technology found in jet engines to generate a cooling air stream. The blower in the base forces the air through a ring of vents which are aerodynamically contrived to cool the surroundings with air.
Time was many centuries ago when the hand-held fan was a utilitarian accessory used to generate air in hot-weathered places. Over the years, the hand fan became a status of wealth, power and fashion. The Paris-based House of Duvelleroy, founded in 1827, created some of the most stunning fans with carvings in ivory, tortoise shell, exotic wood, and horn with mother-of-pearl inlay, enamel, and even feathers.
Indian hand fans
India, too, excelled in the art of making hand fans. Every major region of India had its exclusive style. The Rajasthani hand fan, for example was usually handmade from papier-mache clay on a wooden base and the motifs were flowers and leaves. There were two kinds of hand fans from Punjab — the Peshawari pakkhe and the smaller version known as the Kundaladar pakkhi on account of their curled ends. The Kutch region has been famous for its artistic hand fans. Similarly, all other regions had their own designs.
For most of the 20th century the fan industry has thrived in India and today fans are one of the extensively used appliances in the building industry. Many of these — especially the pedestal fans from the last century, have become high-value vintage objects that find pride of place in the homes of the wealthy people.
Interestingly, in India the hand fan is very much in existence today — and thriving in rural areas and small towns, which are prone to frequent power cuts. However, these co-exist not just with the ordinary electric ceiling and pedestal fans but also with some of the new innovatively designed remote-controlled fans that come fitted with decorative lights and satin tassels. Here's looking at some of the most fancy newage fans that are putting a sparkle to the interiors.
Caruso twin ceiling fan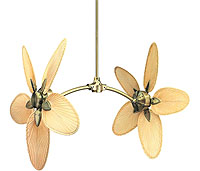 Those who just stand and stare at this fan should be forgiven. Its remarkable design is meant to be ogled at. The Caruso is a twin ceiling fan with adjustable two motor units that can be displayed at angles ranging from vertical to 60 degrees thus making it capable cooling an environment in almost any direction and at most angles. The fan comes in three colours — antique brass, bronze and rust. It has ten palm leaf oval blades and two fan speeds — forward and reverse— from its two powerful and noiseless motors. This fan is truly an attention-grabber.
Price: $1,125 to $1,350 (Rs 56,250- Rs 67,500)
Americana short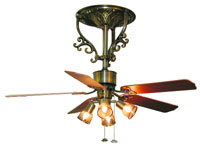 This fan is as retro as they get. The Americana Short Ceiling Fan has been inspired by the style at the turn of the 19th century. Its antique look will add character and charm to any setting. The intricate detail from the base of the fan is carried through with scrollwork reminiscent of that period. It is ideally suited for rooms which are done up in an elegantly retro style. The fan comes in reversible oak/walnut blades, but for that dramatic look a different blade finish can be selected from options that include natural palm, traditional wood and woven bamboo.
Price: $1,800 (Rs 90,000)
Monte Carlo Cruise outdoor fan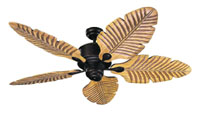 This one is a classic by Monte Carlos one of America's leading fan manufacturers. The five-winged outdoor ceiling fan has three speeds and comes with a hand-held remote. It has a Roman bronze-finish motor with light walnut coloured blades in the shape of very attractive fans. Though it is an outdoor fan, many people use it as an indoor decorative piece or to add colour and style to the interiors. It is also popular as a fan for the children's room.
Price: $220 (Rs 11,000)
Bayhill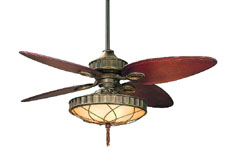 This fan exudes the type of old-world class and sophistication that is perfectly suited for any room with a vintage flair. The Bayhill Ceiling Fan, in Venetian bronze finish, is an exciting design that is transitional in style but still carries a tropical feel. The wide variety of blade and light fixture options add versatility in design as well as function. The soft strobe-like light from the attractive light fixture attached to the fan makes lends warmth and romance to the surroundings. The fan is both trendy and elegant and has a classic appeal to it.
Price $700 (Rs 35,000)
Brisa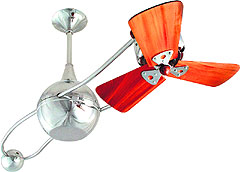 This fan gives the appearance of a satellite orbiting a planet. And that's what makes the Brisa 2000 a unique rotational ceiling fan. Its select mahogany or metal blades and lunar counterweight gently orbit about its spherical gear housing. The motor head can be infinitely positioned in a 180-degree arc for optimum air movement; the greater the angle of the motor to the horizontal support rods (up or down), the faster the axial rotation. A slow, controlled axial rotation is achieved by both motor head position and fan blade speed. The Brisa is available in polished chrome, brushed nickel, electric copper or matte black. The satellite-shaped fan is sure to space out your guests.
Price: $1,480 (Rs 74,000)
Banvil hand fan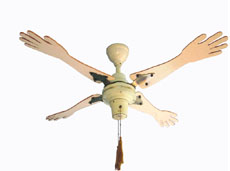 Any classic fan lover would love to get his or her 'hands' on this fan. The Banvil fan comes in three colour variations — white motor with antique brass brackets, polished brass stripe around motor and two gold tassle pulls. There is also the brown motor with polished brass brackets and stripe around motor. And the third is the polished brass motor with wood or cane blades. There are a very few available in the market and whenever a pre-owned fan is put up for sale there is usually a queue of buyers.
Price: Between $500 and $1,000 for pre-owned fans (Rs 25,000 and Rs 50,000)
Enigma
This design could have better suited the sword of Hercules or that of some giant medieval warrior. The Enigma Ceiling Fan breaks tradition from normal fans and has a two-and-half feet single blade, which gives it a swooping five-foot span. The rapid movement is balanced by the offset weight designed into the style. It includes a built-in light that uses halogen bulbs. It also comes with a fan and light wall control that can be converted to a hand held remote control. Seen in the movie I, Robot, the fan is bold, modern and strikingly beautiful.
Price: $1,900 (Rs 95,000)
Duplo-Dinamico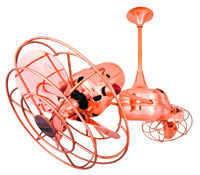 Few retro designs can match the aesthetics of the handmade Duplo-Dinamico Ceiling Fan. Made with polished copper, it features dual drive motors and full-circle rotation. There have been many imitations of this fan but none has been able to match its artistry. Functionally, too, it excels. The motor heads can be infinitely positioned in 180-degree arcs for optimum air movement. The greater the angles of the motors to the horizontal support rods the faster the axial rotation. The Duplo has metal blades with decorative cages for safety which enhance its visual appeal.
Price: $1,670 (Rs 83,500)
Camden
This fan has both creative design and a timeless appeal. In fact the Camden Ceiling Fan mixes diversity with simplicity to create a customizable product of quality and appearance. With its hand-carved walnut blades the Camden is best suited for covered outdoor installations. You can also choose from the option of two blades of 18 and 22 inch lengths as also a multitude of light fixture options. A smart combination of style and function, it evokes a vintage aesthetic. The four-blade fan in oil-rubbed bronze houses a powerful motor and capability of eight different blade options and ten different light fixtures.
Price: $350 for 18 inch blade & $550 for 22-inch blade (Rs 17,500 & 27,500)
Palmetto
This fan is so stunningly unique that it brings to fore form, function and style. The Palmetto Section Ceiling Fan includes one motor unit with two nine-foot spans and three-blade hubs per span (a total of six blades).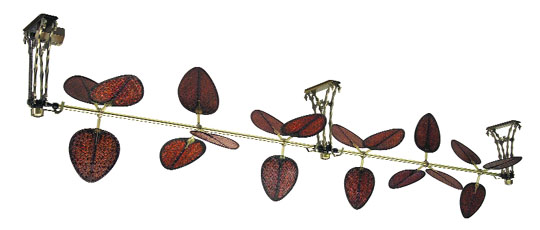 One can purchase up to five sections for a total span of 45 feet. Produced by American company Fanimation, which is one of the most creative fan designers of the world, the fan is usually found in leading resorts, hotels and restaurants around the world. For those who can afford it, it can make home interiors sparkle.
Price: $10,000 (Rs 5 lakh)
Wailea by Casablanca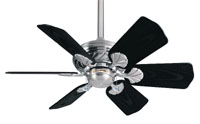 The Wailea is a stunner. Its brushed nickel finish and matte black blades give it the status of a decorative rather than a fan. Though its 31-inch blades are relatively small in size but since there are six of them with a light in the centre, the combination of the two ensures that the room is adequately airy and illuminated. The fan comes with a three-speed pull chain system that can also be operated with a remote control that also has a full-range light dimmer. Its relatively low cost makes the Wailea a winner all the way.
Price: $190 to $240 (Rs 9,500 to Rs 12,000)