M A I N N E W S
Karnataka rebels adamant; BJP in a bind
Shubhadeep Choudhury
Tribune News Service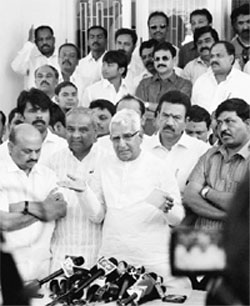 BS Yeddyurappa's loyalists speak to the media in Bangalore on Saturday. — PTI
Bangalore, June 30
The BJP central leadership today stepped in to resolve the fresh crisis in the party government in Karnataka after nine B S Yeddyurappa loyalist ministers resigned as the two warring factions continued to cross swords over the leadership issue.
With the fresh turmoil staring at its face, the central leadership deputed its emissary to resolve the crisis even as the state BJP ruled out accepting the resignations and the Yeddyurappa group intensified its attack on Chief Minister D V Sadananda Gowda accusing him of being influenced by opposition JDS and not taking his ministers into confidence.
Dharmendra Pradhan, BJP general secretary and in-charge of party affairs in Karnataka, rushed to Bangalore today where he met leaders of the two warring factions, but failed to broker a compromise.
"There is a crisis. I am meeting important leaders of all factions. We are inching for an early solution to the crisis. Everything will be sorted out within the party," he said.
Pradhan met Chief Minister Sadananda Gowda and ministers and MLAs supporting him. He also met Jagadish Shettar and other ministers representing the rebel faction backed by Yeddyurappa. Pradhan is to meet Yeddyurappa next.
The central leadership stepped in to resolve the crisis after nine ministers backed by Yeddyurappa gave their resignation letters to Chief Minister Sadananda Gowda, stating there was a trust deficit between him and them and accused him of being influenced by former Prime Minister Deve Gowda-led JD (S).
Seven of the nine ministers who resigned yesterday belonged to the Lingayat caste to which Yeddyurappa belongs. They want Sadananda Gowda to be replaced by Rural Development and Panchayat Minister Jagadish Shettar, a Lingayat. Those who have rallied around Chief Minister Gowda are mostly the party's Vokkaliga ministers and legislators.
Gowda met Governor HR Bhardwaj in the morning and briefed him on the political situation. He said he had spoken to the Governor about holding the Assembly session sometime in the middle of next month so that the Finance Bill, necessary to give effect to the various budget proposals, could be passed.
Gowda said he did not recommend to the Governor the resignation letters of the nine ministers for approval and added that he was confident of resolving the crisis with the intervention of the party's central leadership.
Ministers who quit yesterday explained the prevailing political situation to Pradhan and the reasons behind their decision. "We hope an acceptable solution will emerge," Minister for Water Resources Basavaraj Bommai, a staunch Yeddyurappa loyalist said.
Hitting back at the dissident camp, Gowda loyalist and minister Anand Asnotikar threatened some ministers would quit to strengthen the hands of Gowda. "Sadananda Gowda should not be dislodged at any cost. If such a situation arises, it's better to go to the elections," he said.
BJP Lok Sabha member and known Yeddyurappa loyalist GM Siddesh claimed at least 14 MPs were ready to quit if the demand for change in leadership was not accepted.
Caste divide
n Seven of the nine ministers who resigned on Friday belonged to the Lingayat community to which Yeddyurappa belongs
n They want Sadananda Gowda to be replaced by Rural Development and Panchayat Minister Jagadish Shettar, a Lingayat
n Those who have rallied around Chief Minister Gowda are mostly the party's Vokkaliga ministers and legislators