tete-a-tete
Beyond gender and angst
Nonika Singh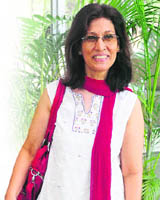 World class
From her first play "Nets and Traps", a solo performance, Bharti Sharma has come a long way and participated in various international theatre festivals. However, she doesn't think festivals abroad have an edge over the ones being organised in India, except "one is paid better abroad." She gives full marks to our very own theatre festivals, especially NSD's Bharat Rang Mahotsav, which she asserts is on a par with any prestigious festival held outside.

Bharti Sharma (above) with members of her theatre group Kshitij, which has survived for 25 long years despite it being a "many-directors" show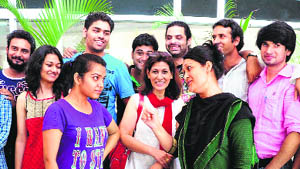 On the surface a gentle theatre person, Bharti Sharma may not be a copywriter's delight. But as she opens up, she reveals many layers of her persona. An actor, director and a documentary filmmaker, she has no hesitation in stating things as they are. Bharti, who was in Chandigarh recently for Women Directors' Theatre Festival with her play "Episode in the Life of an Author", doesn't quite endorse the concept of an exclusive women's theatre festival. She says, "Why put women in a different category? Even if they do have their own perspective, their works can't be clubbed in a slot."
For instance, her plays are not gender centric. Not only has she handled diverse themes dealing with a wide range of human issues but even comedy, normally not considered women's forte. Having said that, however, she also adds that women are more flexible than men and are able to put themselves in others' shoes and empathise with their predicament. That she thinks is the reason why her theatre group Kshitij has survived for 25 long years despite it being a "many-directors" show. She shares, "Unlike other theatre groups, which are marred by jealousy and groupism, in our group there are no ego hassles and anyone can direct a play."
An NSD graduate, Bharti has been deeply influenced by seasoned theatre person Rattan Thiyam, especially by his power of visualisation. Besides, she has learnt many lessons from thespian Mohan Maharishi who was the director of NSD when she passed out. On her alma mater, her viewpoint is, "The atmosphere was awe-inspiring, where we lived and breathed theatre 24 by 7 and were exposed to different aspects from lighting to set design to acting and direction." At the same time, she does agree that since NSD lays too much emphasis on technique, somewhere the spontaneity is lost. She thinks she escaped being typed into the typical NSD mould for as an actor she was acutely aware of this pitfall. Interestingly, love for acting was ingrained in her in early childhood years. Her father, a singer, encouraged her to perform on stage. Today, she thinks, "Being an actor director works better for, one has a greater understanding of characters." A postgraduation in Hindi opened a whole new world of Hindi literature to her. Since there is a dearth of good playwrights in Hindi, often she adapts literature, especially novels on stage, which she admits is no mean task. "What to include in the play and what to eliminate requires much deliberation."
Among the novels that she has truly enjoyed working on are Purnavatar by Pramath Nath Bishi, which was staged as "Main Hoon Na". Interestingly, she has also put her play on YouTube, a move that that broke new ground in theatre, and which was viewed 15,000 times. She quips: "I wanted to reach out to a wider audience." However, her foray into documentary films has been for altogether different reasons. Since documentary filmmaking is where her bread and butter come from, she admits that she can't afford to be too choosy. "After all someone else's money is involved and unlike theatre, here I am not the boss."
Though she does rue the fact that there is hardly any money in theatre, creative satisfaction and moments like creation of plays such as "Main Hoon Na" in which she amalgamated various techniques keep her going. Says she, "Purnavatar on which Main Hoon.. was based, came as a revelation. I learnt a very valuable lesson that one can't escape reality and has to confront one's fears and be comfortable with one's own self." Without a doubt, she is a confident person, self-assured in her own skin, and without a trace of angst or bitterness.