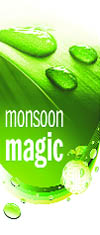 As the parched earth laps up the rain, monsoon is a season to rejoice for the connoisseurs and the health-conscious alike. One can feast on snacks that are special for this time of the year
Pushpesh Pant
The first showers announcing the arrival of the monsoon are eagerly awaited as the mercury continues to soar leaving our throats parched, body sapped of all energy and appetite all but gone. According to Ayurveda, the year is divided into seasons that either gift us vim and vigour or mercilessly drain energy out of our bodies. Aptly, they are given the names adaan and graham. You don't have to be a rocket scientist to match these epithets with summer and monsoon.




Romancing the rain, Capital style
Rakhshanda Jalil
Once upon a time, till not very long ago, we used to have the monsoon. Now, barring coastal areas, in most cities across Upper India, we have the rains. The difference is not simply one of etymology but of a change in lifestyle, urban planning, global warming, shifting weather patterns, in short a whole new cityscape that bears only a passing resemblance to what once was. The monsoon is a glorious burst of rainwater, preceded by damp masses of moisture-laden clouds scudding across the skies, bringing darkness at noon and followed by days upon days of uninterrupted deluge. The rains, or the rainy season, is a much shorter affair, bringing waterlogged streets, traffic jams and irater-than-usual city-dwellers.
Raindrops keep falling...
The rains have always inspired painters, writers and artistes. The mystique and flavour of season that provides succour from heat and dust comes alive through these pictures from The Tribune lensmen
Monsoon @ 24 frames a second
Saibal Chatterjee
Veteran Canadian filmmaker Sturla Gunnarsson is chasing the trajectory of the Indian monsoon for a new documentary feature. His intention, as the promo of the under-production film indicates, is to understand the centrality of the rains in the life and culture of the subcontinent.
'If you have a good body, flaunt it'
With her bikini scene in Housefull 2, Shazahn Padamsee has become the new hot-bod of Bollywood
Sreya Basu
You kissed Ranbir Kapoor in Rocket Singh: Salesman of the Year and donned a bikini in Housefull 2. How comfortable are you with bold scenes and characters?
I am from the theatre and my father (Alyque Padamsee) has always told me from the beginning that forget about everything, think there is an interesting role for you to play. So whether it is a bold or an innocent character or whatever, as long as the character appeals to me and I think I can bring my uniqueness to it, I will go for it.