Rain (s)platter
As the parched earth laps up the rain, monsoon is a season to rejoice for the connoisseurs and the health-conscious alike. One can feast on snacks that are special for this time of the year
Pushpesh Pant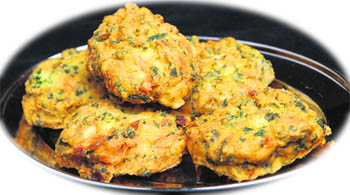 Thoughts of sizzling pakoras, accompanied by steaming cups of tea, dominate the mind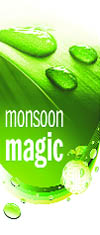 The first showers announcing the arrival of the monsoon are eagerly awaited as the mercury continues to soar leaving our throats parched, body sapped of all energy and appetite all but gone. According to Ayurveda, the year is divided into seasons that either gift us vim and vigour or mercilessly drain energy out of our bodies. Aptly, they are given the names adaan and graham. You don't have to be a rocket scientist to match these epithets with summer and monsoon.
The rest of the world and the southern peninsula of our Subcontinent experiences four seasons but we who dwell north of the Narmada and the Vindhyas experience six seasons that roughly correspond to the three doshas and the six basic flavours.


Stomach infections are endemic during the rainy season. Since oil has a higher boiling point than water and deep-frying annihilates disease-causing microbes, it makes perfect sense to dig into fried snacks
Ashad and saawan ritus are celebrated in traditional, classic and folk literature a well as arts and lore. The poet Kalidas celebrates the cycle of seasons in his lyrical poem Ritusamhar. The countless folk songs in kajari, sawan and jhoola genre do the same for the unlettered villagers. In the Rajasthan and Punjab teej is celebrated with gusto.
This is the time when torrential rains force people to remain indoors. Not only lovers pining for a union but also all those confined within four walls yearn for the deep-fried, hot snacks and steaming beverages.
This is the time when not only romantic desires but other appetites begin to stir and thoughts of steaming cups of tea, accompanied by sizzling pakoras dominate the mind. We are told, by those who should know, that this 'longing' is 'wired' in our brain — and for good reason. Oil has a higher boiling point than water and deep-frying annihilates disease-causing microbes in a blink. Pakoras and bhajia are quite popular in Punjab and the Hindi belt. In Bengal, bhaja is served with almost all meals round the year but has a varied variety during the rains.
Arandhan — literally translated as 'no-cooking' is a day when the family is served 'stale' (prepared the day before) just before the onset of monsoon. This is to test the standards of hygiene in the kitchen. It is a well-known fact that stomach infections are endemic during the rainy season and such traditional ritual indicates the wisdom of our ancestors!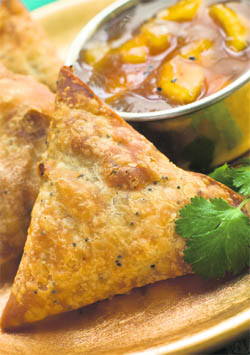 Samosas, a perennial favourite, take on a different taste and flavour this season
Also, those who have renounced the world — parivrajak, bhikku and the sanyasi. Chaturmas — the four months when the rains pour down, are the period when they, too, stay confined to monasteries or ashrams. Hot gruels and satvik khichri provided sustenance.
Orthodox Jain monks eschewed leafy green vegetables, as it was believed that invisible, microbial living organisms clung to the leaves and roots, and couldn't be separated easily. Others celebrated the verdure. In Uttarakhand, palak and lai vied with lauki and torai (ridge gourd) and sagia (Simla) mirch. These were gifts of the season — to be enjoyed while the bounty was available. Nowadays, most vegetables are available round the year, courtesy the cold storage, but these have neither the look nor the taste of hari subzi and phal.
With fodder available in plenty, the yield of milk increases and rich, creamy dahi is available in abundance. Chhach, tempered with cumin and chillies, vies with piquant fresh mint and asafoetida-laced jaljeera as a thirst quencher. Nothing stops you from attempting a bit of culinary national integration. Milky, masala chai can be alternated with peppery tomato-lemon rasam. If you really want to go all the way, pair it with masala dal vada.
In Maharashtra, sabudana vada is devoured with delight. Seengdana chutney and kachumber salad of khira and pyaaz make it quite substantial. The good old Mysore bonda has it all but has become quite extinct outside its native environs. But when it pours we find it a great companion.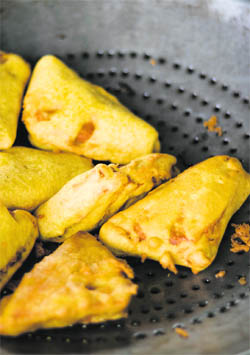 Hot bread pakoras straight off the karahi find favour with kids and adults alike
The kids can always be tempted with bread rolls packed with tasty titbits. Most adults, too, find these irresistible!
Let all this not give you the impression that monsoon masti involves slogging for hours in the kitchen. You can enjoy great tasting snacks like spicy potato wedges, potato skins with sour cream or tangy raita. One can imaginatively put to use what is available on the shelves of food marts.
It's easy to forget that while the showers bring down the mercury, they also increase the humidity in the atmosphere. We perspire constantly, dehydrate and lose vital salts all the time.
Physical exertion is unpleasant and what we gleefully consume is not easily digested. Carminative and digestive spices, condiments and herbs like mint and coriander, asafoetida and peppercorns etc come to our rescue. It is amazing how household monsoon recipes have incorporated these in various season-based dishes for countless generations.
There are some who believe that fish is not to be eaten in months that do not have 'r' in their name — May, June, July and August. In the pre-refrigeration era, fish tended to spoil very fast in summer and could be a health hazard. Monsoon is the spawning season . Now, hardly anyone observes these taboos.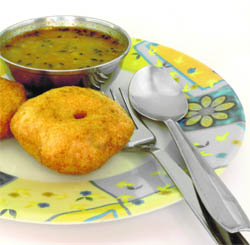 Masala dal vada with spicy sambhar is a delight for the tastebuds
What needs to be remembered is that while the anorexia of summer is steadily receding in monsoon, it is best to exercise restraint. It can be easy to go overboard while snacking. The main meal should be then light, easily digestible and nourishing. Simple one-dish meals like bhuni khichuri from Bengal, qabooli from Awadh are ideally suited for the weather. Delhi boasts of its kalmi vada and besan or mung chilla — plain or stuffed.
Ayurvedic prescriptions emphasise that any ingredient that aggravates vata should be avoided or at least countered with an antidote in the season when strong winds are blowing. The dominant rasa is katu (bitter). It is also well known that skin infections are quite common during the rains. But precautionary blood purification can keep these at bay. This doesn't mean that you have to gulp down unpalatable food at meal time — all that the good vaid say is that we should include the bitter in small quantities in chutneys, pickles and spices.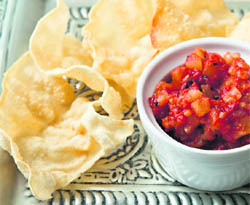 Pickles and papad are a perfect rain special
Thinkstockphotos/ Getty Images
Those who like vegetables like karela can experiment with regional variations in classic recipes. Peals, stems and flowers can all be considered edible. In villages of Uttar Pradesh kumharhe ke phool ki pakori used to be quite popular till about a few years ago.
Our personal favourite is the gooler kebab that can be enjoyed, both in vegetarian and non-vegetarian avatar. Ironically, the recipe belongs to the Kashmiri repertoire — from a land that lies beyond the rain curtain. Resembling a wild fig in shape, it is a tasty morsel-packed potli that no run-of-the-mill pakora, bhaja, samosa or vada can match.
Don't let the downpour dampen your spirits ever. Perish the thoughts of joining the childish chorus of "Rain, rain go away"! Let the raindrops play on the rooftop and the parched earth. Enjoy the moment when nature rejuvenates and savour the hot snacks and beverages!