Twin tune
Young brothers Eashan and Eash Goyal are working wonders with the guitar and piano, respectively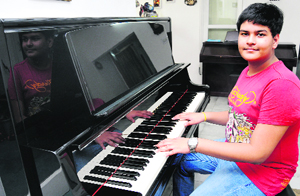 One strumming the strings of a classical guitar, playing Steve Vai, and the other running his fingers smoothly on the keys of the piano for a perfect Mozart symphony is surely music to the ear! Eashan and Eash Goyal are fourteen-year-old twin brothers from Chandigarh who have recently made it to the India Book of Records for being the 'youngest twin brothers to perform Western classical music'.
I find piano simpler than the guitar; I have one digital piano and one acoustic piano. Eash Goyal
Assessing music
The Associated Board of the Royal Schools of Music Exam (ABRSM), London, is the leading authority on musical assessment. They deliver exams consistently worldwide with the help of experienced music teachers, who choose potential music learners every year. The High Scorer's concerts are held randomly to encourage music lovers, which are enjoyed by a good number of audiences. On the other hand, Trinity College, London, is the international external examinations board of Trinity College of Music. Trinity College, London, is also one of the traditional validating authorities for Trinity College of Music, the others being the University of London and the University of Westminster.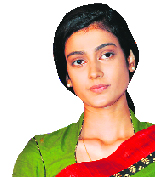 Operation onscreen
Other than the stories of how they sliced the veins of the heart, how they reasoned out a particular treatment, what else would you expect the doctors to talk about? Well, shift your radars on to the beautiful faces in Bollywood and television industry, on the real-life doctors who have chosen to go behind the arch lights. And you bet they talk much more than operation theatre and ligament fractures! On Doctor's Day we speak to celebrities who hold a doctorate degree and are gracefully striking a balance between the two worlds.
Reel vs real
In the character of a sobbing mother, yesteryears actress Nirupa Roy would often plead — Mere bete ko bach lo doctor saab and the doctor would often reply — Hum poori koshish karenge. The dialogues remained more or less the same each time. Then after a few decades came Munna Bhai MBBS and how it changed the doctor-patient equation! This Doctor's Day some 'real' doctors give their take on the 'reel' ones.

Doc's diary
Is there anyone who hasn't been through those college flashbacks? When one fine day on a rainy morning or a lazy afternoon, there's a sudden splash of memories of the days spent in the classrooms! "Years after I passed-out, when I had more time to myself, I thought of penning down all those memories," says Dr Ketaki Patwardhan Nirkhi, author of the fictional work Those Enchanted Four and Half Years, of her four-and-a-half years in a medical college in Miraj, Maharashtra. She adds, "Even before I knew, I was actually writing a book."
All you can eat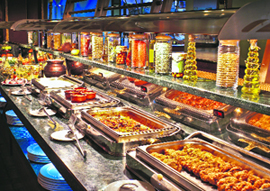 A host of buffet options at hotels and restaurants across the city is being lapped up by food lovers
Thanks to the ongoing trend of buffets, the ala carte menu is definitely on the back burner. With a variety of dishes and multiple cuisines on offer though there is very little left to imagination, but we check what is in a buffet that is making the concept an ongoing trend. Food note: "People like to experiment with different food and in ala carte menu you can't order many dishes at a go, but in a buffet there is a variety being offered and that is what makes it so enticing," says Joydeep Ghosh, an employee of a telecom company.
TRENDSETTER
Hi Five
It is wonderful to see how simplicity combined with elegance and a trendy attitude becomes a fashion statement. It may not be getting hooked on to the 'brand' wagon or making a hole in the pocket but the stance one adopts says it all. Final year BDS student Zeena Bajwa becomes trendy with her nonchalant smart attitude.
Doc Talk
Hot cuppa tea
Tea is the most widely consumed beverage in the world, after water. For us, Indians, tea has taken a humongous space in our daily routines. The importance of drinking tea in India cannot be confined to words. We start our day with a hot steaming cup of tea not only as an early morning refresher but also as a wake-up stimulant. Tea serves as a potent medium to connect at family get-togethers, at college reunions, at daftar meetings in sarkari set-ups and at formal corporate occasions. It is like a comfort drink for many Indians and so goes the proverb that Indians have tea on two occasions when it's raining and when its not.
In town
Shake it up!
Ukrainian belly dancer Oksana Teroshyna performs her well-practiced moves at a fusion restaurant in Chandigarh
With Cloud 9 celebrating its first anniversary, belly dancing is back again! Dinners at the weekend are special as Ukrainian belly dancer Oksana Teroshyna performs her well-practiced moves at Shivalikview's fusion restaurant. Trained in the dance by her mother initially, Oksana has been doing it professionally for seven years now. Having had a full house on Friday night, she is thrilled at her first visit to India and the rousing response she has received.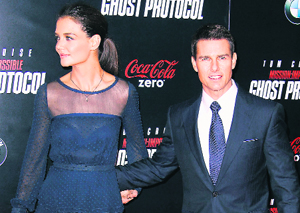 Katie Holmes files for divorce
The high profile Hollywood marriage of Katie Holmes and Tom Cruise is over after the Dawson's Creek actress filed for divorce from her superstar husband of five years. A move that left entertainment industry and even Cruise surprised, Holmes filed papers in New York citing "irreconcilable differences". The actress wants sole custody of couple's six-year-old daughter Suri.
Parting ways: Katie Holmes and Tom Cruise
Get pretty with Vidya Balan
The very talented and National-Award winner Vidya Balan has great skin and hair. She gives us some tips about maintaining the same.
Shekhar Kapur: Hate to see myself on screen
Critically acclaimed director Shekhar Kapur, who started his career as an actor in 1975 film Jaan Hazir Hai, isn't too fond of seeing himself on screen.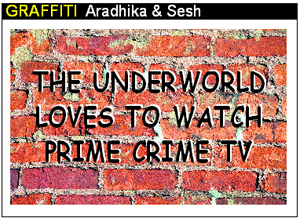 Astro turf
ARIES: The card "Eight of Swords" bestows negative influences so a certain set of problems are bound to arise. Cater to people who may be feeling low. A disagreement with your partner won't be resolved for a few days. Tarot message: Try to avoid serious discussions with loved ones. Lucky colour: Aqua blue. Magic number: 39
The year ahead
If your birthday is July 1...
There is need control finances for better results. Less favourable atmosphere may affect career progress. Stick to moral values in personal life. You'll be able to clarify all doubts with your work partners. You'll feel serene and cheerful at work. You'll be able to reinvigorate and strengthen your relationships confiding your concerns and secrets.
Chatter box
Shopping frenzy
One thing apart from the never-ending shoots that keeps Mouli Ganguly - Anushka of Kya Hua Tera Vaada busy is shopping! So when Mouli got a chance to wind up her shoot early, she couldn't help but go on a shopping spree. Mouli admits satiating her never ending shopping binge that forced her to buy new pair of shoes, handbags, accessories and much more.  No prizes for guessing who the partner in crime was? Well, none other than her Hubby Dear!!!


The name game
Kareena Kapoor will not convert to Islam to marry Saif Ali Khan. She will not change her name. She will just add Khan to her existing name. The marriage is happening on October 16 and she is wearing Sharmila Tagore's wedding sharara.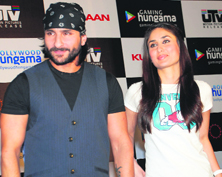 Bridezilla

: Saif Ali Khan with Kareena Kapoor

High Spirits
Ice ice baby
Muddle the fresh mango in the bottom of the mixing glass and add all the other ingredients.Shake well with ice and strain into a chilled martini glass. Garnish with the lemon peel.
The flip side of fame
R&B star Usher claims he is being stalked by a delusional woman who is convinced she is married to him. The 33-year-old has obtained a temporary restraining order against 26-year-old Darshelle Jones-Rakestraw who showed up uninvited to his Georgia home on June 23 with the intention of harassing him and his family, reported a publication online.
When in doubt, bake it out!
The Amazing Spider-man actress Emma Stone says she bakes to cope with her anxiety. The 23-year-old said she developed a passion for making cakes and cookies while shooting her new superhero blockbuster because spending time in the kitchen helped her relax, reported a website.
Scent of a woman
Singer-actress Jennifer Lopez has been named the queen of celebrity perfumes after making USD 80 million in profit from her range of scents.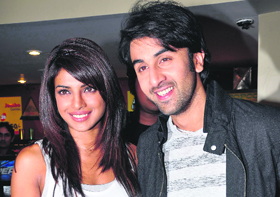 The finishing touches
The release of Barfi has been postponed again. This is because the producers want the film to have a lighter mood. As of now, it is very grim so additional songs are being recorded and happy scenes between Priyanka and Ranbir are being shot! Phew!


Well tried: Priyanka Chopra with Ranbir Kapoor

Out in the open


For a long time, Kangna's British doctor boyfriend was a mystery. People said he did not exist. But he does. The two were spotted out and about in Mumbai and have been dating for a year now. His name is Nicholas Lafferty. They both went for the screening of Maximum and were spotted in suburban Mumbai. Good catch: Kangna Ranaut
Split wide open
Dolly Bindra is a big mouth and loves attention. She says the casting couch and even prostitution are a reality in the film industry. She pointed fingers at Veena Malik who anyway does anything to grab attention. We wonder what she will say and do next!
Runners up
Aamir Khan's shooting schedule was affected by the heavy rains in Mumbai recently. He had to reach Yash Raj Studios and was stuck in traffic. So when the car was stuck, he would get off and start walking with his bodyguards in tow. People were surprised to see him on the road.



Round the clock
Emraan Hashmi has great work ethics and that is why people love working with him. He shot for twelve hours straight to complete one scene in Ek Thi Daayan. He is currently vacationing in Europe with his wife and son and will return after a month.

Work order: Emraan Hashmi