M A I N N E W S
Gutted Sufi shrine to be restored in 2 yrs: Omar
Tribune News Service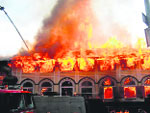 Srinagar, July 1
A week after the shrine of Pir Dastageer Sahab was gutted triggering protests in the Valley, Chief Minister Omar Abdullah today said the shrine would be restored, keeping its original characteristic intact, within two years. Omar, who is also the chairman of the Muslim Waqf Board, said this while interacting with members of the civil society, including various Imams and other religious heads.


Picking up pieces
l Chief Minister to monitor restoration work on the basis of its "original structural characteristics"
l Management and staff of all shrines under the Muslim Waqf Board to be trained to use fire safety equipment
l Fire safety audit of all shrines soon
He said he would monitor the restoration work on the basis of its "original structural characteristic".
Omar said digital photographs, images and maps of the shrine had been documented in detail by the government through the Indian National Trust for Art and Heritage (INTACH), J&K chapter, which would help restore it to its pristine glory.
In view of allegations of sabotage behind the June 25 fire incident, Omar also sought suggestions regarding the "expansion" of the ambit of inquiry ordered to ascertain the reason of the fire.
"Two inquiries — one by the divisional commissioner and the other by the police department, through a special investigation team (SIT) — have been constituted and suggestions to expand the ambit of these inquiries will be given proper consideration," he added.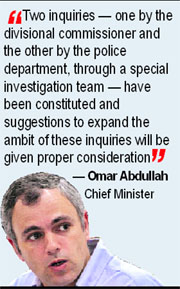 Mufti Bashiruddin Ahmad, who heads the self-styled supreme court of Shariah here, had accused the Chief Minister of "destroying evidence" by carrying out "hasty" cleaning up operations at the shrine. The Peoples Democratic Party (PDP), too, had expressed similar concerns. Omar appreciated the restraint exhibited by the people to maintain amity and peace in the state.Normal life was restored in the Valley yesterday after witnessing clashes between protesters and security forces amid shutdown calls and restrictions placed by the government.
The CM said the management and staff of all shrines under the Muslim Waqf Board would be trained in the use of fire safety equipment, while asserting that directions had been issued to conduct fire safety audit of all shrines.
He sought the support of the civil society at large to help maintain tranquility, especially in the wake of the ongoing tourist season in the state.
Deputy CM Tara Chand, Minister for Rural Development Ali Mohammad Sagar, Minister of State for Home Nasir Aslam Wani, vice-chairman of Muslim Waqf Board MY Qadri and Imams of various shrines were present at the meeting.