On the fast track to the Games
Kirkby Sports College is in one of the UK's most deprived areas. But its role as a base for Paralympic athletes offers pupils unique opportunities to learn
Richard Garner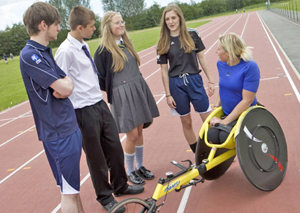 Paralympian Shelly Woods with pupils from Kirkby Sports College
THE word "amazing" has rarely — if ever — been used by Ofsted, the education standards watchdog, to describe a school's work. Yet that is just how inspectors described a pioneering new Olympic-based sports venture at Kirkby Sports College in Knowsley, near Liverpool, which has helped its largely white, working-class intake develop links for the first time with a range of ethnic communities.
The college for 11- to 16-year-olds, an amalgamation between two struggling secondary schools four years ago, is in one of the most deprived boroughs in the country. But it has a trick up its sleeve — it specialises in sport.
Its main task is to provide a decent education for the 1,100 pupils that attend it during the day. However, during the next few weeks, it is doubling up as a training camp for disabled athletes as they prepare for the Paralympic Games. "This is a white, working-class area and this has given Kirkby pupils cultural enrichment they would not get in their community," says its headteacher, Baljit Gandhi, who describes herself as a "female small Indian headteacher in a white, working-class school".
"They didn't bat an eyelid about my appointment. They weren't fazed at all," she adds.
The school is already being used by Shelly Woods, the UK's main Paralympic hope in the 800m, 1,500m and 5,000m and the marathon in the August games, and several of her fellow athletes, for training.
She is on a hectic training schedule at the moment of nine days on, one day off as the beginning of the Games approaches.
Kirkby's link with the Games will not end when Woods heads south to compete. During the actual Games, too, it will act as base camp for the Romanian team — and possibly the Canadian and Namibian, too.
In past years, it has also hosted the disability "Grand Prix" — where Paralympic hopefuls have competed to qualify for the actual games.
"I do my track work here," says 26-year-old Woods, who won a silver medal in the 1,500m at the Beijing Games and a bronze in the 5,000m. "I'm excited about the Games. I'm fairly confident but there will be athletes at the top of their game.
"At Beijing, I was only 21 and it was just an honour to compete. This surface is a remarkable track and just like the one I will race on in the stadium. It is great to be able to practise here." However, it is the involvement with international teams that has provided a hitherto unavailable opportunity for youngsters at the college to learn about other cultures.
Some pupils have been acting as "sports ambassadors" to the athletes during the Grand Prix. That involved ferrying them around and looking after their needs and was, according to Baljit Gandhi, a great confidence booster to the pupils.
It gave the pupils the kind of communication skills and teamwork that Britain's bosses, in a report earlier last week, said was so sadly lacking in today's school and college leavers.
Ofsted, in its report on the school, put it this way: "The outstanding leadership of the school's specialism in sport has been used to provide amazing opportunities — such as hosting the trials for the Paralympic Games."
Ofsted also praises the way the school's sporting links have helped its pupils to develop links with other cultures and countries — such as Namibia, where Kirkby Sports College is now twinned with a partner school.
Pupils at the school have raised £10,000 for their sister school in Namibia through a combination of sleepovers and sponsored events – even a "splat the headteacher" competition. "They had to pay highly for that," she says wryly.
While the Olympic running track has served to give the school its links with the Olympic Games, is not the only facility that offers the kind of sporting opportunities that pupils at other schools can only dream about.
It also has a full-sized synthetic turf pitch for football and hockey, multi-use games areas for tennis and netball, plus provision for cricket and two activity/dance studios within the school buildings.
"We offer a wealth of extra-curricular and enrichment opportunities for all students," it says in its mission statement. Hardly surprising, therefore, that some of its students are entertaining the idea of a career in sports-based activities such as management or coaching jobs — or even working as a PE teacher — once they leave school.
Gandhi says the school's attendance rate had increased markedly as a result of its initiatives. "Every student is in school, and in school in full school uniform," she says.
"We're relentless about that. We're well aware of the economic environment out there facing our students but we're fighting against doom and gloom and want to be aspirational.
"The sports ambassadors scheme teaches communication skills. Most of our pupils go on to college or apprenticeships. Our Neets figures (youngster not in education, employment and training after leaving school) are very, very low." The school has also won national recognition for its treatment of gifted and talented children.
According to a national strategies document on raising standards: "Pupils demonstrate excellent concentration and are rarely off task, even in extended periods without direction from an adult."
She admits that having what she describes as "inspirational buildings" helps to spur on achievement at the school.
Its wide corridors give a sense of an efficiency and calm as students move around the school. And it has the facilities to help disabled pupils cope. "It is not an issue if you are in a wheelchair," Gandhi says.
Comments about the school from parents include: "This wasn't our first-choice school but we're so glad our son came here. The opportunities available to him are amazing." That word again.
"We're so impressed by all of the clubs and activities on offer," added another parent.
Of its two predecessor schools, one — Ruffwood — gained notoriety eight years ago for having the worst truancy rate in the UK and the other — Brookfield — had less than one in three of its pupils gaining five A* to C grades at GCSE. The Ofsted report reveals this had risen to 77 per cent two years ago. As a result of its decision to host the trials for the Paralympic Games (where one of the Romanian team qualified for the finals), the pupils have developed an interest and insight into the Olympics they may not otherwise have had.
Some of them, as a result, are going along to the Games in August.
During the Games they will be cheering for Woods, but as far the rest of the tournament, whether it will be for the UK or Romania may well be in doubt. — The Independent