Dressed to kill!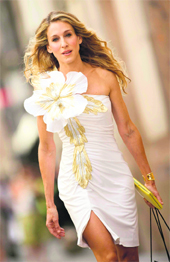 The Indian television industry certainly scores low on fashion! Why else can't we boast of characters like Carrie Bradshaw or Gabrielle Solis?
Sarah Jessica Parker loaned a Fendi bag and kick-started a fashion parade in the show Sex and The City. Parker, as Carrie, then graduated to carrying an assortment of other luxury brands, which mutually benefited the series and the labels. Eva Longoria earned the fashion icon status fairly well in Desperate Housewives. Also a brand ambassador of L'Oreal, she makes equally fashionable appearances at the red carpet events (Cannes being the recent one). Cut to the Indian television Industry-fashion is totally lost in the quagmire of generation leaps. Strangely, our TV industry hires stylists but experimentation is still at its lowest. While some actors rue the fact, some justify sleeping in fake kanjivarams, with mascara and false jewellery in place!
Focused designs
Designer Pali Waraich says she helps the cause of women empowerment
The intricate corset work in bright green colour on the border of the magenta sari makes the otherwise plain cloth perfect for any occasion! Pali Waraich, the designer, then takes out a white silk kurta. On the collar and around the button line, the same corset work is done in zari thread. In her journey, spanning around thirty years, she has revived corset work to the extent that it has been used to make a blouse and even a short dress!
New Krishna
Akshay plays bike-riding almighty in Oh My God. The first look of Akshay Kumar starrer Oh My God has been released showing the Bollywood star play a modern day Lord Krishna riding on a hunky motorcycle.

Hrithik impresses Hollywood
Indian film industry's song and dance culture has found a fan in Step Up Revolution director Scott Speer, who is also impressed with Bollywood star Hrithik Roshan. "Yes, of course, anyone who is interested in dance and music will know about Indian movies. It has a lot of music and dance and colours in them," Speer said in an e-mail interaction.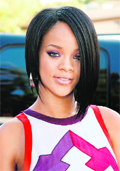 Fans and fury
Rihanna disappoints her Swedish fans by mixing up countries
Rihanna, who headlined the annual Peace and Love Festival in Sweden, kept her fans waiting for 45 minutes, before she took the stage on Saturday. If that wasn't bad enough, furious fans took to Twitter to claim that she appeared intoxicated and wasn't singing live.
Mohit Chauhan ties the knot
Bollywood playback singer Mohit Chauhan has tied the knot with journalist Prarthana Gehlot, a family source said. The wedding, a low key affair with only family members and close friends attending, was held at the hotel at Barog, 10 kms from Solan, last weekend.
33 is a bad number for Cruise
Tom Cruise seems to be unlucky with the number 33, as all his previous wives were in their early thirties when their marriage with the actor ended. Mimi Rogers, Nicole Kidman and Katie Holmes all aged 33 at their time of divorce.
Separate bedrooms?
Hollywood star couple Tom Cruise and Katie Holmes reportedly had separate bedrooms in their sprawling LA apartment as their marriage fell apart.
Co-star concerns
Actor Johnny Depp is struggling to master horse riding on the set of his latest film The Lone Ranger but insiders say he has not yet got to grips with his animal co-star.
Direction on the cards
Alex Pettyfer has launched his own production company in a bid to branch out into movie making. The 22-year-old, who found fame in Hollywood with starring roles in Magic Mike, Beastly and I Am Number Four, said he dreams of working behind the camera as a director.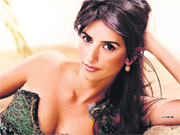 Cruz loves cooking and cleaning
The actor is enjoying time off after the birth of her son
Penelope Cruz has revealed that being a housewife is the ''best thing in the world'' and loves staying at home to cook and clean. The 38-year-old actress, who has been staying at home since giving birth to 17-month-old Leonardo with husband Javier Bardem, enjoys not having a job to go to because it means she can concentrate on her cooking.
Mix and match
It's all about the floral summer dresses for this style diva. Neha Malik, a young graduate from MCM is no newbie to fashion, from modelling assignments to walking around in stilettos, she has done it all. We find out what makes this pretty face a trendsetter.
Par Excellence
Turn-don't slide
Lots of golfers misunderstand the movement of the lower body. The hips rotate or turn and should not make a lateral sliding move. This applies to both the backswing and the forward swing.
TROUBLE SHOOTER
Tap your inner strength
I have been married for the past eight month, but my husband is not showing care and love which a woman wants. He wanted to go in for further studies and is always reading books. He he even left a good government job. He doesn't talk to me for many days. Please tell me what to do? — Preeti, Ajnala
Weight watch
No child's play
As you sow, so shall you reap - a saying that can be used aptly for childhood obesity! Children obese after the age of 10 years or in their pre-pubertal age (12-16) are 95 per cent more susceptible to obesity in their twenties and thirties.
On a rainy day
Monsoon might be away but there is no harm in getting ready for it. Here are some fashion essentials, a few musts that will make the rainy season more enjoyable
Monsoon has hit the southern skies and while we wait for the skies to pour, in the meantime why not ring in the showers with a tinge of style. Though from footwear to fabric almost every fashion essential alters with the season, so, we do a quick style check and list what's hot and what's not so hot this monsoon.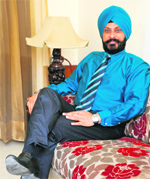 success mantra
Engineered to perfection
Dedication, hardwork, sincerity, transparency and ethical dealings were a few qualities that Hartek Singh inherited from his father, late Amrik Singh. Starting his career as a marketing representative of engineering products, Hartek set up his dream company AMTEK in 1991, all at the age of 25. The first company in the region to offer HT electrical equipment in a single window concept, AMTEK has progressed by leaps and bounds. Hartek shares his success mantras with us.
Star in the making


He is not a regular child actor on television. The star of Jai Jai Bajrangbali, he bagged the Best Child Actor award in the 2012 Indian Telly awards. Master Raj Bhanushali famously known as Bal Hanuman on Sahara One's Jai Jai Bajarangbali is only 6-years-old. He has made his mark on the small screen with his acting skills. The youngest actor of the Indian television industry, Raj Bhanushali talks about his show and more.






Happy couple

: Esha Deol with husband Bharat Takhtani at their wedding reception



Falling apart:

Tom Cruise and Katie Holmes
chatter box
Bengali girls seem to have taken over the television world. Known for their beauty and grace, the girls from West Bengal add a dash of glamour to the small screen. We take a look at the ones currently ruling the television.
Beauties of Bengal
Balika Vadhu and Pratyusha Banerjee are synonyms of each other now. Pratyusha began her career with the show and has climbed the ladder of popularity and success. Today she is basking in the glory of her hit show.
The year ahead
If your birthday is July 3...
You're driven by your emotions, particularly when it comes to relationships. If you get the urge to see someone, you'll do your best to make it happen. You also have a tendency to do things as you think of them, without considering the consequences before swinging into action. This works well, provided you don't do anything reckless or hasty.
Astro Turf
ARIES: You are awakened and energised by fiery "Knight of Wands". Your creative abilities will be at their peak. Romantic relationships can benefit from honest communication.