M A I N N E W S
Air India pilots call off 58-day strike
Pilots not criminals, says HC; tells management to hear out their grievances
Legal Correspondent
New Delhi, July 3
Air India pilots today called off their 58-day-old strike after the airlines management agreed to consider their grievances "sympathetically".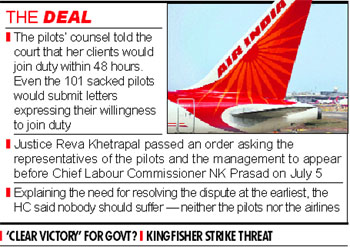 Both the management and the pilots, numbering 434, made their respective announcements in the Delhi High Court that had yesterday asked them to try and amicably settle their dispute out of court.
Senior counsel Geeta Luthra, appearing for the pilots, told Justice Reva Khetrapal that her clients would join duty within 48 hours. Even the 101 sacked pilots would submit letters, expressing their willingness to join duty.
Justice Khetrapal passed an order asking the representatives of the pilots and the management to appear before Chief Labour Commissioner NK Prasad at 4.30 pm on July 5.
Further, the HC asked the AI management to "sympathetically" consider the pilots' grievances, including the plea for reinstatement of those sacked in the wake of the agitation demanding career progression.
The pilots, who had intensified their agitation by launching an indefinite hunger strike, had moved the HC yesterday, stating that they were ready to end their strike if their sacked colleagues were taken back and the recognition to their union, the Indian Pilots Guild, was restored.
Initially, airlines counsel Lalit Bhasin contended that the pilots should first call off their agitation unconditionally as they had defied the HC's order declaring their strike illegal and asking them to join duty. The management was ready to talk to them only if they ended their stir.
The pilots, on the other hand, wanted the management to treat them as one entity and not as two categories — those sacked from service and those on strike. Justice Khetrapal asked the airlines to have an informal talk with the pilots to thrash out the issue.
Explaining the need for resolving the dispute at the earliest, the HC said nobody should suffer -- neither the pilots nor the airlines. The pilots were not a criminal element, the Judge pointed out.
The management said the airlines was suffering a loss of Rs 5 crore every day while the public was being put to hardship.