B-town calling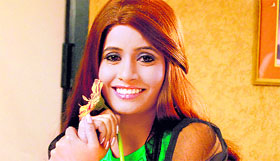 You have to scout really hard to sift one out of ten Punjabi music albums that do not feature Miss Pooja's track! Channa sachi muchi or Ek tere karke, she is one Punjabi singer who dishes out songs by the dozen! And the 'good-for-her-part 'is that a music director known to 'lift and gift' songs, Pritam, noticed this incredible feat and gave Miss Pooja a chance to sing in the upcoming movie Cocktail starring Saif Ali Khan and Deepika Padukone!
success mantra
Engineered to perfection
Dedication, hardwork, sincerity, transparency and ethical dealings were a few qualities that Hartek Singh inherited from his father, late Amrik Singh. Starting his career as a marketing representative of engineering products, Hartek set up his dream company AMTEK in 1991, all at the age of 25.
Rock on
The sparkling clear colour 'rocks', the tinkle of the glass and twinkle of the drink poured on top, makes it look irresistible! If cocktails and mocktails have become blasé for you, it is time for you to try out the new 'rocktail' that is set to bowl you over and rock your senses.
gyan zone
Get under the skin!
No matter what - you step out into the sun during the summer or the succeeding monsoon and you are sure to get a tan! "Yes it is right because generally in monsoon people think that if there is a cover of clouds and the sun's rays don't reach them, the skin is safe," says Richa Agarwal, managing director, Cleopatra, Sector-8, Chandigarh.
Doc Talk
Listen to your heart
The latest findings on heart disease are nothing unexpected: Most young men and women might think that they are unaffected but they are wrong. No matter how old (or young) you are, the only way to stay on top of your game is to know your risk factors and take the right steps to avoid problems down the road. Here is everything you need to know to stay healthy.
pet passion
You & I…together we go
It was only a matter of switching onto 101 Dalmatians and she turned her house upside down for her own dotted possession. Laughs Amreen Singh, student, MCM DAV College, "I was in Class V, when I saw the movie on television and that was it for me."
celeb point
Gudiya and me
I had a special thing for the name gudiya! I guess playing with dolls like all other little girls, I subconsciously entered their world of dreams and fantasies. A utopian world where all was (is) well and I took to the name gudiya.
High Spirits
Move with it
Bay Breeze This cocktail is also called a Down-easter or Hawaiian Sea Breeze
A mango treat
It is mango mango everywhere. The soaring temperature also increase the popularity of the king of fruits. What could be a better time than sweltering heat to indulge in mango fever at the "Mango Mania" at Buzz czar at Maya Hotel, sector 35 Chandigarh.
Pen friend
For a 13-year-old to think about intense subjects like corruption, politics and fighting back is unthinkable. Raghav Arora, currently studying in Hans Raj, Panchkula has compiled his 100 poems. Titled Indradhanush-Jeevan Ke Kuch Rang.
star track


Direct link works


Sonakshi's fashion talk


A true cop


Talk to my hand


Make no comparisons


I'm a romantic: Amber Heard


Taxes get taxing for actors
chatter box


Farewell time


Twists and turns


Song and dance


Comic entry