No more a dog's life
Life's a treat for some pets. Gourmet foods, designer wear, special oil rubs, electric nail clippers and sophisticated fitness equipment not for people but dogs of the uber rich
Divisha Saran
If you are fond of the good things of life like designer clothes, classy cosmetics, fragrant perfumes, expensive china and bespoke furniture, so is your dog. And if the market is overflowing with trendy labels starting with clothes, accessories for you, then your four-legged friend, too, is turning designer-savvy.
Don't believe it? Take a look at the range of products for pets. On offer are shirts, tank-tops, jackets, caps, sandals, umbrellas (oops…dogbrellas), and even treadmills to keep them fit.
Then, there are fancy harnesses, and even necklace and jewellery. For their fine dining, there is colourful dinnerware, feeders, placemats and high chairs. For their birthdays, there are designer invitations, cars fitted with special seats designed to bring dog guests to the party, then there are doggie hats, toys, bandannas, confetti, balloons, made-to-order cakes and other treats.
Herbal spas
A hungry dog no longer gets leftover rice and chapatis, he can feast on delicious dog munchies and cookies. Even smelling good is no problem with special dog soaps and deodorants. Also available in the high-end dog market are all-natural herbal spas to keep your dog smelling fresh and bug-free.
Animal grooming products have witnessed a phenomenal growth in the past few years and the scene is only getting better. Many big department stores have set up separate sections for pets while an increasing number of exclusive pet shops cater to all their needs and greeds.
Peticure
From soft hair brushes to fancy dog collars and leashes and from special oil rubs to customised electric nail clipper for a quick peticure, these shops offer virtually everything one can think of.
Many vets recommend that a dog's teeth should be periodically cleaned. In response to this, dog boutiques have started keeping special chew bones, which are shaped like toothbrushes. These help to keep your pet's teeth sparkling. Hair-cuts too have become fashionable among dogs. Thus, there are dandy brushes and other classy grooming equipments available in these outlets as well.
Indeed, the market for such products has taken everyone by surprise. That's because people are no longer treating pets as mere animals but as companions. It is natural for one to pamper one's companion with the best available in the market.
Poop digester
Then, there's the exotica like poop digester machine that not just does a quick cleanup but also turns dog waste into manure. There are dog collars equipped with GPS technology for tracking the movement of your dog. There are anxiety wraps to reduce sudden noise phobia from thunder and fire crackers during Diwali.
Most of these products are being imported or made in India and are available in high-end pet shops. But can a country like India where a pet dog is still considered a luxury afford such pampering? Maybe not for a majority of people but for that minority of richie-rich people, it is just small change in the pocket.
Pets are getting a life thanks to these indulgent owners, who spare neither effort nor moolah to give them all the creature comforts that money can buy. And entrepreneurs are coming up with innovative ideas and special merchandise that is making the four-legged companions wag their tails in delight.
"It's a booming market out there. People who have the moolah to spend are treating their dogs like royalty and as precious as their children," says Delhi-based vet Dr Naveen Katayal whose visiting card — responding to the changing scenario — does not call him a vet but a canine and feline specialist.
So why this sudden need to buy branded plush products for a pet? The answer is the urge to splurge and to flash some status. Here too, it's all about money, honey. Here's looking at some creative dog products available in the market:
Pet fountain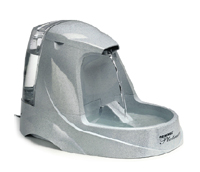 Summers are difficult for dogs especially those with furs. Since their body heat is higher than those of humans, it is no surprise they can drink litres of water making the pet owner keep a constant eye on the water bowl. Now you can avoid this by getting home a Drinkwell Platinum Pet Fountain. The fountain can hold five litres of cold water that comes out as a free-falling stream as soon as the dog touches it. A very handy device that will also keep your pet from drinking water out of toilets.
Price: $70 (Rs 3,500)
Diamonds are a dog's best friend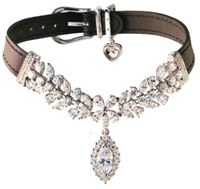 These diamonds have literally gone to the dogs. La Jeune Tulipe, an American dog accessories company has brought out a diamond dog collar that will put your furry friend in a league of his own. The exquisite dog collar is adorned with 1.52-carat diamonds handcrafted and engraved with precision. Of course, once you buy this collar the next thing, you'll have to buy is a high-value insurance policy for the collar and your dog!
Price: $150,000
(Rs 75 lakh)
'Tread' with caution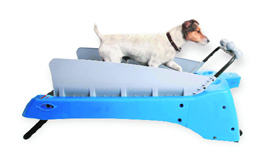 Does your pet hate the idea of going out for a walk in the summer heat? Do him — and yourself — a favour by buying a PetZen Canine Treadmill. The treadmill will give his legs the exercise in the comfort of the home and release his pent up energy. But remember, dogs do not take to a treadmill naturally. You'll need to train him and initially run the machine at the slowest speed and tie the dog with a leash. Once he's mastered it, he'll just love it.
Price: $550 to $900 (Rs 27,500 to Rs 45,000)
Bag-a-tail



Go ahead and show your love for your pooch by splurging on a Gucci dog bag. The smart beige bag with green and red signature web handles has a zip top opening and mesh panels on sides. It has removable and washable interior cushion and is strong enough to carry a small to medium size lucky pooch.
Price: $1,550 (Rs 77,500)
Four-legged trek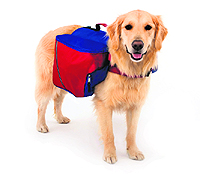 Going on an adventure trek, then, why not do it in the company of your best friend? Explore the great outdoors with your dog while he wears a sporty, yet comfortable backpack.  Doggles Backpack fits every size dog big, medium and small. These are perfect for boosting your dog's daily walk or helping you carry food or water on your treks together. And best of all, the weight of a backpack full of stuff is good workout for the dog.
Price: $40 (Rs 2,000)
Collar that glitters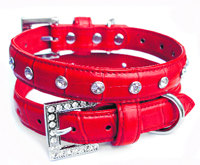 Dog collars are one of the surest ways of telling the world how much you love your pooch. Now you can also show your dog how much you love him with this ruby red collar-and-leash-set by Puchi Designer Petwear. The buckle is diamante-encrusted and is also set with clear jewels around the collar. Made from high quality leather, this collar is for a real stylish dog.
Price: $45 (Rs 2,250 each)
Puppy in a cap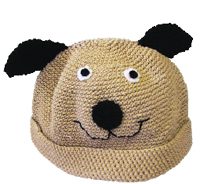 In winters, protect your dog from cold with Java dog caps by the Posh Puppy Boutique. Knit from soft aqua and brown coloured yarns, these puppy dog hats is sure to bring a smile to everyone's face. Patch and nose are made of felt and hand-sewn on with brown cotton yarn. Eyes are plastic and securely stitched on the cap. These caps are available in different sizes to suit small, medium and large dogs.
Price: $16 (Rs 800 each)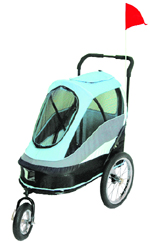 A ride for the puppy
Does your puppy get easily tired while walking around? If you face this problem, then Petzip has a solution for you. The company's Pet Happy Stroller is just like a baby pram that enables you to take your pup shopping in a mall or for a stroll in a park. It has a wind and rain cover, breathable mesh windows, storage pocket, sun roof on hood and a cup holder. So go ahead and give your puppy a ride in this buggy on wheels.
Price: $260 (Rs 13,000)
Dogbrella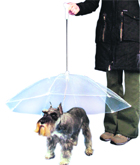 A dog that gets caught in a downpour can make one holy mess when he comes back home sullying bedsheets and expensive rugs. During monsoon, take the easy way out by investing in a Dogbrella — an inverted umbrella made from clear polypropylene that protects the dog from rain while allowing him an unfettered view of his surroundings. The tip of the umbrella gets hooked to the pet's leash preventing him from straying. Walking in the rain was never so much fun.
Price: $30 (Rs 1,500)
Canine king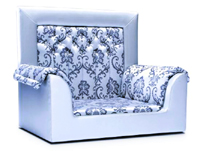 Do you treat your dog like royalty? Then get him a throne — or something resembling that and costing as much. Wilbur by German designer Julia Mai is a royal seat adorned with 16 Swarovski crystals and is lined with plush padding for your precious doggie. Though it may make him look like canine king, there's no guarantee he won't chew up the wood frame or rip up the mattress. Best to insure it if you can.
Price: $1,765 (Rs 88,250)
Hands-free bicycle leash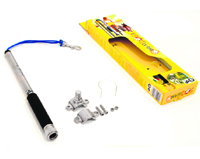 Does your lazy bone pooch need more exercise than he's getting? It's time to pick up the bike and go cycling. But that will give you a work-out, not to your doggie. Yes it would, if you have a bicycle dog leash that attaches to the bike's frame. You can ride your bike safely with both hands enjoying the outdoors and the company of your dog running along. A fun way to exercise for both you and your pet.
Price: $50 (Rs 2,500)
Doggie dinner time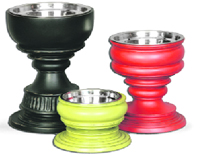 Since your dog is a part of the family feed him in style. If you have a proper table laid out for yourself, feed your dog in a trendy dinner set. The Phuket Elevated Dog Feeders by Unleashed Life are named after the coastal paradise of Thailand as these feeders resemble the ancient temple boxes. Choose from a range of green, red and black finishes with stainless steel bowls in small, medium and large sizes.
Price: $40 to $70 (Rs 2,000 to Rs 3,500)
Cool sandals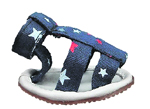 If you don't step out of the house without a cool pair of sandals, why should your furry friend go barefooted? The Big Dog Denim Sandals by www.alldogboots.com are just the right fit for your best friend. Perfect for the park and to protect larger size paws from the burning hot pavement. They also guard against foot allergies. The sandals in navy blue denim are lightweight and easy to wear with a Velcro ankle strap.
Price: $32 (Rs 1,600 each)
Luxury sleep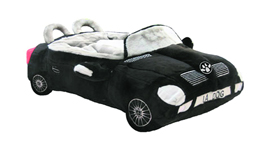 Your dream of driving around in a Mercedes may not have come true so far but why deprive your dog? Go buy him his Fur-cedes! The designer bed by Haute Diggity Dog is a replica of the convertible Mercedes sports car perfectly designed for the pampered pet. The company produces a unique line of parody dog toys inspired by some of the world's best objects of desire. Not surprisingly, it has a large celebrity following.
Price: $250 (Rs 12,500)