Recalling the Radicals
Set apart by clime, language and circumstance, these two towering literary giants of the 20th century, Saadat Hasan Manto and Albert Camus, had much in common and will remain the eternal 'outsiders' recording the inhuman human drama of their times
Nirupama Dutt
"Who is this Manto?" an old man in Chandigarh asks of his morning walk companion.
"Don't you know Saadat Hasan Manto?"
"Okay, you mean Saddam Husain but he never suffixed Manto to his name."
This was the joke doing the rounds in the city when media highlighted the 100th birth anniversary of the wild child of Urdu literature. Jokes apart, one heard similar queries by well-read persons even after the "happy birthday" rituals were done with cutting of cakes and the Paproudi pilgrimage, a Samrala village, made by his admirers to pay homage to the soil where he was born. Manto must have been asked this audacious question well in his lifetime for he described himself as "a specialist in pimps and prostitutes".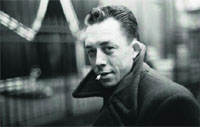 Albert Camus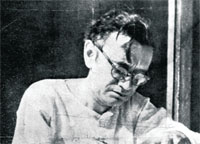 Saadat Hasan Manto
Birth centenaries often tend to sanitise the rebels, co-opt them and make them palatable for they were certainly unpalatable to their times. Having passed through half of Manto's birth centenary year and just six months away from the centenary year of Albert Camus to look at these two towering literary giants of the 20th century who are the eternal "Outsiders" in recording the inhuman human drama of their times in their uniquely original styles.
"A guilty conscience needs to confess. A work of art is a confession," said Camus and he was not talking of just personal guilt but that of society, a collective conscience. In writings of both one meets the guilt of their times, a guilt so terrible it would burn up the one who took the courage to face it and then put it down in black and white. For both Manto, the wild child of Urdu, and Camus (1913-1960), the enfant terrible of French, "a taste of truth at any cost is a passion which spares nothing". This is so because for literature in this intense form, the confession must be complete to attain a cathartic experience.
Both Camus and Manto were born to troubled times, political upheavals and were thus required to make difficult choices. The former represented non-metropolitan French literature. His origin in Algeria and his experiences there in the 1930s influenced his philosophy and art. Camus joined the French Communist Party in 1935 but he remained against totalitarianism, and that is what led to his well-known falling out with Sartre. Manto (1912-1955) was never a Party person and he fell out with the entire gang of the "progressive" as well as "non-progressive" writers because towing a Party line was not something a talent like Manto could stoop to, and totalitarianism would have been a stumbling block in his search for truth as a writer. Both died in their forties and left a great volume of writing. Not subscribng to the Existenialist philosophy a la Sartre, Camus propounded the idea of the Absurd and its paradox. Manto made no claims to being a philosopher but his fiction plays on the threatre of the Absurd with its dark humour. An exceptional example of this is his last short story which proved to be a magnum opus — Toba Tek Singh. Camus too portrayed the dark side of life, be it in his most celebrated novel The Outsider, also known as The Stranger, or others like The Plague or The Fall. However, his work leaned towards abstraction while Manto was direct. Both were journalists. Camus was an activist too whereas Manto had no such escape, and so it was by writing alone that he lived and died. In his time Manto was much loved and hated, but never ignored. Both died young, Manto due to deteriorating health following depression and alcoholism and Camus in a car accident. The idea of the absurd raised its head when last year Giovanni Catelli, an Italian scholar, claimed that the car accident that killed Camus was planned by KGB by puncturing the tyre. This, however, was rubbished by OIivier Todd, biographer of Camus.
The Nobel Prize came to Camus, and to Manto rejections, charges of obscenity and banning of his work on radio in the Islamic state of Pakistan where he migrated during Partition, a fact he could never come to terms with. Yet Manto competed with none other than God and so he said in his epitaph:
Here are Manto's own words that he wanted to mark his grave with:
"In the name of God, the Compassionate, the Merciful
Here lies Saadat Hasan Manto and with him lie buried all the secrets and mysteries of the art of short-story writing....
Under tons of earth he lies, still wondering who among the two is greater short-story writer: God or He."
Camus had unwittingly written his absurd epitaph when he said earlier in his life that he could think of nothing more meaningless than dying in a car accident! One recalls the two radicals with a mixture of love and awe.
Prolific writers both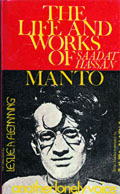 The exceptionally prolific writer Camus' work could be divided into four categories — straightforward prose: travel, traditional-form novel, polemic, and lengthy yearly journals; 'creative' prose: 'experimental' novels and a large amount of unpublished web text; writings on painting and culture; and personal essays. At the age of 19, Manto wrote his first story inspired by Jallianwala Bagh and over the next 24 years he wrote 22 collections of short stories, five collections of radio dramas, three of essays, two of sketches, one novel, seven or eight film script and many letters.