tete-a-tete
Woman of many rhythms
Nonika Singh
In the realm of Indian classical music, classical musician Anuradha Pal stands apart for more reasons than one. Feminine grace personified, she chose to storm a male bastion and is today easily the most distinguished female tabla player the nation can boast of. In a cut-throat, competitive world where each one is out to promote oneself, she has taken it upon herself to showcase upcoming talent. Above all when most musicians would rather let their music speak, this Masters in English literature is as comfortable with the Queen's language as with the saat sur.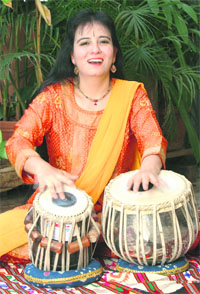 Anuradha Pal

Keen learner
When Anuradha Pal enrolled for a Masters in English literature, she had no intention of serving anything but the cause of music. Today as she goes around delivering lectures at Cornell University, John Hopkins Institute and University of Pennsylvania, the command over the Queen's language comes in handy to make a connect with listeners. Wistfully she says, "No learning ever goes waste."
Hailed as the female equivalent of Ustad Zakir Husain, Anuradha goes back in time to share her ascent, her struggles and her unswerving devotion to the tabla. Indeed, as a child no one encouraged her to play the instrument considered suitable only for the male species. It was only during her brother's table-learning sessions, when she showed remarkable talent for the instrument, that her training began in earnest. And if the tabla spoke to her when she was barely seven, at ten-and-a-half years she was making it talk to listeners in a language full of vigour. Having learnt from stalwarts like Ustad Alla Rakha and Ustad Zakir Hussain, she says of her gurus, "It's their genius which is astounding and so humbling." She finds the comparison between herself and her guru Zakir Bhai rather odious and looks up to him even today.
Besides Zakir Bhai, she has been inspired by men like the masterly painter late MF Husain for whose movie Gaj Gamini she gave the background score. She reminisces, "He was an incredible human being who gave me the full freedom to compose." Without a doubt, she would love to compose for more films, provided the project is challenging enough. For she thrives on challenges and doesn't want to tread the oft-beaten path that others have been following. While tradition is where her heart is, fusion beckons her too. Charged by her fusion band "Recharge", fusion gives her an adrenaline-driven high as she goes on to create a landscape of rhythms with percussionists from around the world. While she can play a host of percussion instruments, the tabla she feels is the king of all, the most evolved and of course rather strenuous to play. Is that why not many women are forthcoming to play it? She smiles, "Well, there are good women percussionists in the country." Stree Shakti, her all-women ensemble includes some of them with whom she is only too willing to share the limelight.
Belonging to a non-musical family, she understands how difficult it is to make a mark for the musicians who have no godfathers or godmothers. While her success today may delude others to believe that everything must have come to her on a platter, she informs otherwise. She remarks, "I have come up against all odds." Of course, the support of her family, her parents, particularly a painter mother, and a supportive husband have kept her going. From strength to strength and from one prestigious venue to another. She has become the youngest musician to perform at the Woodstock Festival and the first woman musician at WOMAD.
Yet even today she has no hesitation in accompanying other artists. She quips, "It is a great honour as well as a huge learning experience to accompany other artists. When I perform along with other greats like Pandit Birju Maharaj, Girija Devi and Ustad Shahid Pervez, it helps me sharpen my skills. It puts me on a test and opens me to varied roles of tabla accompaniment."
Surrounded by greatness in her childhood years, when maestros like Pandit Jasraj and Ustad Faiyaz Khan would visit her grandfather's house, she knew at an early age that excellence is a never-ending pursuit.