Taking a reality check
Randeep Wadehra
Semantic similarity apart, reality shows are different from real life TV shows. The former are scripted while the latter's progression depends upon impromptu interactions among several elements. However, there are some we would like to watch and others we would rather avoid.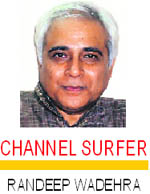 Like, one wouldn't like to see a child (Mahi) suffocate to death by falling into an uncovered bore-well or the youth (Roshan) drown in an unprotected well; one would prefer to avoid watching any human life go waste like it happened in the Mantralaya fire in which two perished along with, allegedly, the Adarsh Scam files. These tragedies were avoidable, if only the authorities concerned had been true to their calling. The news channels did the right thing by unwaveringly focussing on the three tragedies and their root causes.
Happily, there are real life shows that make TV watching such a pleasure. Leaving in its wake thrills, controversies and surprises, the UEFA Euro Football Cup (Neo Prime), the grandest show of the year's first half, is over — the second half will unfold the truly greatest show on earth, viz., the Olympics (27 July to 12 August). The football players scripted it on field. Their speed, stamina, skill and strength generated thrills that didn't need enhancement through special audio-video effects. One enjoyed the awesome bicycle-kick by Sweden's Zlatan Ibrahimovic that sent the ball crashing into the French goal, and Rooney's (England) header against Ukraine. Moreover, who will ever forget Ronaldo's (Portugal) two goals against the Dutch team which demonstrated his zeal as much as his artistry? Then there were surprises like Greece beating Russia and Denmark upsetting the Dutch. One of the most thrilling matches was Portugal versus Denmark which the former won. There were no on-field Zinedine-style head butts or Maradonasque 'Hand of God' goals but the Ukrainians were distinctly unlucky when their goal against England was not allowed in Donetsk as Marko Devic's shot appeared to cross England's goal line before it was cleared by John Terry. But, would the FIFA President, Sepp Blatter's averment on the NDTV's Battle for Europe about introducing goal line technology to resolve such controversies in future help or hinder the game?

Asha Bhosle's arrival on The Indian Idol 6 on Sony has added gravitas to the proceedings
Currently two new reality shows are gathering momentum on TV. While watching some of the episodes of The Indian Idol 6 (Sony), one wondered whether it was time to replace the old masala with something better. You repeatedly see the same set-piece situation — a young aspirant performs in all earnestness; the judges create artificial suspense before giving the green signal that sends him/her into frantic ground kissing-feet touching-air punching spree. However, Asha Bhosle's arrival since June 23 has added gravitas to the proceedings.
The longish curtain raiser to Jhalak Dikhla Ja (Colors) did not deter diehard fans from sitting through the proceedings stretching well past midnight. Cricketers, actors, choreographers and dancers boogied effortlessly; the glam quotient was ratcheted up by Madhuri Dixit's presence, with Karan Johar and Remo D' Souza in supporting roles. However, there is really nothing stunningly new about the content so far.