Nora Ephron – the sharpest wit

The talented and fearless reporter Nora Ephron had many facets to her personality. A tribute to the versatile writer who died recently
Ervell E. Menezes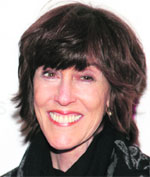 Does the name ring a bell? It won't for the brave new GenNext, who may not have seen her films but for many, it surely does for she changed the way women thought in the 1990s as those who've seen Sleepless in Seattle or You've Got Mail will readily agree. Ephorn also tried to bring a rapprochement between women libbers Gloria Steinhem and Betty Friedan because she did not believe in the passivity of her tribe. For, she was a very talented woman, who switched channels as and when she felt like it, showing her rarer versatility and that yearning desire to move forward. Ephron died last week. She was 71. Condolences poured in from all quarters leading with Tom Hanks.
Born to a script-writing couple Henry and Phoebe Ephron, one would have thought she'd naturally move into films. But she began her career in her twenties as a sparkling and fearless reporter, tough yet ingratiating, but always funny.
Inspired by Dorothy Parker, her goal was to be "the only lady at the table, the sharpest wit in the room." She called it the "Dorothy Parker problem" though Parker had set an example for scathingly smart female journalism of her generation.
As a reporter, she developed a great rapport with her readers and perfected a wise and winningly nit-picky persona, getting into every readers confidence. Rather spectacularly, she shared her messy second divorce in her Heartburn. She was first married to Carl Bernstein of Watergate fame, and at one time, co-wrote the screenplay for All the President's Men but it was not accepted.
Meg Ryan, who dominated the 1990s, seemed to be her favourite actress, figuring in three of her films, Sleepless in Seattle, When Harry Met Sally and You've Got Mail. But it was her first film Sleepless in Seattle that sent her rocketing to fame where Tom Hanks played the male lead.
But her success in Hollywood meant that journalism was so much the poorer for that. They say, she mellowed a lot, or maybe she had to, but she was a restless soul and change seemed to be her reason d'etre.
After her stint with films, she went back to her first love, writing and soon published I Feel Bad About My Neck, a wry book about ageing. Her next book On Maintenance was a classic as it described the effort she took to maintain her timelessly impeccable appearances. After 65, she wrote regularly in The New Yorker, which could throw both arrows and money at the petty things that plagued her.
In one of those articles, she said, "If anyone young is reading this, go, right this minute, and don't take it away till you are 34," according to Janet Maslin of The New York Times. A more forceful line was probably never written. Was it a salute to youth by a golden oldie?