Television
Trend-setting women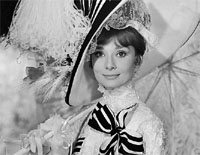 Extraordinary Women is all about success stories
They rewrote the rules for women of their time, stepping out of the shadows of men to make their own mark in history. Meet personalities like Audrey Hepburn, Coco Chanel, Hedy Lemarr, Grace Kelly, Wallis Simpson, Lady Chiang Kai and many more in Extraordinary Women every Tuesday at 8 p.m. on Discovery Channel. They are some of the world's most extraordinary women who achieved stupendous levels of success in fields as diverse as fashion, cinema, politics, philanthropy, technology and activism. Find out how they overcame adverse conditions and social prejudices to rise to the top of their field to earn the admiration of millions across the world.
Dangerous collaboration
What happens when a thief, counterfeiter and racketeer decides to start life anew and help police crack tough cases that defy solution? The result is a series with an excellent storyline replete with intense cliff-hangers.
White Collar Monday to Friday at 10 p.m. on Star World is the story of an unlikely partnership between a con artist Neal Caffrey and FBI agent Peter Burke. Caffery, who is serving a four-year sentence, escapes from a high security prison only to be re-arrested by Agent Burke. Back in prison, Caffrey offers to help Burke catch other criminals as part of a work-release programme. Thus begins an unusual collaboration between a cop and a thief. Watch the exciting crime drama, which was one of America's top shows kicks off its second season with all new cases, more intrigue, more bromance`85 and more Matt Bomer, People Magazine's "Sexiest Rising Star". — NF