Cancer screening: Does it save lives?
Dr J.D. Wig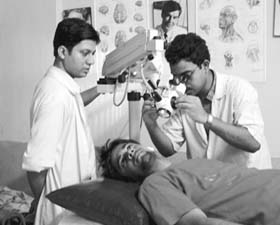 Cancer has become an important public health problem globally. The overall number of cases are increasing mostly as a result of the ageing of the population. Common cancer cases in India include cancer of the breast, cervix, lung, oral cavity, esophagus, colorectum and prostate. The National Cancer Registery programme published a report on time trends in cancer incidence rates and made an attempt to project the number of cancer cases at the India level.
The total cancer cases are likely to go up to 11,48,757 in the year 2020 from 9,79,786 cases in 2010. In a recent study from India, around 5,55,000 people died of cancer in 2010. Cervical, breast and stomach cancer cases accounted for 41% of cancer deaths in women in rural and urban areas. Tobacco-related cancer represented around 42% of male and 18% of female cancer deaths. In men, two of the most fatal cancers were oral cancer and lung cancer. Rates of cancer deaths were similar between rural and urban areas of India. A total of 16,38,910 new cancer cases and 5,77,190 deaths from cancer are projected to occur in the United States in 2012.
Cancer screening is a means of detecting the disease early in asymptomatic people. Detection of cancer at an early stage is reported to yield better outcomes. Estimates of premature deaths that could have been avoided through screening vary from 3% to 35%. Screening may reduce cancer morbidity since treatment for early stage is often less aggressive than that for more advanced cancer.
Cancers for which screening tests are advocated are those of the cervix, breast, lung, large intestine and prostate. Screening is either organised (population based) or opportunistic. Opportunistic screening is an examination of the individual on his/her own initiative. Screening rates remain woefully inadequate in our country.
Some individuals are known to be at a high risk of cancer like those with a strong family history of cancer — in two or more first-degree relatives. A high risk person should regularly undergo screening procedures that have been shown to be of benefit. Positive results of screening tests identify persons at an increased risk of cancer and warrant further evaluation. Following positive screening tests, the diagnosis is confirmed by biopsy and a histopathological examination.
Screening for specific cancers has been shown to improve longevity and quality of life. Screening for breast cancer by mammography has been demonstrated to be effective in reducing mortality from the disease in women aged 50 and above. Regular mammographic screening between 50 and 70 years of age reduces breast cancer mortality by 25% to 35%. The cancers in screened women are smaller and amenable to breast-conserving surgery. Mammography performed once every two years seems to be more effective than screening mammography every one or three years. For women with an increased risk of developing breast cancer (family history), annual screening is recommended. High participation rates are needed to ensure that breast cancer screening effectively reduces mortality. For patients with mammography that is considered abnormal, further diagnostic examinations are made. In organised service screening programmes, a 40% to 60% reduction in breast cancer mortality is reported.
Oral cancer accounts for over 30% of all cancers in India. The primary reason for an unusually high incidence is the indiscriminate use of chewing tobacco in its various forms. Despite the fact that oral cavity is accessible for visual inspection, in India 60% to 80% of patients present with an advanced disease. A study from India has reported that oral cancer screening by trained health workers can lower the mortality rate. In this study, there was a significant reduction in mortality due to the detection of cancer at an early stage. A study from Banglore involving 30,530 participants investigated the effectiveness of mouth self-examination and identified 28 early stage oral precancerous and cancerous lesions. Visual examination of the oral cavity can significantly reduce oral cancer mortality among the users of tobacco and alcohol.
The incidence of colorectal cancer is increasing in India. Screening methods in colorectal cancer target the disease before it becomes malignant by detecting and removing precancerous lesions. Fecal occult blood testing is a reasonable good cancer detection test and reduces cancer deaths. Fecal immunochemical testing and colonoscopy are accepted strategies for colorectal cancer screening. All those aged 50 to 75 years should undergo fecal occult blood testing annually, flexible sigmoidoscopy every five years and colonoscopy every 10 years. More than half of colorectal cancer deaths can be prevented with screening because precancerous polyps can be identified and removed before cancer develops.
The results of lung cancer low dose CT screening trials with regards to the effectiveness and cost-effectiveness of CT screening are awaited even though the preliminary data are promising. Various studies have concluded that CT screening will detect lung cancer at an early stage in 38% to 66% cases. In data from the Netherlands of National Lung Cancer Screening trial, a 20% lung cancer mortality reduction is reported after seven years of follow-up.
Most cancer screening tests are non-invasive or minimally invasive. Some may involve the risk of complications. Another limitation of screening is a false positive test result which may lead to anxiety and unnecessary invasive diagnostic procedures. A false negative test may falsely reassure a person.
In any case, cancer remains a major public health problem in India. Dedicated and sustained efforts towards early detection can reduce the burden of cancer. Early detection not only improves the cure rate but also lowers the morbidity associated with the treatment. People need to have knowledge about screening methods. Screening at regular intervals for breast and cervical cancer is a must. For screening to be effective, it is important to have facilities for diagnosis, treatment and follow-up of screen-positive individuals. Such programmes should concentrate on those at the greatest risk of invasive cancer.
The writer, a former Professor and Head of General Surgery, PGI, Chandigarh, is associated with Fortis Hospital, Mohali.