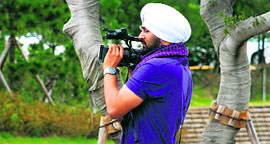 Short take, big gains
In several heart-rending tales of today, the battles get long over but the residue remains. It is this residue that became the basis of Kabir Choudhary's 45-minute documentary Good Morning, which bagged an award at the New York Film Festival.


animated stuff: Jasraj Bhatti
Youth, Ride…Fun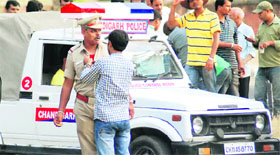 Of whatever Rakhi Sawant has blabbered till date, once for sure she made sense. Absolute sense! "There couldn't be a better experience than working under the banner of Yash Raj Films," she said, when she shot for Dil Bole Hadippa.


Play on: Shooting of the movie Mere dad ki Maruti in progress

A host of things
They introduce the show, they get things going, they make the audience as well as the contestants laugh and at the end they handle the pressure of eliminations in an encouraging way. They are the anchors or hosts who add the extra zing to reality shows, where talented people compete and experienced names judge!


Graffiti
Aradhika & Sesh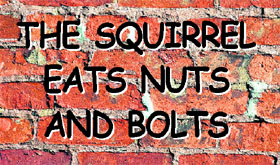 Celeb point
Pancake and more
It's difficult to look de-glamorous sometime! We are so used to looking pretty, getting accessorized with make-up, glamorous outfits, branded footwear and bags and made to look uber cool!
Pet passion
Three for joy
It started as a very sneaky affair with one tip toeing the other while the parents were asleep in the next room. "My brother got him from his friend who was going abroad. He was one or two months old and they had already named him Snoopy," Ambika Anand, student, MSc IT, tried every trick in the book to introduce a golden hue to already existing colour pallete of white and copper.
Coming soon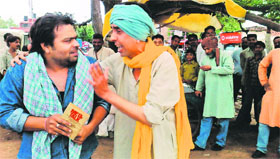 On the street
The Sangeet Natak Akademi has organized a four-day festival of street plays on social issues starting from July 14 at Kaimbwala, Khuda, Lahora, Ramdarbar, Manimajra, Dadumajra, Maloya and Burail. The following plays will be staged


hard hitting: A scene from Jab Jago Tabhi Savera

star track


The new fashionista


Settling for Shraddha, Aditya


The focal point


How natural!


Rumour has it…


Too close for comfort


Figure it out with Mahakshay


Madhuri's day out
chatter box


Life threatening experience


Shock therapy


New entrant


Pooja Gor: I spend money like water


Back in the box