EDUCATION

JOBS & CAREERS

HEALTH & FITNESS

SCIENCE & TECHNOLOGY

REAL ESTATE
Threat of terrorism in Punjab remains: PC
'Centre keeping close watch on the situation'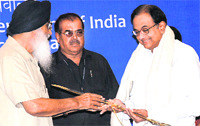 Chandigarh, July 13
The Centre is keeping a close watch on the law-and-order situation in Punjab as militant groups are still trying to revive terrorist activities in the state.
Punjab CM Parkash Singh Badal presents a sword to Home Minister P Chidambaram in Chandigarh on Friday.
Draft law to regulate surrogacy finalised
New Delhi, July 13
The Government has, for the first time in the history of infertility treatment in India, finalised a draft law to regulate the booming Rs 2,5000-crore sector. The Bill allows only 21 to 35-year-olds to be surrogate mothers and says no woman would act as a surrogate for more than five successful live births in her life, including those of her own children.
mumbai Blasts
A year on, little change at India's diamond hub
Mumbai, July 13
A year after three bombs went off — in which 11 persons lost their lives — in Mumbai, it is business as usual at the Zaveri Bazaar-Opera House area. The streets around what is still India's biggest gem and jewellery hub continue to be choked with haphazard parking. Small-time diamond merchants who cannot afford an office in the country's priciest district still trade rough stones at street corners.