It's shoe time
Fashion is evolving beyond its traditional confines. Stylish clothes are not where it all ends. The right pair of shoes is crucial in turning the charismatic needle from zip to hip
Shobita Shivshankar

The 21st century has brought about a sea change in the aspirations of the average Indian consumers. The flickering images on their television screens are bringing the world of consumerism into their homes and hearts.

For the first time, they have a choice. A choice of what they drive, what they eat and drink and what they wear. And this choice is not dictated by what is available in the market but what they choose to buy.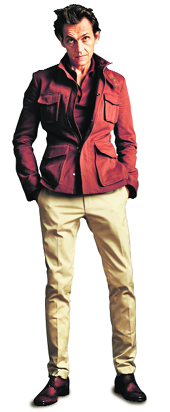 Take the case of footwear. Young people are becoming increasingly sophisticated in their shoe preferences. Such has been the impact of the global biggies like Gucci, Testoni, Berluti, Emilio Pucci and Roberto Cavalli that swish consumers have made stylish footwear a part of their wardrobe essentials.
It did not require a management guru like Philip Koetler to predict that footwear had an untapped potential in the fashion industry. The Indian markets is now deluged with not just homegrown brands but products of international giants, including sporting footwear leaders like Nike, Adidas, Reebok and Puma.
Booming turnover
The increase in the number of players in India has meant acute competition and ample choice for consumers in terms of quality, material and style. The Rs. 20,000-crore branded footwear market is growing by a healthy 20 per cent a year and industry researchers predict a booming turnover of Rs 45,000 crore by 2015.
Figures show that branded shoes in India have a market size of more than 1,735 million pairs a year and are growing at an annual rate of 25-30 per cent. It is hardly surprising, considering the fact that the average Indian is gradually becoming more fashion conscious.
This translates into higher sales and stiffer competition for the companies. And competition has meant more variety to the consumers in terms of price and quality. Thanks to the entry of foreign brands, local shoe manufacturers too have been shaken out of their complacency and some like Woodland, Red Tape and Florsheim, have even set up R&D and design wings.
Range of footwear
The shoe market is primarily divided into three segments in terms of price and quality. The lower end ranges between a price pendulum of Rs 250 and Rs. 500 and the models in this range are made from canvas and PVC with uppers in synthetic, textiles or combination materials and shoes with rubber soles. The utility of these shoes is immense as they serve both as casual and sports wear.
The mid-segment too has many organisations vying for the lion's share of market. The models available here range between Rs 800 and Rs 1200.
In the premium brand segment, one can get shoes ranging between Rs 1,500 and Rs 5,000. A number of sports and casual shoes come in this range that has brand leaders like Nike, Adidas, Lotto, Reebok and Puma offering a mind-boggling variety in this fast expanding market.
The foreign shoe manufacturers justify the high-price tags by claiming that their products outclass all other competing brands in terms of quality, looks and performance.
Global giants
However, there is yet another sector that is all set to sweep the market off its feet. Global footwear giants like Bally, Jimmy Choo, John Lobb, Christian Louboutin, Prada and Yves Saint Laurent are fully aware that the wealthy globalised Indians will spend a fortune to spruce their image with fine accessories. And they are busy offering them an array of choices ranging handmade classics to gold-toned and Swarovski-studded footwear.
The latest bit of footwear setting the trend-o-meter on fire are those retailed by global giants. Over the past few years, many of them have set shop in India almost unobtrusively as they want the by-invitation-only class of clientele.
Bally, the Switzerland-based leader in luxury products, launched its first store in Mumbai at the Grand Hyatt recently. Luxury shoe designers like Roberto Cavalli, Christian Louboutin and Gucci have set up shop in Delhi's stylish DLF Emporia. Those that do not have outlets yet are making a killing selling through e-retailers like Jabong, Myntra, e-bay and a host of other sites.
High-end segment
All this translates into good news for consumers. With increasing competition in the high-end segments, there are bound to be price wars. Already most of the foreign giants come out with attractive schemes during festive seasons to lure the elusive customer.
That, in a way, showcases the mindset of the newage buyers. They are waiting to be wooed with attractive offers and bargain schemes. And the international players are ready to oblige. With the immense power of advertising at their command and thanks to a favourable market environment because of the rise in nuclear families with disposable incomes, the shoe industry is heading for a boom. And the big boys of the industry are ringing their hands in anticipation.
Here's looking at some of the global shoe brands many of which are now available in India:
WHAT'S YOUR SHOE PERSONALITY?
While buying shoes very few men know what they want. It is usually what pleases the eye. But men's shoes fall under various categories and are to be worn for different occasions. Here's a lowdown on the varying styles available in the market:
Oxfords: These are shoes with laces and are confined in length up to the ankle. The vamp of the shoe has a V-shaped slit for the laces. These are dress shoes and are usually worn on formal occasions. As these originated in Scotland these are also called Balmorals. The name is derived from the Queen's castle in Balmoral in Scotland. Oxfords in America are called Bal-types and in France these go under the name of Richelieu.
Loafers: Though many people consider these laceless shoes as casual, in modern times, the difference is being blurred. Loafers can be worn both as office and party wear. These are low cut slip-on broad shoes with a wide and flat heel. The Gucci Loafers have been considered iconic for over a generation and have spawned many an imitation. Then, there are the Penny Loafers which have a stylised strap where the foot goes in.
Monk straps: These are slip-on shoes that have a single or double strap on top. In some cases, there are also three straps both to secure the shoe and add to the adornment. These are very versatile shoes and go with a formal suit, a shirt-and-trouser set, a pair of jeans or trousers matched with a jacket. These are usually plain-toed and are made of calfskin.
Lifestyle shoes: These are basically shoes worn on casual occasions. These can be in the style of Oxfords, Loafers or even Monk Strap shoes. These need not necessarily be made in leather and can be also in suede or rubber. These go with hardcore casual wear like corduroy, cargo pants, khakis, wool slacks and jeans.


Salvatore Ferragamo: Foot designs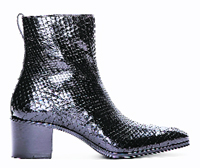 Shoemaker to a long list of celebrities like the erstwhile Robert De Niro, James Caan, Andy Warhol, King Jigme Wangchuk of Bhutan and many more, the Salvatore Ferragamo brand is a global name to reckon with in unique handmade footwear. For many men, a pair of Ferragamos is a wardrobe essential. And its Mens Loafers Gancio Bit Mocassin has assumed iconic status.
Price: $490
(Rs 26,950)
Testoni: Walk in style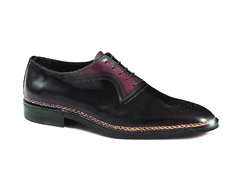 The first thing people will notice about you when you walk into a room are your shoes…that is, if you are wearing Norvegese shoes by Testoni. The company based in Bologna, Italy, is widely known for its classy array of men's footwear. Comfortable and crafted lovingly, the shoes offer high class workmanship and have sophistication written all over them.
Price: $1,500 (Rs 82,500)
Jimmy Choo: Elaborate designs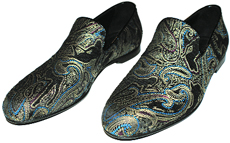 When it comes to handmade men's shoes, no one does it better than Jimmy Choo. One of the best known shoe-designing companies, many of its styles have become iconic. Among them is the Jimmy Choo Sloane Paisley Gold with its patent leather piping, leather sole and midsole and elaborate design makes this round toe an eye-popper.
Price: $590 (Rs 32,450)
Christian Louboutin: Foot fetish
It is a wearer's pride and an onlooker's envy. The Christian Louboutin footwear will instantly make you the cynosure of all the eyes. The collection includes a number of quirky yet striking footwear. It has given a new meaning to the Loafer by embellishing it with elaborate embroidery. The hand-stitched crystals and beads will instantly set you apart.
Price: $265 (Rs 15,725)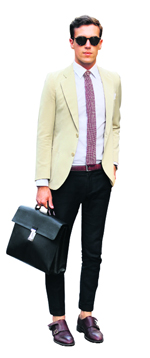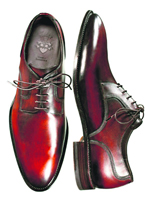 Bally Derby: Global appeal
Can you wear one single pair of shoes with jeans, with a formal suit or to the boardroom and also to a pub? If you are completely out of sync with style you would.
But Swiss footwear giant Bally has succeeded where others have failed. Its Leather Derby achieves just that. It's a shoe for any occasion which makes it unique in its global appeal.
Price: $725 (Rs 39,875)
New & Lingwood: Original loafers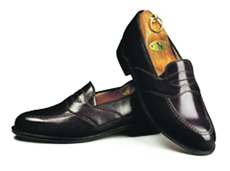 As an official outfitter to England's Eton College for almost a century and a half, New & Lingwood has a formidable reputation. And when it comes to bespoke footwear it has no peers. Its handcrafted and highly polished lace-less Stamford Loafers are considered the last word in casual shoes and have come to be a part of the British fashion heritage.
Price: $470 (Rs 25,850)
J. M. Weston: Exquisite style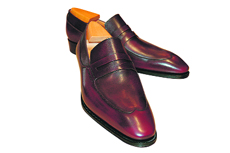 The French luxury shoemaker J.M. Weston has been the official supplier to royals and nobility for more than a century. Now it caters to the tastes of the modern-day aristocracy. Its new classic look is the Conti Loafer named after the 18th century French Prince Louis Francois of Conti known for his exquisite tastes. The pair, too, exudes superb taste of the wearer.
Price: $450 (Rs 24,750)
John Lobb: Sartorial classic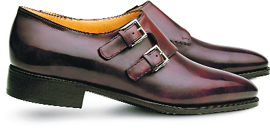 This is a label that demands a premium. Official shoemaker to many British Kings, the John Lobb handmade monk-strap shoes are a sartorial classic. Built from pebble grain leather, features a double sole, and is typically offered in dark brown and buffalo tan. This graceful pair can last a lifetime and can be worn with formals and casuals.
Price: $1,240 (Rs 68,200)
Yves Saint Laurent: Style statement
When Yves Saint Laurent gets into the designer act, the fashion world sits up and takes notice. One of its best designed men's footwear are high-top scaled python skin boots in black. They have round tapered toe and concealed zip closure at inner side. Satin, suede and patent leather platform features a black satin upper with a metallic gold cap-toe and taupe ankle strap. A complete style statement in itself.
Price: $1,925 (Rs 1,05,875)
Berluti: Look-at-me loafers
What is the favourite casual footwear of celebrities like Robert De Niro, Andy Warhol, Gérard Depardieu, Arnold Schwarzenegger and Bryan Ferry? It's a Berluti Loafer. The French company specialising in high-end men's shoes has perfected the art of making look-at-me loafers that are a step ahead of its peers. And so is its price tag.
Price: $1,850 (Rs 1,01,750)