area watch: bhiwadi
A rising star
Rapid industrial growth and good connectivity have made this gateway to Rajasthan a promising realty destination for investors and end users
Geetu Vaid
Bhiwadi, the first town of Rajasthan to become a part of the NCR, is truly living up to the status accorded to it. No longer just a dusty and sleepy town on the Alwar-Tijara Road, Bhiwadi is not only a thriving industrial hub but has also become an important realty destination. Hectic construction activity in over 20 residential projects and five malls here amply reflect the buyer and builder interest in this area. Here are some of the key factors that have made this town a rising star on the NCR realty horizon:
Location, location, location
Location and connectivity are the key considerations for increasing the realty quotient of any area, and Bhiwadi scores a perfect 10 on this front. Besides its proximity to Delhi, Gurgaon, Manesar, Bawal, Alwar and Neemrana, the area has a direct approach to NH-8 and the Delhi Mumbai Industrial Corridor runs right through it. Apart from this, it is linked to the Japanese Corridor intersection. Its being around 70 km from Delhi is not a concern for the prospective buyers and investors as the total time taken to cover this distance is not substantial due to less congestion and better roads, as Sumit Berry, Director, Berry Developers and Infrastructure Pvt. Ltd. (BDI), says, "We have to start thinking in terms of time distance rather than the physical distance. A big advantage for Bhiwadi, and for that matter cities along or near NH 8, is the ease of connectivity. The place is attracting industrialists and thus the scope of real estate growth is booming here."
Ankur Gupta, Joint Managing Director, Ashiana Housing Ltd. goes on to add, "Bhiwadi's distance from New Delhi, which was once a big setback for the area's growth and infrastructure has now become a boon for it. Earlier, investors were vary of picking up property here, but that sentiment is going to change now with projects like the 'Rapid Rail Plan'. Property prices in the city will obviously be majorly impacted by the forthcoming rail link and realty in Bhiwadi will undergo a facelift and makeover of the city as a real estate destination will be complete."
Affordability factor
In spite of rapid industrialisation, property prices in this region of the NCR are still in the affordable bracket and this is one of the major attractions for end users as well as investors. "The prices here are at least 30 to 40 per cent lower than those in Gurgaon, its nearest neighbour in NCR. It offers better facilities at a much affordable prices within the reach of the middle class buyers when compared to those in Gurgaon, Noida, Faridabad etc," says Berry whose company has residential, commercial and hotel projects lined up for Bhiwadi.
The current price is in the range of Rs 2,200 to Rs 2,800 per sq ft. The cost of a two BHK flat is between Rs 25 to Rs 32 lakh, while a three BHK can cost up to Rs 35-40 lakh. Villas with four bedrooms in an area of 2200 to 2500 sq ft may cost over a crore here. Owing to the affordable cost and world class facilities, the newly constructed apartments are in high demand and most of these have already been booked.
Project watch
The growth of MNCs and the commercial real estate market has given a boost to the demand for residential units here. With the region requiring roughly 16 million homes in the next 10 years, there is tremendous scope in this segment, especially in the upcoming areas like Bhiwadi. Market watchers in the city put the number of residential units coming up in different projects here at almost 8,500 at present.
Some of the top developers of the region already have residential, commercial and hospitality projects here. Ashiana, BDI, Parsvnath, Avalon, MVL, Genesis, Jagrit Infrastructures, Star Realcon are some of the groups that have set foot in the area. Bucking the trend of delays that has been plaguing residential projects in the NCR, Ashiana, BDI and Kajaria groups have already handed over possessions in their projects here. Ashiana group that has been among the first developers to enter realty market in Bhiwadi already has developed and delivered six residential projects besides North India's first senior citizen housing project (Utsav) where over 600 families are living at the moment. The group's ongoing project include Ashiana Angan where possessions are being handed over to buyers at present. The BDI group also has a couple of projects here. "As many as 250 families are already living in our Sunshine City project and possessions were given in time", says Berry. The group's new project, Northstar, is likely to be launched in September and will be completed in the next three years. MVL Coral, Krish Vatika, Nimai Greens are some of the other projects offering a bouquet of choices to buyers. The demand in the residential sector is primarily in the affordable segment and the 2 BHK apartments are the hottest selling products according to real estate agents operating in the area.
Looking up
While land acquisition mess and the very recent water imbroglio have given jitters to the property market in other NCR destinations like Noida Extension, Greater Noida and Gurgaon, Bhiwadi's ride seems to be clear of such potholes. "At the current pace of development I would not be surprised if five years down the line Bhiwadi gives tough competition to NCR's star — Gurgaon — as far as property prices and living conditions are concerned," says Berry.
Industrial setting
Massive industrialisation that has taken place here and is going on at present has also made Bhiwadi a realty goldmine as industrial growth always leads to increased demand for housing and commercial real estate.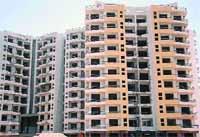 Bhiwadi at present has almost 3,000 running industrial units. As per the 2011 census figures there has been a threefold increase in the population of the area in the past 10 years and the growth of industry is a major reason for this. The city boasts of having several multinational companies. Currently, a few of the main ventures in Bhiwadi include the car plant of Honda Siel in Khuskhera, the power plant in Jhajjar by Reliance, SEZ of Reliance, KMP Expressway etc. As an investment destination for the 4,000 sq km Delhi-Mumbai Industrial Corridor where multiple Special Economic Zones (SEZ) have been approved by GoI, it is attracting Foreign Direct Investment (FDI) in real estate, IT and ITES, automobile, glass technology, packaging, logistics and cargo, heavy machinery equipment, construction material, medicine, food processing, electrical, metal and metal processing etc from Japan, Singapore, Malaysia, European Countries, USA, Korea and China.
The Rajasthan State Industrial Development and Industrial Corporation (RIICO) is all set to make Bhiwadi region an automotive hub on lines of auto clusters of Pune and Chennai. Honda Siel has 650 acres in Bhiwadi for its car manufacturing plant, R& D facility and a key ancillary unit. Presence of other automobile majors like Maruti Udyog, Eicher, Ashok Leyland and Hero Honda along with ancillary units including prominent players like Caparo Fasteners, Climate System, Federal Mogul, Goetze, HiTech Gear, Ocap Chassis, Amtek India, Balkrishan Tyres and Continental Engines amongst others is giving a boost to the growth of manufacturing units in the region. Many prominent manufacturing houses like Saint Gobain Glass India Ltd, Orient Craft Ltd, Bausch & Lomb, Gillette India, Videocon and Jaguar Ltd also have set up units here.
All this industrial activity is bound to trigger demand for quality housing in the region and has made Bhiwadi a good investment destination.