In these hurried times, elegant table settings and polite eating manners may have been relegated to the background. But even in the era of fast food, one must know the right etiquette of dining and entertaining formally. Such occasions can be an important business lunch, a meal with a loved one or a formal dinner at an important family function.
Ceremonial dining has been elevated to an art for another important reason. The exquisite tableware produced by some of the world's leading companies is not just keeping the tradition of fine dining alive but giving it a new impetus. What these companies produce are not your run-of-the-mill plates, bowls, teacups and saucers. Many of these are high-end creations made by accomplished artists and designers are no less then precious works of art.
Artistic concepts
The world's leading crockery makers are creating such artistic concepts and designs that they have given a new meaning to table setting. Plates are no longer merely to place food on. At high-end tables, you will have service plates, starter plates, dinner plates, side plates, salad plates, bread plates, meat plates, condiment plates, dessert plates and a host of other crockery items. Similarly, other dishes, too, have come in for big changes. A well laid-out table would have soup bowls, fruit bowls, cream bowls and dessert bowls. It could also have a hostess bowl, pedestal sugar bowl, a relish set, oval platter and special casserole for soup. Besides tea and coffee cups, there could be demitasse cups, which are very small cups used to serve Arabic coffee and dark espresso.
This dinnerware could be ceramic or made out of natural materials such as china, earthenware, porcelain, ironstone, and sometimes even specially treated wood.
Five-piece setting
Formal dinnerware comprises the basic five-piece setting that includes a dinner plate, salad plate, soup bowl, cup and saucer. A more elaborate one would have serving platters, casseroles, bread basket, salad and dessert plates.
Some of the most elegant settings would be a lot more elaborate. Besides the platters and service bowls, the tableware could include a gravy boat, pickle dish, creamer, accent plate, charger plate on a stand and also a ramekin (a small dish for baking and serving an individual portion of food). The dinner plate in a formal setting would be either nine or 12 inches in diameter, whereas both the salad and dessert plates would be four to eight inches in diameter.
Colours and designs
Though fine china comes in many colours and designs, a large number of sets still come in white so that they match the dining room décor, no matter how many times you change themes or colours. However, many high-end companies also offer them in a variety of bold hues.
Some companies like Old Country Roses have traditionally been offering fine china in floral designs, Wedgewood's deep blue and gold Renaissance is the stuff of dreams. Others like Hermes have miniature paintings on them and many like Mikasa, Monsoom and Ralph Lauren have recently come out with eye-catching Mandarin design creations. Lenox, on the other hand, has created an intricate heirloom-quality dinnerware designed with its classic plaid ribbons and 24-carat gold bands that looks stunning.
Depending on your taste and style, the options are mind-boggling. From a few thousand rupees you could spend a king's fortune for tableware that could transform you into a classy host.
WHAT CROCKERY IS MADE OF
Though crockery is produced from a variety of materials, the high-end sets are still made from bone china or porcelain. Some of the popular materials used:
Bone china: Crockery made from bone china is popular because it is light, durable and glossy. A mix of porcelain and bone ash gives it a translucent hue.
Porcelain: When porcelain is fired at high temperature, it acquires a mirror-like shine which makes it a favourite for durable dinnerware.
Corelle: Made of two layers of laminated tempered glass, Corelle is thin and lightweight but because of its double layer. It is also tough.
Melamine: Very popular in the 1960s and 1970s, the popularity of melamine crockery is on the wane because it is not microwave proof.
Earthenware: Pots and pans made from earthenware have been around ever since crockery was invented. It is still valued for its durability and sturdiness.
Ironstone: Crockery made from stoneware is hardy and long-lasting, which is ideal for casual and everyday dining.
Stoneware: Incredibly strong, water-proof material has been used for generations to make hardy crockery that is glazed to give it lustre.
Natural wood: Though some companies use specially treated wood for crockery, natural wood is best suited for serving trays, cheese boards and bread baskets.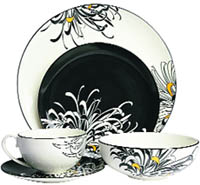 MONSOON: BLEND OF EAST & WEST
English company Monsoon's dinnerware collections blend together the exotic allure of eastern colour and prints with western bohemian styles and influences. A fine example is its chrysanthemum range of tableware that has been inspired by the bold 19th century Japanese textile pattern in charcoal and gold on fine, soft cream china.
Price: $132 (Rs 7,260) for a 16-piece dinner set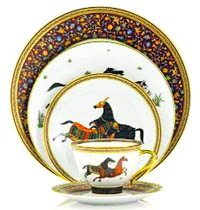 HERMES: MINIATURES ON FINE CHINA
Those who thought Hermes was only into high-end couture should rethink. Its dinnerware products, too, are legendary. The Cheval D'Orient, for example, has been the choice of the high-rollers for long. Intricate and refined decoration in the style of Persian miniatures, it recalls the Silk Route caravans and the conviviality of the Orient.
Price: $1,075 (Rs 59,125) for a five-piece place setting
ROYAL WORCESTER: SHEER ARTISTRY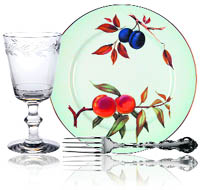 Royal Worcester of England has been known for luxury tableware ever since the company started manufacturing in 1751. Its signature white porcelain dinnerware called Evesham Gold is sheer artistry with luscious plum and peach designs, which are almost three-dimensional a befitting tribute to the company's 200-year-old commitment to excellence.
Price: $50 (Rs 2,750) for each 10-inch plate
Johnson BROTHERS: BRITISH CASTLE SET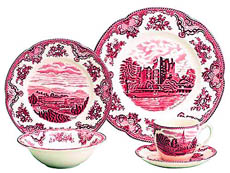 With Johnson Brothers' crockery, you can visit the English countryside without ever leaving home. Each piece in the Old Britain Castle's fine dining collection features different British scenes and castles, along with a name and date inscribed below the scene. Reddish pink and ivory add more to the refined pieces.
Price: $100 (Rs 12,100) for a 20-piece set
ROYAL CROWN DERBY: TITANIC MEMORIES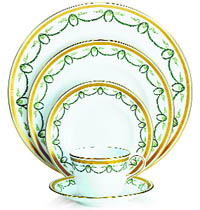 The Royal Crown Derby is one of the oldest porcelain factories in the world and has enjoyed British royal patronage since 1775. Its dinnerware was on board the luxury liner Titanic when it drowned. The same timeless pattern has been revived as part of the Titanic anniversary. The Royal Crown Derby English bone china set is still highly coveted.
Price: $400 (Rs 22,000) for a 30-piece set
VERSACE: Medusa Icarus Collection
The classic Versace collection designed by Rosenthal and titled Medusa Icarus has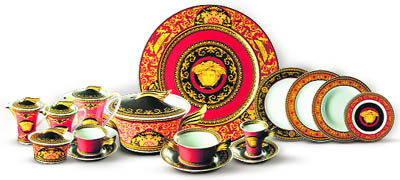 brilliant colours and exudes a sophisticated elegance. The dinnerware in vibrant tones of red, pink and lilac is embellished by Versace's classic geometric motifs in deep shades set off by a precious golden thread. A perfect setting for a romantic dinner.
Price: Each item ranges from $55 to $695 (Rs 3,025 to Rs 38,225)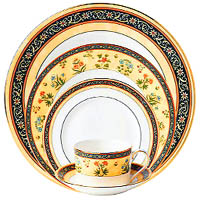 WEDGEWOOD: CLASSIC DESIGNS
One of the oldest and most respected companies producing fine china, Wedgewood was established in 1759 in England. Today, it is a name to reckon with in tableware. Its deep blue and gold Renaissance line is embellished with intricate garlands, oval links and a fanciful dragon motif. It evokes Europe's classical Renaissance period.
Price: $300 (Rs 16,500) for a five-piece set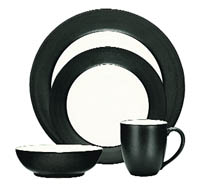 NORITAKE: COLOURWAVE DINNERWARE
The legendary Japanese tableware company offers some of the most elegant pieces of table luxury. One of its popular series is the Colourwave set that comes in mix-and-match coupe and quad shapes that lets you customise your tabletop to reflect your style. It is also available in a wide range of fun and funky colours.
Price: $175 (Rs 9,625) for a 16-piece dinner set
LENOX: LASTING GRACE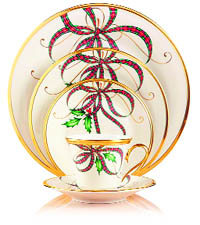 From casual dinnerware for everyday dining to ivory and white fine china banded in platinum and gold, Lenox's motifs and their classic plaid ribbon creates an elegant set of five-piece place settings from its trademark holiday dinnerware and dishes collection. Scrolling accents and a rim of 24-karat gold finish the look with a timeless appeal.
Price: $100 (Rs 5,500) for a five-piece set
WATERFORD: DINING AT ITS FINEST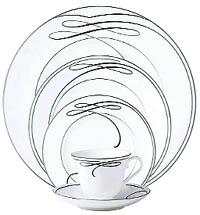 With each graceful swirl of black ribbon, the 2012 Waterford Ballet Ribbon dinnerware collection promises a night of fine dining. Each piece echoes the form of an elegant dance interpreted on fine china. The dinnerware collection is a work of art which will make elegant fine dining an experience to cherish.
Price: $125 (Rs 6,875) for a five-piece set
MIKASA: TIMELESS APPEAL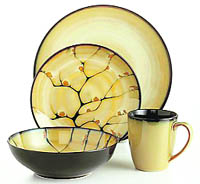 Mikasa was established in 1930 in New Jersey. Though wholly American, it looked to Japan for inspiration. Today, it is one of the most recognised brand names in the West. It has introduced a number of path-breaking designs that have been widely popular. Its Andria set is one of the best selling because of its reasonable pricing and timeless appeal.
Price: $80 (Rs 4,400) for a 16-piece dinner set
ROYAL DOULTON: EXQUISITE CHINA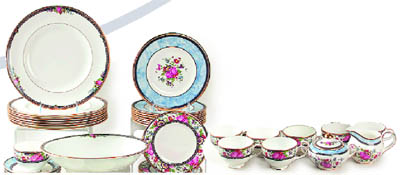 One of the world's best known tableware companies, the Royal Doulton's Centennial Rose set, is an exquisitely rimmed bone china featuring a delicate floral design accented with gold trim. Its subtle colours lend themselves to a variety of linens and centrepieces, and its traditional shape will fit beautifully with a variety of crystal and silverware.
Price: $2,295 (Rs 1,26,225) for a 45-piece set