Goodbye to good manners
There was a time when politeness was taken for granted. Now, in-your-face rudeness has become a norm rather than an aberration, whatever the cause — be it life in the fast lane or just the growing apathy towards others
Aruti Nayar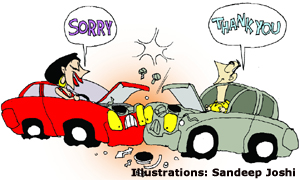 Once upon a time it was unthinkable for anyone not to say 'sorry' for any inconvenience caused, howsoever minor, or a thank you for any favour. Social interaction was punctuated by graciousness and charm and to say 'please' came easily. Cut to the present, all courtesies and graces have gone with the wind and what has replaced these is crass and loud behaviour that is taken as a sign of confidence and 'honesty.'
Sorry, no thank you please
Monika Singh
Social etiquette and good manners, once considered an asset, an essential courtesy in any communication, now appear to be a fading trend. People used words like 'Thank you', 'Please,' 'Excuse me' and 'Sorry' in their speech so often to establish long-lasting relationships.
Teen gymming: Fads and facts
Swati Rai
More and more teenagers are hitting the gym with a vengeance. There is an increasing consciousness of an acceptable image in the society. The boom of reality TV shows and the desire to make it big also boosts the gym-going tendency.
society
Paradise lost!
The fabled land of sun, sand and the sea is falling victim to its own myth. Saturation tourism and environmental degradation stare the idyllic getaway in the face
Ervell E.Menezes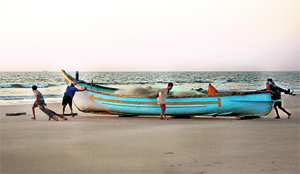 Our little land of Goa was called paradise because of its swaying palms and silver sands. There were vistas of virgin land as far as the eye could see, parted by sprawling rivers and a lazy, content and a susegado ambience in which the visitor was king.

Space wars: A rare sight as fishermen work their nets on their lone boat on the Benaulim beach. Today, almost every available nook on beaches across Goa is taken up by beach shacks and beds, pushing the traditional fishermen out of their own space Photo: S Gasper D'Souza

Goan by choice
S Gasper d'Souza
In the past decade, the tiny state of Goa has seen rapid growth, albeit somewhat unplanned, creating consternation in the minds of many a Goan. At the same time, Goa continues to be called home by many who choose to set up abode here.
A born leader, Lala Harkishen Lal electrified Punjab, literally and metaphorically
Punjab's forgotten stalwart
Nina Puri
For nearly 50 years, sandwiched between two centuries, the 19th and 20th, Lala Harkishen Lal whether from the heights of fame or from a prison cell attracted public attention and influenced society. Harkishen Lal (1864-1937), was born in Leiah, a town near Dera Gazi Khan.
LIFE
In footsteps of Dr Living Stone
The gateway to the Victoria Falls from the Zambian side, the town is named after Scottish missionary David Livingstone, who crusaded for the abolition of slave trade
Kalpana Sunder
Long ago, graceful ladies in long Victorian gowns carrying parasols waded their way to the river for their boat trip on the Zambezi. Smartly dressed gentlemen with hats danced the waltz, bridge and chess parties and boat regattas kept the Europeans busy.
entertainment
A legend called Dara Singh
From being a wrestler to an actor, India's original muscle man and action hero won many hearts
Devinder Bir Kaur
When Ramanand Sagar was making the mega-serial Ramayana for Doordarshan, he wanted only Dara Singh to play the role of Hanuman. Dara Singh had already played the monkey god in the film Jai Bajrang Bali, but that was in his heyday.