A born leader, Lala Harkishen Lal electrified Punjab, literally and metaphorically

Punjab's forgotten stalwart
Nina Puri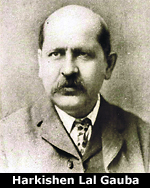 For nearly 50 years, sandwiched between two centuries, the 19th and 20th, Lala Harkishen Lal whether from the heights of fame or from a prison cell attracted public attention and influenced society. Harkishen Lal (1864-1937), was born in Leiah, a town near Dera Gazi Khan. After a 200-mile trek to Lahore, scholarships saw him through a B.A. Degree from Government College, which he rounded off with a Tripos in mathematics at Cambridge. He married twice and his three sons and daughter were sent abroad for higher studies. His eldest son, K.L. Gauba converted to Islam, much to the annoyance of his father. The younger son, Jeevan Lal (serving a prison sentence) was allowed to come out for a few hours, and light his father's funeral pyre.
An ardent nationalist, Harkishen Lal "thought in terms of Birmingham and Manchester, but worked in terms of Swadeshi". For most of his active life, Harkishen Lal lived in a palatial bungalow which is now St. Edwards Medical College. Viceroys, officials, colleagues and friends were always entertained by him in great style. He was known to have the best private collection of books, and generously patronised the arts and artisans. It is ironic that he himself chose to live in a small room surrounded by portraits of beggars, as a reminder of his humble beginnings.
Appreciating Dyal Singh Majithia's influence over him, Harkishen Lal "whole-heartedly sailed into business". He became the first Honorary Secretary of the Punjab National Bank, which was founded in 1895, and launched the Bharat Insurance Company Ltd., Lahore in 1896. Harkishen Lal figures in Dyal Singh Majithia's Will and Testament as one of the three trustees of The Tribune Trust, as also a trustee on the Sardar's College and Library Trust. In 1910, he was instrumental in founding the Dyal Singh College.
Between the years 1901 and 1906, Harkishen Lal started the Punjab Cotton Press Company Ltd; the People's Bank of India Ltd; Amritsar Bank Ltd; The Kanpur Flour Mills Ltd; and various other factories. In 1912, the Governor Louis Dane publicly appreciated Harkishen Lal taking up the challenge to set up the Lahore Electric Supply Company. In 1912, Harkishen Lal chaired the Congress Industrial Conference in Bankipur and advocated technical education.
Success in commercial ventures brought with it the downside. He faced opposition in 1906 from those who were envious of his financial success. Influential members of the Arya Samaj were frequently critical of his domineering personality so often reflected in the Letters to the Editor column of newspapers.
The run on the banks in 1913 affected the People's Bank and it was forced to file for bankruptcy. The chairman was down and out, but "he was prepared to break than to bend." The year 1913 found Harkishen Lal back in Dera Ismail Khan, practising law.
In 1925, after honouring all his debts, Harkishen Lal was back in business. The New People's Bank of North India and numerous other factories were started. Harkishen Lal became Chairman of more companies than any individual in India. Under Harkishen Lal's presidentship of the Indian Industrial and Commercial Congress held in Delhi in 1926, a resolution was moved approving the establishment of an Indian Associated Chamber of Commerce - this initiative was the precursor to formation of the Federation of Indian Chamber of Commerce and Industry (FICCI).
Accused of fanning the anti-Rowlatt Bill agitation of 1919, he was sent to prison for a life term. Dr Satyapal, a prominent political leader of Punjab, credits Harkishen Lal for his pioneering work in the Congress in its early years and states that "it is to Harkishen Lal that the Congress in the Punjab owes its existence". Opposed to the Non-cooperation Movement, in 1921 under the 1919 Reforms Act, Harkishen Lal and Mian Fazl-i-Hussain were appointed the first Indian ministers in the government and "What power they had they used, what they did not they created". In 1931, the clouds of depression were gathering, and Douglas Young sounded the death-knell for Harkishen Lal's concerns and perhaps his life. He passed away on February 13, 1937.