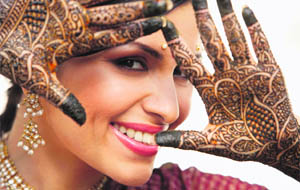 It's that time of the year when women dig out their bridal dresses, deck up and celebrate by singing songs — the festival of Teej
Showers of tradition
Up there he is finally okay with the idea of bestowing some merciful showers of rain! So we have almost 'countable' pitter-patter this season. Whether or not we get to see more of rain-drops, married women, engaged and yet-to-be-engaged women are ready to celebrate the festival of Teej, even if the showers are less.
Going with the flow
Sari, the very Indian outfit for women, has turned chic. And all credit goes to designers and celebrities who have been experimenting with the draping styles and blouses to go with this typical six yards of flowing fabric. More of an Indo-Western dress now, designers have been re-inventing sari as one of the sexiest outfit that suits all body types.
Weighty issue
The camera went click click click…captured some good shots, some bad. For a change the good ones didn't make news, so they were discarded. The bad ones made an erstwhile beauty queen look fat, err…ugly and were splashed in the newspapers.
A physician's pen
A physician by profession but a writer by passion, Inder Roop Singh Ghuman, who belongs to Doraha, Punjab, is all-excited about his first break as a writer for an upcoming Punjabi movie Saadi Wakhri Hai Shaan, for which he is also the lyricist.

The 'in' side
Clean sweep
When you invest in a new carpet, you naturally want to maintain it so that it lasts you a good many years. Here are some preventive methods—
Tale of cocktails!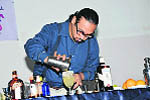 It is one thing that has inspired movies, gets people out of control and has the power to intoxicate. Cocktails rule the screen and bars alike! If you are one of those who totally fell for Tom Cruise's charm in the movie or Deepika Padukone's endless legs in the latest, most bars are known by the bar-tenders they have and how they play with drinks.
Liquid asset: Rohan Jelkie

Suit yourself
The saas bahu jodi, Dolly Bhardwaj and Sapna Bhardwaj of Manya The Designing Hub, is here with a unique collection of suits and western wear in the latest designs to make your weekend shopping memorable one.
star track
The star that shines bright
Bollywood star Salman Khan, who has been battling health issues and even underwent surgery for Trigeminal Neuralgia, a facial nerve disorder, says it is important for actors to forget such problems while shooting as the pain and discomfort can't be reflected on screen.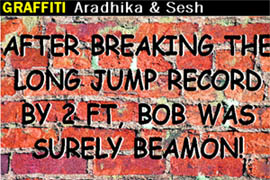 Attention grabber


Dirty dancing


The item code


What upsets Tusshar…


Maan on the move


Aiysha's trilingual stint


Bonding better


Time for action


Lull in Bolly releases


Ekta spares none


The bigger picture


New hangout
chatter box
Chills and thrills
The monsoon has given another reason to stay in as the thrill gets darker on AXN.  Ghost Hunters is on its way to send chills down your spine with their latest season. The new 7th season of Ghost Hunters will scare the hell out of you! What is the newest that Jason and Grant witnesses by the night? From the last episode involving the investigation of the haunted New Hampshire Inn, and a revolutionary era fort in New York, Season 7 begins where TAPS is on the road to Alexandria La, where they investigate several locations, including a tavern and the Diamond Grill restaurant. Tune in to AXN to not miss what gets revealed at the spots in Alexandria. What is scarier than a horror show? A real-life ghost experience! Ghost Hunters features Jason and Grant – plumbers by day and ghost hunters by night – and their group of real-life paranormal researchers as they investigate a chilling range of bizarre occurrences that challenge even the most hard-boiled sceptics.



Candid conversation


Proud moments


Too many hosts?


Holy visit


Fun and food