M A I N N E W S
With 73% rainfall deficit, Haryana stares at drought
Pradeep Sharma
Tribune News Service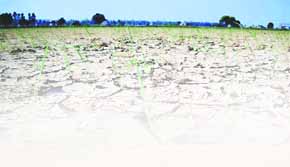 Chandigarh, July 26
The spectre of severe drought stares Haryana in the face. The overall rain deficiency in the state has been pegged at 73%, something which is enough to ring the alarm bells in the agriculture sector.
The highly deficient rainfall has already taken its toll on the sowing of the Kharif crops in the state, say sources in the Agriculture Department . "The crops have been sown only on 21.64 lakh hectares as against the target of 30.75 lakh hectares," they said.
A close look at the rainfall data since July 1 reveals that all districts have received a highly deficient rainfall with Kaithal receiving just 9.5 mm rainfall as against normal figure of 139 mm (93% deficit) followed by Kurukshetra 31.7 mm (86% deficit) and Karnal 33.1 mm (85% deficit).
Barring the non-agricultural district of Gurgaon, where the rainfall deficiency was 33%, all other districts have a rainfall deficiency ranging from 54% to 82%.
Officials said the deficient rainfall has directly affected the Kharif sowing. As against a target of 6 lakh hectares, only 2.15 lakh hectares (35%) could be covered under bajra, a major crop of the state. Similarly, jawar could be sown on an area of 0.60 lakh hectares against a target of 0.80 lakh hectares. The percentage of area covered under other crops was cotton (87%), paddy (82%), maize (47%), summer moong (60%), pulses(38%), oilseeds (40%) and guar (60%).
Admitting that there were "drought-like" conditions in Haryana, BS Duggal, Additional Director (Agriculture), asserted that a "contingency crop plantation" plan had been worked out with Chaudhary Charan Singh Haryana Agricultural University. Under the plan, the farmers had been advised to go in for alternative crops requiring less water.
He, however, said less rainfall has pushed up input costs, particularly for paddy. Though the area under the paddy transplantation has been substantial this year, in the absence of rains it would be difficult to sustain the crop, sources said. The Haryana Government is likely to seek a Central package for the loss to be suffered due to less rains, sources said.
The BKU has demanded that the government should declare drought officially. "Against the backdrop of negligible rainfall, the state should urge the Centre to officially declare drought in the state. In fact, to compensate the farmers affected by the natural calamity, a compensation of Rs 10,000 per acre should be given immediately," said Gurnam Singh, Haryana BKU chief.
EGoM meet on drought next week

Agriculture Minister Sharad Pawar raised the prospect of drought for the first time this year, saying the country's planners would discuss next week the situation arising out of rainfall shortage

The EGoM on drought would be meeting for the first time since 2009, the year that saw the driest monsoon in four decades
Rain shortfall
Kaithal 93% Kurukshetra 86% Karnal 85% Ambala 82% Rohtak 81%