Olympic show-offs
As the world watches the most spectacular sporting event of 2012, the London Olympics, a variety of souvenirs will remain with spectators long after the Games are over
Nutan Sehgal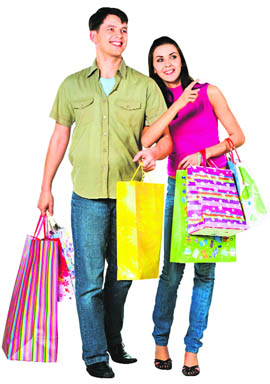 For fans around the world, sports events like soccer, cricket and tennis are religion and major tournaments evoke the best and worst passions. But the quadrennial Olympic Games tower over all other events as these blend sports and history. These are the biggest and the fanciest of all extravaganzas. The 2012 London Olympics are being billed as one of the most spectacular sporting shows of the world.
Take a look at the statistics. It is estimated that four billion people from 220 countries around the world will watch 10,500 athletes participate in the Games. More than 8.8 million tickets have been sold for an estimated $6.5 billion.
The Olympics will generate more than $15 billion for the British economy. Tourists will chip in with a revenue of $3.28 billion and organisers are expecting to raise more than $1.55 billion from the sale of merchandise.
Olympic Games, however, are not just big business for the host country. The Games make amazing financial sense for leading and not-so-big companies around the world, who virtually deluge the market with collectibles and kitsch.
It is estimated that by the time curtains come down on the London Olympics on August 12, more than 80 per cent people coming to watch the event will go home owning a piece of the Games — a souvenir as a happy recollection of the Games.
There's an astonishing variety to choose from — stuffed mascot toys, posters, key rings, pin badges, flags, T-shirts, sunglasses, watches, shoes, umbrellas, die-cast vehicles, figurines, towels, tableware, bed linens, replicas of medals, torches, official athlete-signed memorabilia and limited edition collectables.
Olympic memorabilia
This is also the season for the auction of Olympic memorabilia. Major London auction house Bonhams is holding a series of auctions of souvenirs from earlier Olympics ranging from a sepia-toned picture of the inaugural 1896 Athens Olympics opening ceremony up to the Beijing Olympics of 2008. Also on offer are hundreds of medals won by athletes — some in obscure games as tug-of-war which was a team event till 1920 and rope climbing that was discontinued in 1924.
Graham Budd Auctions, in association with Sotheby's, has held an auction that included a series of medals, including a bronze medal as the second prize in the 1896 Olympics. In that Olympics, there were no gold medals, the winner received silver and the athlete who came in second went home with a bronze medal.
Though the sales of 2012 Olympics mementoes is booming, avid collectors give these a go-by and have their eye on rare memorabilia. For example, the 2012 Olympics' torch carried by soccer legend David Beckham already has collectors vying for it. When it goes under the hammer, it is expected to fetch well more than £7,000 (around `6 lakh). Collectors say it is these rare Olympic objects that tend to make the best long-term investments.
Limited edition collectibles
Though most of the souvenirs are eminently affordable and aimed at the tourists thronging to watch the Games, there are also limited edition collectibles that target the high rollers. Omega has re-introduced its 1948 classic Seamaster watch with the London 2012 logo on its dial costing $6,800 (`3.74 lakh).
Wedgewood, the English company producing fine china, has produced a stunning assortment of commemorative giftware to mark the 2012 Olympics. These range from a gift-boxed London Olympics mug priced at £25 (around `2,150) to a limited edition London 2012 vase costing a cool £20,000 (around `17.15 lakh)
Panasonic has launched the London Olympics special Lumix 3G compact system camera and the HDC-SD90 HD camcorder in a limited edition range with the pair collectively priced at around $1,400 (`77,000). Kodak has re-introduced the limited edition Brownie box camera that it had launched in 1900 which sold millions of units through the first half of the 20th century.
There's a global industry out there for collectibles. Whether limited edition or in surplus supply, there's an enthusiastic buyer for all of them. The Olympics usher in a carnival kind of festivity where people can't resist the temptation of buying a memento and taking home a piece of the Olympic history to preserve for generations.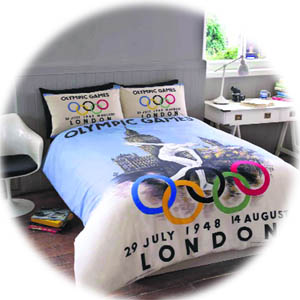 Rise to an Olympic dawn
Do you often dream of going to London to watch the Olympics? Your dream can come true with this new bed linen inspired by a poster of the Olympics that London earlier hosted in 1948. It comprises quilt covers and pillowcases for single and double bed settings and will remind you of the Games every night.
Price: $30 and $45 for single and double bed settings (Rs 1,650 and Rs 2,475)
Raise a toast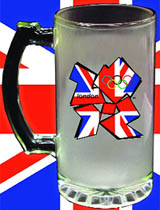 The competitive spirit of the Olympics gives a heady high to spectators. You can add to that adrenalin rush with a mug of the famous old-fashioned cask-conditioned London draft. The 600-ml frosted beer mug is not only attractive but also forms an important part of the London Olympic memorabilia.
Price: $25 (Rs 1,375)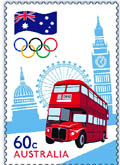 Letter to London
Australia Post has taken the lead in releasing an Olympics 2012 stamp. Titled 'The Road to London', it features several iconic London landmarks — the Dome of St Paul's Cathedral, the London Eye and London's most identifiable symbol of all — the Clock Tower, popularly referred to as Big Ben. This is a real work of art in philately.
Price: 60 cents (Rs 33.50)
Down to the 'T'
Among the first Olympic souvenirs to hit the market are T-shirts. London Olympics has once again re-iterated this with more than 45 companies and websites offering T-shirts in different hues, sizes and styles with all of them having the Games as their underlying theme. Such is the competition out there that you will be spoilt for choices.

Prices: Between $5 and $30 (Rs 275 and Rs 1,650)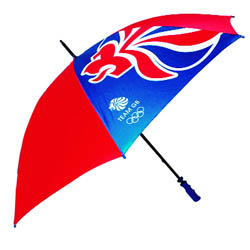 Duck for cover
England's summer showers are as unpredictable as the fortunes of sportspersons competing in the Olympics. An umbrella is an essential part of one's attire in this city. A number of companies are offering Olympic theme-based umbrellas you can choose from. The official Team GB Olympic umbrella is large enough to shelter the whole family.
Price: $30 (Rs 1,650)

Key to the Olympics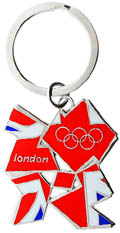 Among the most popular souvenirs of the London Olympics are the various kinds of key-rings in creative shapes and sizes that have flooded the market. Among the highest in demand are the iconic London red telephone box, the Union Jack, the ubiquitous Bobby and the Olympics logo. The sales of these key-rings have been booming.
Price: Between $5 and $10 (Rs 275 and Rs 550)
Catch hold of the mascots
Wenlock and Mandeville, the iconic mascots of the London Olympics and Paralympic Games, are the most sought-after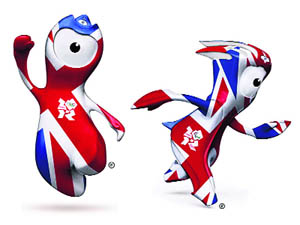 souvenirs. They both have a single eye made out of a camera lens, a London taxi light on their heads and the Olympic rings represented as friendship bracelets on their wrists. From soft toys to key-rings and bracelets, they are omnipresent.
Price: Between $1 and $20 (Rs 55 and Rs 1,100)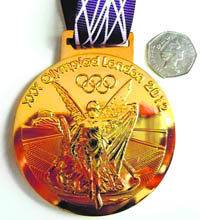 Feel like a winner
Has your favourite athlete or team won the coveted gold at the London Olympics? If yes, you can own a piece of history with a gold medal replica made from a zinc alloy that has the same look as the original. It comes with the similar deep purple ribbon with the printed logo London 2012 Olympics, which will surely make you feel like a winner.
Price: $80 (Rs 8,800)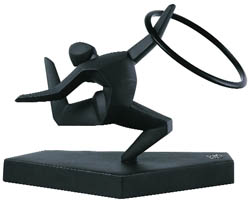 Glass apart
Royal Doulton, the 200-year-old English tableware and collectibles company, has brought out stylish figurines of Olympic sportspersons in action. Made from bone china that gives a three-dimensional representation of the sport, these abstract figurines are elegant souvenirs of the London Olympics cast in glass.
Price: $185 (Rs 10,175) per figurine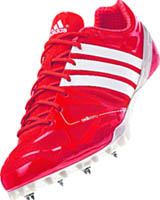 Shoes for Olympics
If shoes were competing, sports gear companies would have been vying for gold. Nike has introduced Air Max 2012, Reebok has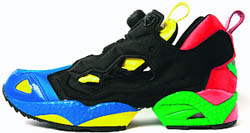 Pump Fury 'London', Adidas has launched Adizero Prime Accelerator. So have a host of others like Puma, New Balance and more. All these shoes capture the spirit of the Games in their own special ways.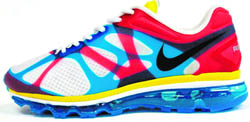 Adidas Adizero Prime Accelerator $130 (Rs 7,150)
Reebok Pump Fury 'London' $155 (Rs 8,525)
Nike Air Max 2012 — $170 (Rs 9,350)
Sporty wrist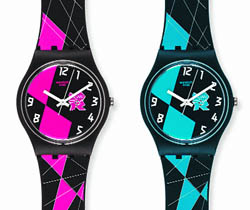 In a special tribute to the 2012 London Olympics, Swiss watch major Swatch has launched a pair of specially designed sports-inspired watches. The designers of the trendy Gents have merged pro-sport aesthetics and the 2012 London Olympic Games logo to create the attractive two-toned sporty watch.
Price: $75 (Rs 4,125)
Watch this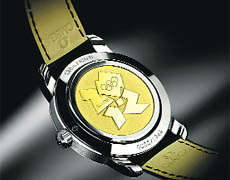 This has to be one of the most valuable souvenirs of the Olympics 2012. In a special tribute, Omega has reintroduced the Seamaster Co-Axial London 2012 watch, based on classic design of the Seamaster 1948 when London last hosted the Olympics. The watch has the Games logo on its dial and is in a limited edition of 1948.
Price: $6,800 (Rs 3.74 lakh)
Add a fizz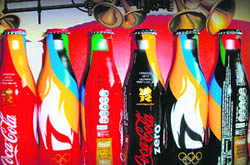 As one of the biggest supporters of the Olympics, Coca Cola has rolled out the limited edition packaging for its beverages. The specially designed bottles feature yellow, blue, orange and black stripes on a red background, an Olympic torch image in white and the iconic Olympic rings indicating that happy times are here again.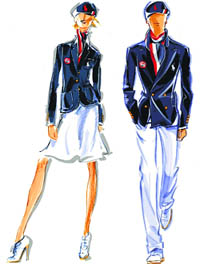 Price: $3 for 250 ml bottle (Rs 165)
Wearable memorabilia
Polo Ralph Lauren has designed the official Olympics uniform for Team USA and it has proved to be a great hit despite its steep cost. The Team USA classic-fit shirt, flat-front trousers, silk tie, belt, uniform shoes, women's skirt, cap, Olympic ceremony beret and double-breasted blazer are clocking brisk sales as wearable Games' memorabilia.
Price: $1,000 for entire outfit (Rs 55,000)
Apart from global merchandising giants who contribute about 20 per cent of the collectibles on sale at the London Olympics, ever wondered who is producing the rest of the 80 per cent of those posters, pins, key rings, T-shirts, sunglasses, watches, shoes and other paraphernalia which will notch up sales of over the $1.55 billion merchandise during the London Olympics?
The colourful memorabilia is certainly not as British as it looks. Don't be surprised to see labels like Made in India, Made in China or Made in Bangladesh on the 444 products on sale.
Despite protests from the local industry, the British authorities outsourced the production of a majority of the memorabilia on sale during the Games and only eight per cent of the products have been made in England.
China was the major beneficiary with 67 per cent of the souvenirs being manufactured in its factories, including the Olympic and Paralympic mascots, Wenlock and Mandeville. Turkey came in second with nine per cent and the rest of the manufacturing was shared by India, Bangladesh, Vietnam, Cambodia, Indonesia, Thailand, Pakistan, Poland, Slovakia and Germany.
However, no one knows the source of production of protest merchandising which is doing roaring parallel business. T-shirts and other stuff displaying slogans like Official Protester in exactly the same official style and font size are being lapped up by people who failed to get tickets or are just bored stiff by the hype created by the authorities.