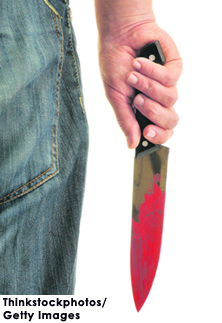 When friends turn killers
Swati Rai
The exact words of the headlines may not stay with us but what does leave a frightening mark is the increase in cases of friends turning killers. The fact that the killer is one of our 'own' is a growing trend, to which we cannot turn a blind eye. Is this trend an off-shoot of the increasingly material world we inhabit? Has greed and the lust for a good life broken the social fabric and relationships. Has friendship lost its essential ingredient of trust and faith? Reacting to such occurrences and their effect, Dr Samir Parekh, Director, Mental Health and Behavioural Sciences, Fortis Healthcare, New Delhi, says, "Friends killing one of their own, is something that is a part of the larger picture of growing violence in the society. When a friend or a family member is killed, the emotions involved are much more intense and issues more complicated.

Ways to nip the violence in the bud
Jellyfish for your heart
Researchers have created silicone and living cardiac muscle cells into a freely swimming "jellyfish", thanks to advances in marine bio-mechanics, materials science, and tissue engineering. The finding serves as a proof of concept for reverse engineering, a variety of muscular organs and simple life forms. It also suggests a broader definition of what counts as synthetic life in an emerging field that has primarily focussed on replicating life's building blocks.
Hello mineral water, goodbye pitchers
Aradhika Sharma
Hand carts with machine ka thanda paani and pitchers placed outside homes to quench the thirst of passersby are dying practices
The other day I was driving along the road that leads to the Sukhna Lake. As I crossed the Rock Garden, I noticed a couple of rehris on which were placed pots covered in red cloth, regularly wettened by the rehriwala to keep the contents cool, decorated with sprigs of mint and strings of lemon. Jal Jeera and shikanjvi (lemonade) was contained in the pots and being sold at Rs 10 per glass.
Finns love Indian food
From palak paneer to tandoori delights, Indian food a hit in Helsinki
Kavita Bajeli-Datt
When one thinks of this Land of the Midnight Sun, the first thing that comes to one's mind is reindeer meat. But this capital city of Finland boasts of at least two dozen Indian restaurants that serve mouth-watering palak paneer, chole-naan, kadi-pakora, butter chicken and other delicacies.
Mecca for artists
Alka Pande
St Petersburg has more than 221 museums, 80 theatres, 100 concert halls, 45 galleries, 62 cinema halls, and at least, a 100 other cultural institutions. It is a major European cultural centre
White Nights, a singular experience of St Petersburg, or the night of endless night which falls on the summer solstice i.e. June 21, is a major aspect of the city. It is an experience which can only be felt and even the best of literary writers cannot describe the nuances of light and the changing shades of light, which fall through the city through the day. It forms the romantic setting of Anna Karenina, the first Hollywood film that immortalises Petersburg after Perestroika 1991 (many more have been shot since then) starring Sophie Marceau and Sean Bean.
HEALTH capsules
Walk to school to lose weight
Teens, who play a couple of team sports and walk or bike to school, are less likely to be overweight or obese, says a new study. Researchers found that of more than 1,700 teens, those who played on at least two sports teams per year, were 22 per cent less likely to be overweight or obese than those who did not. Those who walked or biked to school four to five times per week were 33 per cent less likely to have weight problems.
Perfect plot
Shama Rana
Small-budget films with an unusual storyline and no big names to count on are raking in the moolah at the boxoffice
Monsoons are right here but it's already raining small budget movies in Bollywood. Thanks equally to the movie makers and cinema goers, these movies with unusual subjects and no big names to count are raking in the big moolah at the boxoffice. With the biggies like Salman's Ek Tha Tiger, Aamir Talaash booked for the second half of the year 2012; small budget movies took the cake in the first half. Hits like Kahaani, Paan Singh Tomar, Tere Naal Love Ho Gaya and Vicky Donor, Ishaqzaade all had offbeat themes but managed to keep the cash flowing at the ticket windows.
Golden classic
Shoma A. Chatterji
Four different social worlds intermingle and blend into each other in Sahib Bibi Aur Ghulam, the film which completes 50 years this year
Sahib, Bibi Aur Ghulam is based on a literary classic in Bengali by Bimal Mitra named Saheb, Bibi, Golam. It deals with the disintegration of a great zamindari haveli and a vanishing lifestyle in Bengal. The film focuses on the encounter between the flamboyant lifestyle and extravaganza of the decadent zamindari class and the work ethics and ideology of the new, rising middle class of the Brahmo community.

Fruit facts