When friends turn killers
Swati Rai

July 2012: Vastrapur, Gujarat, police arrested Vijay Darbar, for the murder of his friend Jagdevprasad Mishra in a fit of rage
April 2012: Karnal, Haryana, friends of Vijay Kumar a student at a polytechnic at Sambhli pushed him into the Bhakra Canal for owing them Rs 500.
August, 2011: The body of Srikant Singh, 26, the son of a senior official in the National Commission for Scheduled Castes (NCSC) was recovered from Haryana's Rewari district. Singh's friend was among the three accused.
---
The exact words of the headlines may not stay with us but what does leave a frightening mark is the increase in cases of friends turning killers. The fact that the killer is one of our 'own' is a growing trend, to which we cannot turn a blind eye.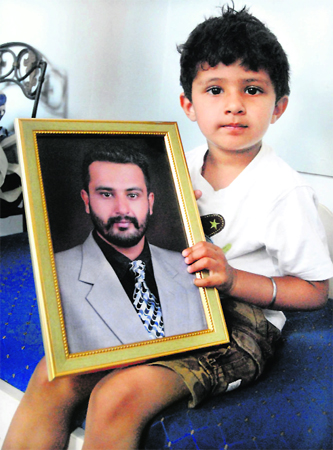 The three-year-old son of Gurkirat Singh Sekhon alias Gikky, the Ludhiana-based hotelier, who was shot dead by his friend Prince. A Tribune photo

Is this trend an off-shoot of the increasingly material world we inhabit? Has greed and the lust for a good life broken the social fabric and relationships. Has friendship lost its essential ingredient of trust and faith?
Reacting to such occurrences and their effect, Dr Samir Parekh, Director, Mental Health and Behavioural Sciences, Fortis Healthcare, New Delhi, says, "Friends killing one of their own, is something that is a part of the larger picture of growing violence in the society. When a friend or a family member is killed, the emotions involved are much more intense and issues more complicated. The reasons for doing so can be jealousy of the financial standing of the other. It may also be relative comparison of what one had earlier and what one is left with in the present."
By and large, money seems to be the major cause of kidnapping and killing of one's own friends. One of the many such cases was that of killing of Rohit Ahlawat, 28, last year. He worked with the legal cell of Bureau of Indian Standards (BIS) and his body was recovered from an isolated place near Amroha in UP. Two persons, including Ahlawat's friend, were arrested for kidnapping and killing him.
Root of crime
Elaborating further on the reasons of such crimes, Dr Natasha Ryntathiang, Consultant Clinical Psychologist, Vidyasagar Institute of Mental Health & Neurosciences (VIMHANS) adds, "Looking at the roots of aggression or violence, it is the result of insecure or/and disorganised early attachments such as parental or child-rearing attachments. It could also be influenced by external events and stimuli — triggers and frustrations as well as social and environmental factors. Neurobiologically, violence is said to be embedded in the brain and can get re-enacted later in life."
These incidents when the killer is not a nameless face but a friend who was once trusted blindlyare on the rise and are spread across the length and breadth of the country.
Starting young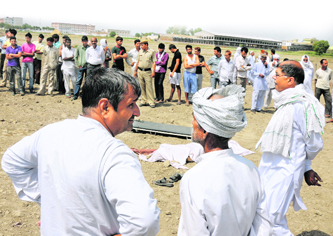 People gather around the dead body of Bajinder, a Class XII student allegedly murdered by his friends at Bastara village in Karnal

The youth today is especially vulnerable to such crimes because of media propagation of violence and the image of 'invincibility' of the youth. Brandishing weapons and show of muscle power is common and
considered "cool". Coupled with this is the low tolerance and patience levels and the blatant flouting of laws that makes for a heady cocktail. Talking of the power play in our society, Parekh adds, "Our society is becoming increasingly narcissistic. We rejoice and revel in the fact that we can do anything and get away with it. This is how power is flaunted and played out in our society. In some reality shows, participants are encouraged to backstab, back-bite and betray each other for a prize that one can't even be proud of down memory lane later in life. This is a dangerous trend and if this growing violence doesn't concern society, I wonder what will?"
Can 'familiarity breeds contempt' be a reason for friendship turning sour? In 2011, a hotelier's young son, Gurkirat Singh Sekhon (alias Gikki) was allegedly murdered by Ram Simran Singh Makkar alias Prince, in Jalandhar. Gikki and Prince were childhood friends having studied in the same school. What is it that would have tempted a man to kill one's own?
Dr Pulkit Sharma, Consultant Clinical Psychologist & Psychoanalytical Therapist VIMHANS, explains, "Violence against one's own friends is common. This is because, in close friendships whenever there is a misunderstanding or rejection, psychologically vulnerable people feel deeply hurt and let down. Violence towards friends is an expression of this intense emotional pain."
In April this year, Anoop, a close friend of a 23-year-old engineer in Delhi named Johnny, confessed to have kidnapped and murdered Johnny with two others. In March, Ashish Kumar Garg, 18, was allegedly kidnapped and killed by his friends after demanding a ransom of Rs 50 lakh from his father in New Delhi.
Growing materialism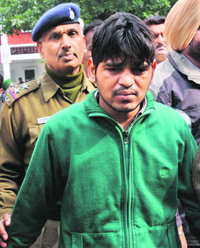 Rahul, accused in the double murder of Sahoos, being produced in court

It is perhaps the growing materialism in the society that also has a hand behind this killer trend. Name, fame, money gadgets and gizmos seem to have overtaken the youthful spirit and the ends seem to be justifying the means.
Dr Parikh explains, "The difference between the haves and the have-nots has grown tremendously and we live in an era where everything that you do and have is judged starting from where your shirt is from!"
Is the youth driven to kill their friends for earning a 'quick buck'? Is this the easiest way to avoid working hard? To think that most of the perpetrators of these crimes are from the middle class, the so-called moral police of our society.
Dr Simmi Waraich, consultant Psychiatrist, Fortis Hospital, Mohali adds, "Young adolescents are often impulsive. Society around them is callous and indifferent, their parents show little concern for the poor on the road and more concern for buying a bigger piece of land and making more money.
The greed leads them to plan some extra cash through kidnapping. When they realise they will land in trouble, even killing off the 'kidnapped friend' may occur."
Getting into an academic discussion on the issue is the easier part, sensitising people on this growing menace is where the real challenge lies. It is time that we take a stock of the growing trend as crime now has a "friendly" face.
Ways to nip the violence in the bud
Dr Pulkit Sharma

Open communication
Violence takes birth due to the breakdown of attachment system early in life. It is also due to insufficient psychological resources to deal with everyday stressors. To counter this, there should be open communication in the family. If one can talk about how one feels and gives the other person a similar space — the experience of being hurt can be dealt with and violence avoided.
Anger management
One can manage anger better by developing self-awareness about the sources of emotional pain and thinking of alternative and more constructive ways of channelising it. Learning a martial art is a great way to do so.
Dr Natasha Ryntathiang: Facilities of counselling should be provided to everyone. One must deal with compassion and provide rehabilitation options to economically disadvantaged groups. Individual and group social interventions are also a must.
Dr Simmi Waraich: Be observant. There is a need to be observant to pick up early signs and check them from growing further. Signals like lying, truancy from college, stealing, running away from home at night should be checked and controlled at the right time.