EDUCATION

JOBS & CAREERS

HEALTH & FITNESS

SCIENCE & TECHNOLOGY

REAL ESTATE
Samba villagers first noticed tunnel
Chalyari (Indo-Pak border), July 29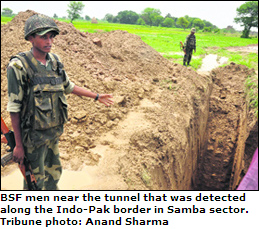 Had a retired soldier and a teenager of Chachwal village not informed the BSF about the caved-in portion of their agricultural fields, barely 150 metres from the barbed fence along the international border in Samba sector, Pakistan would have possibly succeeded in its nefarious designs to disrupt India's Independence Day celebrations.

Crowds swell as Anna joins fast
New Delhi, July 29
Once again the Anna-impact came resounding at the Jantar Mantar today with a sea of supporters standing up against the corrupt system and the government for which the 74-year-old anti-corruption crusader has began yet another fast-unto-death.
Punjab Govt to target traders, manufacturers evading VAT
Chandigarh, July 29
The Punjab Government is set to target 1.24 lakh registered manufacturers and traders, who are not paying taxes. Apart from the crackdown on tax evaders, the government, which is eagerly looking to mobilise revenue, is also planning to tax goods right from raw to finished state to mop up around Rs 4,000 crore.