Buddyhood in Bollywood
Bollywood has always celebrated friendships. On Friendship's Day, we ask movie buffs about their favourite portrayal on screen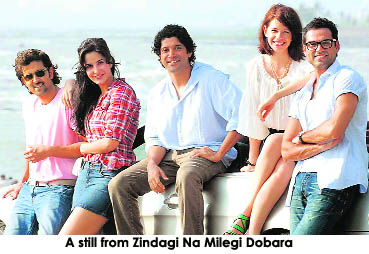 Friendships and Bollywood are inseparable. From the times that Amitabh Bachchan and Dharmendra sat together on the bike crooning to Yeh Dosti Hum Nahi Todenge… to the latest globetrotting friends Hrithik Roshan, Farhan Akthar and Abhay Deol in Zindagi Na Milegi Dobara, friendship as a theme is pretty much inherent to B-town products. As the world today celebrates International friendships Day, we find out which Bollywood friendships have appealed the most...
Yeh dosti…
True friends are those who stay close despite the distance or differences…
Friendship is one relationship that is unconditional. Friends understand you and stand by you through the thick and thin. The latest outing Cocktail has saluted the spirit of friendship by capturing its true essence. This Friendship's Day we talk to those who have like been there for each other always…
A ride, an experience
Riding a bike is a wonderful experience for most people and if the machine happens to be a Harley Davidson, nothing beats the feeling…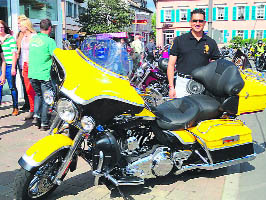 To soak in the sound and sight of fifty thousand bikes at one go is quite an experience! And if the bike happens to be a Harley Davidson, the sight becomes a spectacle. Harpreet Sandhu, lawyer, Panjab and Haryana High Court, tries to put into words the experience called Harley Davidson, Europe 2012 Rally at Rudesheim, Germany. Driving a Harley Davidson D, even on the parallel road, was quite an experience.
Haute wheels: Harpreet Sandhu
Shahid unplugged


Chocolate hero Shahid Kapoor is adorably charming and wins people over with his big, bright smile and boyish demeanour. In an exclusive chat, he talks about his choices, the shades he would like to see his girl wear, and his sense of style, among other things beyond cinema. What are the colours you would like to see on your girl? I think women look beautiful in black and red. Even skin colour looks great on them. And obviously white! What do you think about the trend of coloured pants these days?
Astro turf
ARIES: Today your best approach is not to confront people but to do your own tasks with dedication. You need to take frequent breaks at work and watch your diet and fitness routine. Take care of your health. Tarot message: Use your judgments and be firm in extracting a commitment. Lucky colour: Crimson. Magic number: 29
The year ahead
If your birthday is August 5...
Number five people are the freedom lovers. These are "idea" people with the ability to adapt to most situations. Ruled by Mercury, you may be adaptable, freedom-loving, romantic, resourceful, witty, fun-loving, curious, flexible and accommodating. If expressed negatively, non-committal, irresponsible and inconsistent.
Chatter box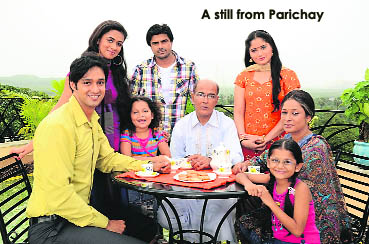 Two-rrific twist
New addition to Colors' Parichay-Nayee Zindagi Kay Sapno Ka after a leap of 9 years is a terrific twist. Ekta Kapoor will feature real-life twins – Anmol and Apurva Jyotir who will play the role of the twins to the estranged couple Kunal (played by Sameer Soni) and Siddhi (played by Keerti Nagpure). After a nationwide hunt and search for the perfect pair, Anmol and Apurva Jyotir were chosen.
Ekta Kapoor: I will never quit TV
Despite the fact that her home production Kya Super Cool Hai Hum was trashed by film critics, Ekta Kapoor is on cloud nine. After all, the film is close to touching Rs 50 crore mark at the box-office. Ekta gets chatty about the film, critics and more…
Despite the bad reviews, your film has exceedingly well. How do you feel?
I am very happy with the result. I am just enthralled with the response and can only say Jai Mata Di. Balaji Motion Pictures had taken a big pun on the critics by taking out a full page advertisement in a Mumbai based newspaper in which they have written what critics have mentioned about the film.
No more stage fright for Keira Knightley
Pride and Prejudice star Keira Knightley says she no longer has stage frights. The 27-year-old actress said that her time away from movies helped her train herself to cope with her crippling nerves on film sets, reported a publication online. "I discovered that a lot of what I was suffering from on film sets was stage fright. It's easier for me now, and even if I do freeze, I know how to deal with it," Knightley said.
The aftermath
Kristen Stewart is not welcome at the premiere of her jilted boyfriend Robert Pattinson's new film Cosmopolis. Security has been told to keep the Twilight star away from the red carpet and after-party of Pattinson's first scheduled public appearance on August 13 at the New York City premiere of Cosmopolis, reported a publication online.

Taste of his medicine!
Ace fashion designer Manish Malhotra, who was the first designer to have a showstopper in India back in 1999, isn't too happy with media giving more importance to celebrities. "All newspaper articles on fashion weeks speak more about stars than the designers. Urmila Matondkar was the 1st actor showstopper in 1999. Star status: Manish Malhotra
Creating a storm
On Zee TV's DID L'il Masters, superstar Salman Khan and the gorgeous Katrina Kaif promoted their upcoming release Ek Tha Tiger and brewed up a storm on the sets. Salman's sporting attitude, his playful chemistry with Katrina and his hilarious antics with the Grandmaster of the show, Mithun Da were a laugh riot.
The dream team
After having worked together in That Girl In Yellow Boots, Naseeruddin Shah will again team up with Anurag Kashyap. Shah is all set to star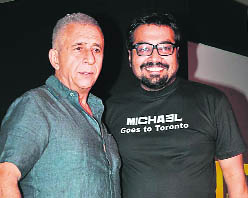 in Kashyap's Bombay Velvet that will star Ranbir Kapoor and Anushka Sharma as the lead. Kashyap revealed, "Yes, he is a part of Bombay Velvet. He will be playing an important role in the film and that's all I can tell at the moment." The relations of Naseer and Kashyap go back a long way. It is said that when Kashyap used to fall short of money, the elder actor would always be helpful and caring. Talking on the veteran actor, Kashyap added, "Whenever he is on the sets, he lends a great deal of energy. He's a powerhouse performer."
Deadly duo: Naseeruddin Shah with Anurag Kashyap
Taking no chances


R&B singer Beyonce Knowles has been holed up in a studio in New York working on her next album with Kanye West and husband Jay-Z's producer Hit-Boy. The 30-year-old new mother is taking no chances with her new material being leaked, reported a publication. "She's spent thousands hiring out the whole studios. She's got security on the doors to ensure no one hears a whisper. She's being strict with proceedings too, putting in 14-hour days. — PTI
Brand bargain
Katrina Kaif has been paid Rs 7 crore for endorsing a paints brand and this makes her the highest paid female ambassador in Bollywood, taking over Kareena's Rs 5 crore for a cola brand. She has three big films in her kitty as well and is soaring these days!
Cut above the rest
Isha Sharwani who is a dancer, dance teacher and an actress, is constantly on the top of her game in Jhalak Dikhlaa Jaa because she is such a fine dancer. The other contestants feel it is unfair but at the same time they have said that she pushes them to dance better and train harder.
Showers of blessing
Katrina Kaif visited the Ajmeri Dargah Sharif in Ajmer with director Ali Abbaz Zafar. She was there for a shoot and went with the director. There has been a ban on actors visiting the holy place before the release of their films but she went anyway and even untied a prayer thread (mannat ka dhaga) which means that a wish has been fulfilled. How sweet!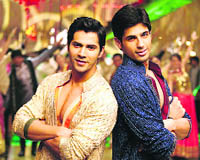 Room for improvement
The trailer of Karan Johar's Student of The Year is out. We think the girl Aalia is cute but the guys don't have it in them to make the cut. They are Varun Dhawan and Siddharth Malhotra. The promo is average. We hope the movie is better. Karan Johar says he is as nervous and emotional as the parents of the actors making their debut in this movie.


Baby steps: Varun Dhawan and Siddharth Malhotra

The launch pad
Jackie Shroff made his debut with Hero in 1982. Thirty years later, his son Tiger Shroff is making his debut in a movie called Heropanti produced by Sajid Nadiadwala and directed by Sabbir Khan. There were rumours that Tiger would be launched by Aamir Khan but Nadiadwala has sealed the deal. Father figure: Jackie Shroff


Monsoon magic


Amrita Rao shares tips on a perfect monsoon party. She says the room should have a good view, umbrellas can be return gifts, there should be popular rain songs and the latest songs on the music player. And there should be hot food like chaat, bhel, mushrooms stuffed with cheese and pasta on the menu. Party animal: Amrita Rao