defence research & development organisation
Unleash your scientific temper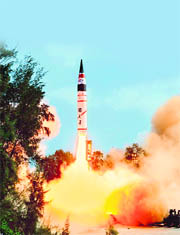 The DRDO is India's premier research organisation. It offers excellent career opportunities for technical and scientific professionals with a range and diversity of experience that is difficult to match elsewhere
On April 19, this year India conducted a successful test-fire of its indigenously developed nuclear capable Agni-V ballistic missile with a strike range of over 5,000 km. It was a momentous occasion for the 800 scientists, staff and support personnel of 20 laboratories of the DRDO that had been working on the 5,000-km range ICBM with reach up to the northern parts of China.

SOARING HIGH: Being a defence scientist can make one a part of India's missile development programme.
Career Hotline
Which specialisation is best for CS?
Q. I am currently pursuing company secretaryship after B.Com. Which field should I specialise in MBA to boost my career? — Vamini Seth
A. A qualified Company Secretary (CS) can look for opportunities in the private and public sectors, financial institutions, banks, stock exchanges and even the Central Company Law Service.
How can I get into corporate law?
What's the role of a concierge?
Job profile of a SAP consultant
CareerCature
SANDEEP
jOSHI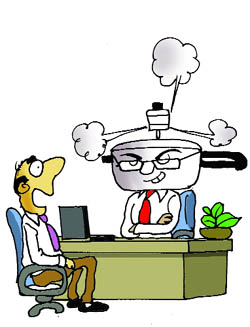 This latest "steam valve" technology to bust stress seems to be working well with you.
news board
Parents' workshop
Manovikas IGNOU Community College (MCC) will be holding a special parents' workshop in New Delhi on August 11 to address the barriers in job opportunities that children with developmental disabilities come across. The workshop will put a spotlight on exploring the choice, dignity and need of independent living for person with developmental disabilities.
career compass: robotics engineer
The men behind Magnificent Machines
Robot, the ultimate fantasy of the human brain, is fast becoming a reality of the present day life. Though the sci fi variety of mass-manufactured humanoids still remains a distant dream, yet the presence of robotic machines in our day-to-day life has increased dramatically over the past few years. Be it space exploration, putting together swish four-wheelers or performing complicated surgeries, a robotic hand is omnipresent.
study abroad: management courses
The French connection
US, UK and Australia have historically been the top three choices for students looking for a global degree. However, more and more students are now discovering that the European front also offers great options in a variety of subject areas, and France has emerged as a leader in this respect. International standard institutions, a beautiful, multicultural locale and quality education have made France one of the most desired destinations for overseas education, particularly for an MBA. Here's what aspiring MBA students need to know to apply to this European hot-spot:
different strokes: massage therapist
The magic of touch
In the ever hectic lifestyles people hardly have any breathing space or a moment to call their own. Hence a large number of them are turning to specialised ways of relaxation to revitalise themselves. This has opened new career avenues like Massage and Spa Therapy.
office mantra: difficult co-workers
Surviving Porcupines & Posers
During one of my counseling sessions, one of the persons who had come to me shared an agonising problem thus: "For the past few years I have had to work fairly extensively with a colleague who is just impossible to work with. He is arrogant, stubborn, sometimes abusive, and acts like he is right about almost everything. At first I tried to ignore it, but it just gotten worse. Things are so bad now that I feel like hitting this person and all I can think about is how miserable this person is. How do I deal with this situation?"
Ills of arrogance
Arrogant bosses are typically poor performers who can drain the bottom line by slighting subordinates to mask their own insecurities and creating organisational dysfunction.
smart strategy: channelling jealousy
Subdue the green-eyed monster
Envy and jealousy are the demons that each one of us has faced at one time or another. These are an inevitable part of our professional as well as personal lives. Jealousy is generally found among equals or near equals like acquaintances and colleagues. We rarely feel jealous of someone who is either too highly placed or distantly connected to us.