New gym code
With deep pockets and catchy advertising, companies are flooding the market with a mind-boggling array of sportswear
Gyan Marwah
As director of a Delhi-based NGO, Richa Mehta attends seminars and workshops around the country. Her hectic schedule keeps her on tour more than half a month. Her long stays in hotels and living out of the suitcase should have had a very deleterious effect on her health and fitness.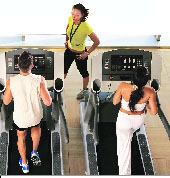 But no. The 42-year-old Richa is slim and fit and has the energy of a person half her age. Her secret of good health? Gymming regularly for an hour every morning. For one, she generally makes sure she always stays in hotels that have gym facilities. If the hotel doesn't have one, she enquires about a neighbourhood park where she can go for an early morning jog.
However, to keep fit, she also needs something more than just exercising and jogging. What she requires is proper sportswear that not just looks good on her but enhances her workout performance. That is why nearly half of her travel bag is full of apparel she needs for her exercise regimen like a tracksuit, sweatband, sneakers and a sports cap. She sometimes carries a separate bag for this paraphernalia.
Motivational factor
Though keeping fit makes sense to people like Richa, why is there such emphasis on sports apparel? The answer is simple. Research has shown that smart sportswear motivates people to adopt a fitness regimen. It ushers a sense of purpose and promotes self-esteem, especially if you are exercising with a group of people.
Which is why leading sportswear companies develop training gear after extensive research and testing to make sure they are comfortable and have a positive impact on the wearer. Earlier sold extensively in the West, branded sportswear is now clocking brisk sales in India, even as its importance is being realised through ad campaigns.
Proper sportswear is fast becoming a workout essential. If you are jogging, stretching or weight training, day-to-day wear is neither suitable nor comfortable and there is a danger it could put you off your daily exercises.
Global appeal
International companies like Nike, Adidas, Reebok, Puma and others earlier were catering to athletes, professional sports people and hardcore fitness freaks. Over the years, however, their appeal has gone global. Most of them, for example, have set shop in India in a big way, which have on offer something for everyone.
With deep pockets and catchy advertising, these companies are flooding the market with a mindboggling array of sportswear ranging from T-shirts to shorts, tracksuits, headbands, wristbands and an array of sports shoes. Such is the variety out there that one is left spoilt for choices.
Take, for example, sporting footwear. You can't just go and buy any shoe. Leading companies go to great lengths to design shoes suited to different sporting activities. There are walking shoes, jogging shoes, aerobic shoes. There are special shoes for playing tennis, badminton and volley ball and shoes for playing golf. There are shoes for hiking and mountaineering. In fact, every sporting activity has its own sporting pair.
Weather-proof sportswear
Similarly, there is sporting gear for different weather. During summer, you will require lightweight, airy clothes that can absorb the sweat and keep you cool. In the monsoon, you will need rainproof apparel made from water-resistant fabric. At this point, however, most sportswear manufacturers are getting ready for winter apparel and accessories to make workouts winter proof.
The reasoning behind this is simple, according to companies. There's a great amount of difference in winter and summer workouts. In winter, your muscles can get stiff, which can make exercising a chore and also expose you to injuries. So it is adviseable to protect your whole body with warm clothes, especially if you are working out in the open.
Apart from warm clothes, winter gear will also mean wear thermal inners, which keep you warm and also absorb sweat during workouts as also woolen socks and a proper cap, especially if you are working out in the open.
Modern sportswear is dramatically changing the way we exercise. Gone are the days when one stepped out in one's shirt and trousers — or worse, nightsuit or kurta-pyjama — for a morning walk. For many young people, workout apparel is becoming as important a part of their wardrobe as office and party wear. And leading companies are making sure these people step into the gym in style.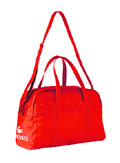 Lacoste Gym Bag
This is the perfect gift for people who carry their gym accessories in frumpy plastic bags. The blaze of red on the Lacoste Gymnasium Airline Bag will make you stand out in the gym. Its roomy proportions also mean this can double up as a day bag for a train or plane journey. Go ahead and workout or travel in style with this casual cool Lacoste bag.
price: $95 (Rs 5,225)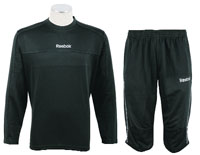 reebok tracksuit
The Reebok tracksuits come in a range of styles and colours for both men and women. Comfortable and elegant, the tracksuits are ideal for a gym or a walk in the park. Lightweight, comfortable, shrink-resistant, these are manufactured using premium quality fabric, which is easy to wash and maintain and is very durable.
price: Rs 849

Armani Sport Training Shorts
When it comes to fashion, Armani is in a league of its own. And now, the Italian couture company is aggressively entering sports apparel. Its Sport Training Shorts offer a classic, casual style, designed with two pouch hip pockets. These are lightweight with ribbed elasticated drawstring waistband and breathable fabric. The signature Armani Jeans Denim Dept logo is printed on the bottom left leg that makes it stand out.
price: £63 (Rs 5,490)

Ralph Lauren Classic Sport Cap
Step out in style with a Ralph Lauren Classic Sport Cap that has a stiff rigid peak at the front and an adjustable brown leather strap with metal buckle fastening on the reverse. The embroidered signature Ralph Lauren polo player logo is on the front of the cap and Polo branding on the reverse above the strap that gives it a modern yet heritage appeal.
price: $39.50 (Rs 2,170)

Nike Sphere Long-Sleeve Half Zip Top
The Nike Sphere Long Sleeve Half Zip Top for ladies (though men are also known to wear it) is excellent for running in the cold winter months. It has contrasting panels at the shoulders and arms and a small MP3 pocket on the reverse. Made from breathable material with strategic ventilation panels, its lightweight is guaranteed to keep you at your peak performance in winter.
price: $64 (Rs 3,520)

Puma Unisex Wristband
During a workout in a gym or playing a strenuous sport, the role of a wristband is paramount in keeping hands sweat-free. It also comes in handy in wiping the sweat off the forehead. You can do this in style with the Puma Unisex Wristband designed for comfort and style. The band is also extremely useful to bikers and the Puma logo will add a touch of style.
price: Rs 319 for a pair

Adidas Firebird Track Top
This is one of the most popular track tops that have graced Olympic podiums, concert stages and other sporting venues. Part of the Adidas originals heritage collection, it showcases both sports and street wear. With two front pockets, gently ribbed cuffs and waistband, this classic track jacket can be worn zipped up or folded down and looks great over a cotton T-shirt.
price: $55 to $68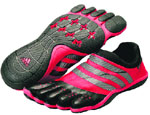 Adidas Adipure trainer
Free your foot of all bondage with the Adidas Adipure Trainer. The shoe can be worn much like a hand glove and its innovative design liberates your toes and fingers giving a feeling of jogging or walking bare-footed. Though it is not known if the design enhances performance, it ensures that your foot moves the way nature meant it to move.
price:Rs 3,499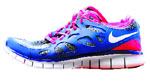 Nike Free Run+2 Id Men's Running Shoes
A very popular pair of shoes, the Nike Free Run+2 iD running shoes are a lightweight powerhouse with wide flex grooves. According to company sources, the shoes have been designed to help strengthen the foot and ankle by working muscles that conventional runners don't activate. The multiple colour options allow you to add your personal style to the shorts.
price: $135 (Rs 7,425)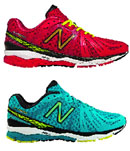 New Balance Speed Shoes
Successor to the popular 890 series, the New Balance 890v2 is one of the lightest neutral trainers. It has full ground contact outsole and is easy on the mid-foot, forefoot and heel. Its 'Revlite' midsole is both functional and trendy. Created to meet the competitive requirements of top-class runners, it works great for tough workout days and also as a light daily trainer. 
price: £67.50 (Rs 5,875)

Victoria's Secret Sport Headband
Keep your hair in place when you work out with this smart headband, the perfect accessory to all your favourite fitness clothing from the Victoria's Secret Sport collection. Toss one in your gym bag and you're good to go. The headband has a silicone grip for a secure fit. It removes moisture, so you stay cool and it soaks in all the sweat pouring down from your head.
price: $12.50 (Rs 690)

Slazenger Bioslyx Shorts
They are among the sleekest sports shorts available across the board. The Slazenger Bioslyx Shorts are made with compression technology and help reduce muscle soreness after an extensive workout. Their moisture management fabric also regulates temperature and helps the wearer stay cool. Absolutely great for cycling and other high-action sports.
price: $49.95 (Rs 2,750)

Kappa Men's Track Pants
Kappa Sportswear has become a name to reckon with after US athletes wore apparel created by the brand in the 1984 Los Angeles Olympics. Earlier confined mainly to America, the brand is now going global. One of its most popular sportswear is the Men's Counters Authentic Sports Pants. Apart from bearing an athletic look, these track pants are extremely comfortable to wear as they are made from a superfine woven material.
price: Rs 899