M A I N N E W S
52 die in Chamba bus mishap
42-seater vehicle had 100 on board when it fell into a gorge
Rakesh Lohumi
Tribune News Service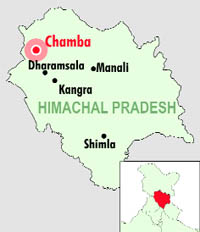 Shimla, August 11
At least 52 persons were killed and 40 injured when an overcrowded private bus rolled down into a gorge near Rajera village, around 10 km from Chamba today.
There were around 100 passengers in the 42-seater vehicle that was on its way from Dularha to Chamba. Many of them were perched on the rooftop.
While 39 persons died on the spot, 13 succumbed to their injuries in a hospital at Chamba. While 34 injured passengers have been hospitalised at Chamba, six seriously injured have been referred to the Tanda Medical College in Kangra.
Most of the passengers belonged to Kuranh, Dularha, Gagla and Rajera villages. They were all heading for the Minjar fair which began at Chamba yesterday. The bus was overloaded as the state road transport corporation had withdrawn its morning bus service due to weekend holidays. The driver of the bus was among those killed. The conductor, however, had a miraculous escape.
One of the few survivors, Vijay Kumar, said the mishap occurred after a front wheel of the bus came off. He was standing at the rear door and managed to jump out of the bus before it fell into the gorge. An eyewitness, however, claimed that the accident happened after the rear tyre of the vehicle burst.
SP Chamba, Kuldeep Sharma, said an FIR has been registered on the basis of Vijay Kumarís statement. He said there were reports that the bus was quite old and the police was trying to ascertain if it was fit for plying.
The locals blamed the lack of adequate bus services for overcrowding, which leads to mishaps in most cases.
They said there was no reason for the state road transport corporation to withdraw services during the Minjar fair, when more buses were needed to cope with the rush of commuters. According to sourses, the corporation, which has been incurring loss of around Rs 5 per bus per km, usually scales down its operations on holidays to curtail losses.
Speaker Tulsi Ram, who hails from Chamba district, and local MLA BK Chauhan supervised the relief and rescue operations along with Deputy Commissioner Sunil Chaudhary and SP Sharma.