M A I N N E W S
US tops medal table, China drops to second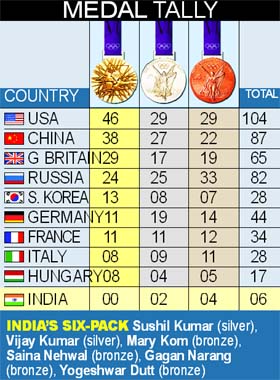 London, August 12
Usain Bolt made himself a living legend, just ask him. Michael Phelps swam a last lap into history. A man ran on carbon blades. Two track stars and a long jumper produced perhaps the greatest night in British sports history.
Take a victory lap, London. The nightmare that was supposed to be the 2012 Olympics, gridlock and chaos Underground and overground, a city locked down by terrorist threats, day after day of gray and drizzle, simply never materialised.
Instead, London threw a five-ring party. The medal tally saw China rise, and rise briskly. They were lapping up medals incessantly as the Games picked up pace, but when it came to the business end, the US claimed back the top slot.
After losing out to China in 2008, the US contingent were back, sitting pretty on top of the table with 45 gold medals, and a total of 103 (they had 36 gold in Beijing and a total of 87). China on the other hand, after winning 50 gold medals in Beijing, and a total of 98, went down in numbers to 38 gold and 87 in total.
Hosts Great Britain also had lots to cheer about. After finishing fourth in 2008 with a total of 47 medals (19 gold), they usurped Russia for third place and won 64 medals studded with 29 golds.
But the games were not without controversy. Eight badminton players were sent home for trying to lose, doing it to gain a better draw in their tournament, but violating the Olympic spirit. In totality, the Games brought about what everyone had wished they would; cheer for the winners and hope for the ones who just missed out. — Agencies