Why El Nino a worry for India's monsoon
Vibha Sharma/TNS
New Delhi, August 12
As the monsoon 2012 saga feebly unfolds over the Indian mainland, a Pacific Ocean condition christened El Nino is emerging as one of the main reasons for the deficiency.
El Nino, which literally means boy in Spanish, has been held responsible for spoiling the latter part of India's June-September rainy season by the he weather office.
The Tribune spoke to well-known meteorologists — IMD Director General LS Rathore, India's permanent representative at the WMO Ajit Tyagi and IMD Director SC Bhan — to understand what makes El Nino pivotal to the Indian monsoon story.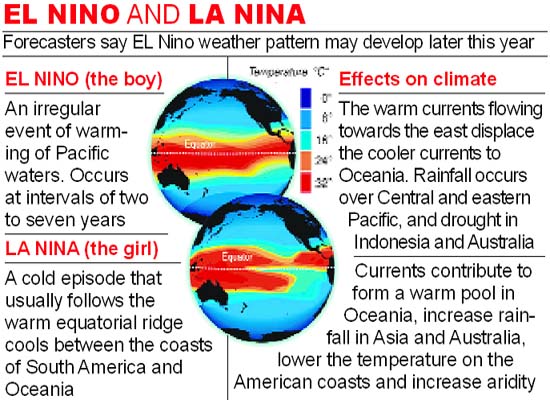 Sea Surface Temperatures, or SSTs as these are called, play an important role in shaping atmospheric circulations and weather systems across the globe. Indian monsoon too is influenced by SSTs, especially those over the Indian Ocean and Pacific Ocean.
Known for its disruptive influence on several worldwide weather patterns, El Nino develops when the SST over the central Pacific region becomes warmer than normal.
Incidentally, this "boy" has a companion called La Nina - "little girl".
La Nina or anti-El Nino is when the SST over the central Pacific region gets cooler than normal. When SST over central Pacific is normal, it is called a neutral condition.
So, El Nino and La Nina are prolonged warming or cooling of the Pacific Ocean SSTs compared to their average values.
The accepted definition of warming or cooling is 0.5°C averaged over east-central tropical Pacific Ocean. Typically, this anomaly happens at irregular intervals of three to seven years and lasts for nine months to two years. When either warming or cooling occurs for more than seven to nine months, it is classified as an El Nino or a La Nina episode.
El Nino and La Nina are among the most powerful phenomenon on the Earth. These are known to alter climate across more than half the planet and dramatically impact weather patterns.
Over the south Asian region, of which the Indian subcontinent is a part, El Nino during winter results in development of warm conditions. During summer, it leads to dry conditions over the Indian region and northeast Australia.
The development of La Nina during winter results in wet conditions over Southeast Asia and northern Australia and wet and cool conditions over Southeast Africa. La Nina during summer causes wet and cool conditions over south Asia, wet conditions over southeast Asia and warm conditions over northeast Australia.
In the India-specific context, the development of El Nino is known to enhance convection over central Pacific, affect movement of monsoon winds in the Indian Ocean and result in subsidence over many parts. An El Nino phase typically lasts for eight to 10 months and is generally followed by a La Nina episode.
But El Nino is not the only factor that affects Indian monsoon or causes rain deficit. Scientists, in fact, say that El Nino has no one-to-one relationship with monsoon rains.
In about 50 per cent of the years with El Nino during summer, India experienced droughts during monsoon.
In the recent past, India experienced deficient rainfall during El Nino years 2002 and 2009 whereas monsoon was normal during El Nino years 1994 and 1997.
There are other factors that affect India's rainfall pattern. Used by meteorologists as monsoon predictor parameters, these include North Atlantic SST, Equatorial SE Indian Ocean SST, East Asia Mean Sea Level Pressure, North Atlantic Mean Sea Level Pressure and North Central Pacific wind at 1.5 km above sea level.
The Indian Ocean SST, or Indian Ocean Di-Pole as it is also termed, and typhoon activity over western Pacific and their direction of movement have a significant impression over seasonal rains.
This year most typhoons in the Pacific have taken a northerly movement while it is their westward turn that helps in the formation of low pressure and depressions over North Bay of Bengal, resulting in good rains across the Indo-Gangetic plains and central India. In addition, the Tibetan anticyclone and western disturbance also influence monsoon activity, especially over North India.
And just for the record, monsoon is not unique to India. In addition to the south Asian region, other regions affected by this seasonal weather phenomenon are China, central Africa, central America and Australia, but the monsoon in the Indian subcontinent is the most pronounced of them all.