C E L B R A T I N G F R E E D O M
'This is not India of my dreams'
Bijendra Ahlawat
Rohtak, August 14
"The India of my dreams is still far from what I and my colleagues of the freedom movement thought at that time. It appears that there is a need for another movement, but perhaps nobody has any knowledge of how to get out of the system that had engulfed us all," says 97-year-old Teka Dhankhar of Karontha village in the district, when asked about the change he had aspired for after the freedom.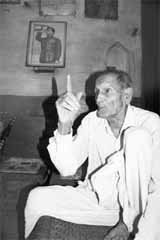 Freedom fighter Teka Dhankhar of Karontha village in Rohtak is distraught at the state of affairs in the country.
He said it appeared it was easy to fight the Britishers but not the native Indians, who had woven a murky nexus of corruption, nepotism and inefficiency at all levels and this is the biggest challenged facing the younger generation of the country which was at a cross-roads as tough hurdles stare them in the face if they visualise a country of their dreams. Awarded a Tamar Patra, Teka is among perhaps only a handful of the surviving freedom fighters who had been part of both the British army and the Azad Hind Fauj led by Netaji Subhash Chandra Bose.
When asked what could be done to realise the dream, he quickly responded by saying it was now the youth and the children who would have to take the charge from those who think the country was safe in the present system.
Lalti Ram, 90, of Dubaldhan village of Jhajjar district, who was just 18 when he was recruited in British army at Ambala division in 1941, also claims a lot was to achieved before claiming the country was independent in the real sense. Population and poverty are still the main issues that are blots on the country, he feels.

Free country, but life of dignity a far cry, says HP freedom hero
Kuldeep Chauhan/TNS
Mandi, August 14
At the age of 92, freedom fighter Pt Gauri Shankar Prasad is a disillusioned man. The dream of a country where everyone can live with dignity still eludes him. Politicians furthering their own selfish agenda rather than serving the common man has left him disheartened.
A frail Pandit Prasad says, "India of the dreams of freedom fighters was one where every citizen could lead a dignified life and got enough food and opportunities to make him or her feel part of a free country." Even after 67 years of independence, crores are struggling for food.
Born in 1920 at Mandi, Pandit Prasad went to Lahore to do his matriculation in 1935 where he came in contact with several leaders of the freedom struggle belonging to the Indian National Congress (INC). He joined Ayurveda College and spent many years there and took part in activities of the INC.
After he came back here Pandit Prasad joined the Praja Mandal movement in 1940-41, which aimed to include all princely states in the country. The movement led by Dr YS Parmar, who later became the first Chief Minister of Himachal Pradesh, rebelled against the then king of Mandi for which he was jailed for six months.
Though he was PWD minister in the Dr YS Parmar Cabinet, he joined social service and led the district unit of freedom fighters.
Like all other freedom fighters, Pandit Prasad is worried about the way corruption has entered public life. "Earlier we joined politics for social service, today most join it for their selfish interests only," he says.

GenNext's India: Financially stronger, culturally progressive
Minna Zutshi/TNS
Ludhiana, August 14
A country that is strong economically and progressive culturally - that is the GenNext's Dream India. Sukhmeet S Bhatia, a BA-LLB student of the Panjab University Regional Centre in Ludhiana, believes that the best message that the Independence Day conveys to us is that India is a united nation. "We are a free country. We can proudly say we are Indians. We are not the citizens of Punjab or Haryana; we are the citizens of India. Ours is the largest democracy," he says with a tinge of pride.
Like many youths, he believes that globalisation is the need of the hour. "There is no point in restricting the entry of the MNCs," Sukhmeet says.
Transparency in governance is important, feels this young undergraduate. Adopting the online mechanism in various government departments would help to bring in transparency. "The services of agents should be done away with," he adds.
Educational reforms are imperative, he believes. The quota-system is fine at school level, but it is important to go by merit in higher education.
We need to adopt a pan-Indian approach to problems like droughts and floods, he says. "Instead of focusing on state-wise solutions, it is better to work out a solution that is collectively acceptable to all the states."
Sukhmeet feels that stringent laws and their implementation are required to improve the socio-economic condition of women in India.
Though the stereotype of the Young India is that of the Westernised youths who cock a snook at the cultural values, this student of Law believes that preserving the Indian culture is a necessity. He is all for openness to new ideas, but this openness, he says, must be coupled with the willingness to preserve our culture.

'One must be a rebel with a cause'

Neha Saini/TNS
Amritsar, August 14
It's a day when the entire country gets soaked in the patriotic fervor. While most of us like to wear patriotism on our sleeves - flags, tattoos, caps, clothes, accessories --- there are some who prefer to take the subdued route. For the latter, Independence Day is not about shouting love for the country aloud, they believe in understanding the real meaning of freedom and getting inspired from it.
"Independence is something that has come to us after a lot of struggle. Freedom may have a different meaning for everyone. For me, the right way to celebrate Independence Day is to come forward to do our bit for our country," says Chandan Nagi, a 21-year-old student of Computer Engineering in Amritsar.
Coming from a generation that considers the tag of rebellion as cool and funky, he believes just being a rebel is not enough. "One should be a rebel with a cause. I think true patriotism lies in contributing positively for society. I'd like to rebel against social evils and inequality," he quips. Chandan is associated with an NGO Tamanna, which works for underprivileged kids.
Given a chance to run the country, he says: "I would ensure that no child in the country is uneducated and hungry."

We are yet to achieve real freedom: Hisar students
Raman Mohan
Hisar, August 14
Independence Day has great significance for the youth here but they want India to be free from a host of age-old problems.
Seema Rana, student of a local girls college, said, "As citizen of a free country, I am a proud Indian. But real independence will come when we become a developed country. We suffer from poverty, corruption, bad infrastructure, poor health care and bad schooling. We have the potential to overcome these hurdles as there are no foreign rulers now. It will be a long-drawn battle, but we can do it. That is when we will be independent in the true sense".
Another student, Surinder Phogat, pursuing a commerce course in a local college, said, "Now that we are masters of our own destiny, we should put an end to corruption and poverty. It is a pity factors like bad governance and corruption are dragging us back. We have only ourselves to blame. I appeal to the youth to do their best to take the nation forward. People like Mahatma Gandhi gave us freedom. It is our job now to break the shackles and move ahead".

Graft, population blocking growth
Jalandhar, August 14
Corruption, population and social evils are the impediments in the growth of the country, says youth here. "The increasing population is eating into the resources and the benefits are not reaching the needy,' says Vasu Sharma, a B-Tech student.
"Corruption is another big challenge. We need stringent laws to check the menace. Also, it is the duty of the government to provide time-bound justice to its citizens," he says. — TNS

Punjab has 'disgraced' contribution of freedom fighters
Gagan K Teja/TNS
Patiala, August 14
While the entire nation is gearing up to celebrate the 66th Independence Day with pomp and show, the very people behind the independence of the country feel that they are a neglected lot. Freedom fighter IS Chawla from Patiala, who went behind the bars during the Quit India Movement in 1942, feels that Punjab has disgraced the contribution of the freedom fighters.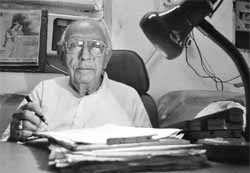 Septuagenarian IS Chawla from Patiala went behind the bars during the Quit India Movement in 1942
Born on December 17, 1924, Chawla was hardly 14 years' old when he started dreaming about independent India and ways to turn this dream into reality. Inspired by various freedom fighters, he joined the stir and went behind bars at a tender age of 18.
Talking to The Tribune, Chawla says, "Though we did not join the freedom struggle for any monetary benefits, but it pains to see the way the Punjab Government is treating its freedom fighters."
"When it comes to the pension amount being given to the freedom fighters, Punjab is certainly far behind the Central government and other states. While the Centre is giving a pension of Rs 14,100, Haryana Rs 15,000, Himachal Pradesh and Arunachal Pradesh Rs 11,000; the Punjab Government is paying only Rs 5,000 to its freedom fighters," he added.
Upset with the Punjab Government over the reduction of quota of freedom fighters from 2 per cent to 1 per cent and giving the other 1 per cent to the 1984 riot victims, Chawla said it was a cruel joke with freedom fighters and their families.
Expressing deep concern over the current scenario in the country, Chawla said this is not the country they had visualised. Chawla said, "With the prices of commodities touching skies and common people struggling to make ends meet, I don't really know whether we should actually be called a progressive country."

'Younger generation doesn't value freedom'
Lalit Mohan/TNS
Dharamsala, August 14
Sarla Sharma, a veteran freedom fighter from Himachal, says that after Independence, India as a country has failed to develop a national character. While talking to The Tribune from her residence in the Yol cantonment, 6 km from Dharamsala, she said as freedom fighters their main aim was to oust the British empire and establish self-rule in India. However, it seems that after Independence the aspirations of freedom fighters have not been fulfilled.
"Though I do not know the reasons for this we have failed to control the situation after Independence."
"The younger generation of the country does not value the freedom that was won after a lot of struggle," she says

Politics needs purification, says INA freedom fighter
Ashok Raina
Kangra, August 14
An INA freedom fighter and associate of Netaji Subhash Chander Bose today expressed pain, anguish and disgust over the prevailing scam-ridden scenario in the country, just the reverse of what he had sacrificed his youth for. He gave a clarion call to the spiritual leadership to help bring the country out of the prevailing scenario.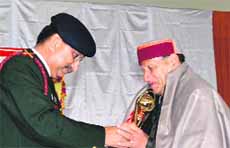 Yudhbir Chand Katoch (R) being felicitated. Photo by writer
Yudhbir Chand Katoch, 90, an associate of Netaji Subhash Chander Bose and INA freedom fighter, in an interview with The Tribune here today, said India got freedom after people in thousands sacrificed themselves for it, but India has become a den of corruption and scams now. He said a large section of the present-day political leadership was allegedly corrupt, involved in scams and was destroying the national fabric of the country.
He said the poor of the country were the worst sufferers and people close to power were an advantaged section of the society.
Katoch remembered Netaji, a true believer of equality, as saying that every person living in India should have equal rights and should be at par with each other.
He said his vision of independent India, when he joined INA in 1941 at Rangoon and later fought for Indian freedom and languished in the jails of Rangoon, Jackat Gacha Ghat Calcutta and Multan, was India with no poverty, with every Indian having food, clothing and shelter besides justice to prevail for everyone.
Katoch, in reply to another question, said, "Our dream lies shattered and it is reverse of all we had dreamt of. It is now corruption and scams and an India that is bleeding." With choked voice and eyes wet, Katoch said, "Dard Sehtay Rahay - Chhatpatatay Rahay- Aaeenay say sadaa choat khaatey rahay, Woh watan baich kar muskuratay rahay, hum watan kay leeye sar katatay rahay."
He expressed shock at the present national scenario and said, "Why don't I die before seeing all this corruption, nepotism and scams this country is witnessing? This is not the India I had fought against the British for."
He said Netaji Subhash Chandra Bose was an outstanding leader of the freedom movement and a revolutionary par excellence who took the struggle for independence beyond the Indian borders. He said the best tribute to that great Indian leader would be that Indian politics gets purified and a new generation of honest and patriotic leadership takes over to see India of Netaji's dream.
He said, "I wish that a leader like Netaji should take birth on the sacred soil again to take out this great land out of the present traumatic situation."
He said, "Looking at the way India is witnessing corruption and scams, the need is to get up again to save this country."

Lyallpuri: Present times are disappointing
Minna Zutshi/TNS
Ludhiana, August 14
Jagjit Singh Lyallpuri is five years short of a century. Looking back through the mists of time, he is quick to come to a conclusion: the present times are disappointing. It is a relatively mild statement that gradually picks up some heat when he elaborates on the "disappointing times".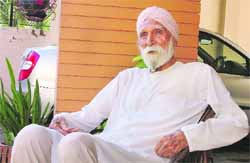 Jagjit Singh Lyallpuri
The dreams nurtured by freedom fighters have been lost, he says. The country's social, economic and political conditions are bleak. The country is witnessing a systematic degradation of the lofty ideals that were once the driving force of the freedom fighters, he tells The Tribune.
"The concentration of wealth in a few hands has increased the disparity between the haves and the have-nots," he adds. Lyallpuri feels that the worldview of those at the helm of affairs is warped. Even the basic needs like food, shelter, health and education remain neglected.
Unemployed youth, farmers committing suicide, rampant corruption, denial of the Fundamental Rights -- India that the freedom fighters had visualised was never like this, he says. Schools are without teachers; government dispensaries are either without doctors or without medicines; altogether, a dismal scenario, feels Lyallpuri.
"In 1936, as a 19-year-old graduate, I joined the freedom movement. Like other freedom fighters, I was imprisoned. We had a dream that our country had to be freed from the foreign yoke. Unfortunately, even today many of us are still fighting for certain basic rights," he says with a forceful conviction.
As a veteran Leftist, he observes that the Left is disunited. The other political parties have failed to deliver.

'We now value only the land and rascals'
Tribune News Service
New Delhi, August 14
Mohan Singh Bammi is around 105 years and has seen Delhi grow. It has been a generational shift since Bammi, along with three others, wanted 'revenge' for the death of Bhagat Singh (1931) and were arrested for their activities.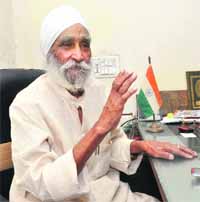 Mohan Singh Bammi
On the 65th anniversary of Independence, Bammi is happy with the development the country has made, but says, "Our values have degraded." A man who spent years in prisons in Multan and Sialkot during the British era, Bammi puts it in earthy Punjabi: "Sirf Zameen tee Kameen di keemat hai" (only the lands and the rascals are valued now).
"We have made great development, but have slipped in our thinking," he says as he explains what pains him. "Wrong kind of people have captured power. All parties are the same. It's only the Congress that can do some good," says Bammi who is now the Vice Chairman of the Freedom Fighter Cell of the Congress-ruled Sheila Delhi Government.
"We are old people now. Only a few freedom fighters are alive", he says when asked what kind of change can be ushered in. "I have seen times when there was no power supply in Delhi, the Rashtrapati Bhawan was being built and the Connaught Place was still under construction. Those days, there was no monetary value of lands," he adds.
There was a twinkle in his eye as he narrated how he felt on seeing Bhagat Singh and Subhash Chandra Bose. "Ranbir Singh (father of Haryana CM Bhupinder Singh Hooda), a member of the Constituent Assembly, was my jail-mate in Sialkot," he recollected. "My life changed after Bhagat Singh's sacrifice. We wanted revenge and we took it," he added.

He had to fight for his due
Suman Bhatnagar
Ambala, August 14
A freedom fighter Chhajju Ram (89), a resident of village Danipur of Ambala district, has had to knock the doors of Punjab and Haryana High Court for including his name to be included in the list of freedom fighters.
After a long court proceeding, around six months back, the court directed the state government to enter his name in the freedom fighter list.
Chhajju Ram was recruited as a sepoy in the British Army (TRG Battalion, 14 Punjab Regiment) in 1945. On the call of Subhas Chandra Bose, he had revolted against the British government. He was sentenced to one-year imprisonment. He was also dismissed from service for disobeying orders of his superiors. SS Danipur, an advocate and son of Chhajju Ram, said his father had applied for the Swatantrata Sainik Samman Pension in 1991. The Haryana Swatantrata Sainik Samman Samiti, in 2003, recommended that the state declare him a freedom fighter and grant him his due pension. However, the recommendation was turned down.
Later, a civil writ petition was filed in the High Court in 2009 which directed the state to grant Chhajju Ram the status of a freedom fighter and release his due pension. Chhajju Ram said, "Although the pension scheme is a very small attempt to honour and acknowledge the sacrifices made by the unsung heroes of the freedom movement, in this way, they were highlighted in the society."

YOungistan unplugged
Ideal India: It's still miles to go, says the youth brigade

Earlier, the British exploited us and now our politicians are harassing the common man. Corruption has paralysed this country. The entire system has to be changed if we want to join the league of developed nations
Kavita, Khalsa College, Patiala





In our country whoever gets the reins of power tends to misuse it. The youth are desperate and directionless. They are supposed to be the country's future. The government must create job avenues for them and channelise their energies.
Dilpreet Kaur, BEd college, Faridkot
Independent India still needs to work to curb women exploitation. We cannot be a great country till we learn to respect women and work to protect their dignity at home and at workplace. The wheels of justice need to move fast
Mansi, Mata Sundri College, New Delhi
We want a safe future. We should have facilities and opportunities on a par with our counterparts in the developed nations. I feel that the government believes more in holding formal functions on Independence Day than working on the ground. This mindset has to change.
— Sanjit Dhankar, Jat College, Rohtak

The youth should come forward to eradicate social evils. Poverty and corruption are the challenges before the nation. Education should be made free for all. So many children in far-off villages are still deprived of it.
— Shaun Sharma, student of engineering, Hamirpur