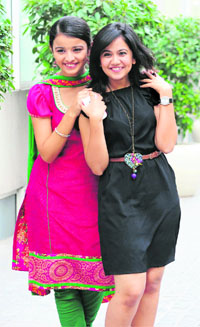 A bubbly affair
The cast of Sapne Suhane Ladakpan Ke, a show dedicated to the wonder years of two teenage girls, gets candid on the experience of working on the small screen
In television, more often than not, stereotypes make way and sometimes, seep deep in. Things are likely to be clear-cut in black and white, rather than the hazy grey. So the demure girl will wear a screaming Indian attire (picture a loose fitting salwar kameez coupled with long hair) while the brat will be all frills and fancies. Enter the girls of Zee's Sapne Suhane Ladakpan Ke, a show dedicated to the wonder years of two teenage girls, who are diametrically opposite from each other. Laughs Rupal Tyagi, who plays the all bubbles and giggles Gunjan, "No, in real life I'm slightly less bubbly, but when I get on to the sets and into my costumes, I automatically become this cherubic personality that you see right now."
Girlie bonding: (L-R) Mahima and Rupal Tyagi
Natural notes
Leslie Lewis, one of the most established names of the Indian music industry, aspires to get music back to television
Just as his re-mix of Asha Bhonsle's Rahul and I came out, the entire music industry went ga-ga over re-mixes and suddenly, there were only re-mixes all around. In 1992, Leslie Lewis with Hariharan and Colonial Cousins were born. Following this, again there was a surge of bands and collaborations. Cut to 2012, Leslie Lewis joins forces with Animal Planet to make an anthem — Yeh Mera India. Leslie Lewis sure worships music and is a passionately in love with lyrics!
first-day-first show
Sallu rocks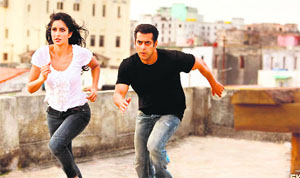 Ek Tha Tiger
Cast: Salman Khan, Katrina Kaif, Ranvir Shorey
As expected of Salman's films, Ek Tha Tiger too has had a grand opening. Trade analysts placed it to be a record of the sorts. Be it the controversy over the Katrina's short blouse or promotions across the border, the movie has been in news for quite a while now. This romantic, action thriller is the story of an agent who falls in love on the mission. Love takes precedence, and, the duo is on a thrilling run. Love wins or war, well, find out for yourself…
Silk touch
Superia, one of the leading personal care brands from ITC, has launched a new soap range Superia Silk. The range is available in two variants – melon and saffron and is specially crafted with a unique combination of ingredients to give a luxurious and silky smooth skin feel.
Million dollar rings
Hollywood couple Brad Pitt and Angelina Jolie has reportedly enlisted the services of a luxury jeweller Robert Procop to craft two custom-made matching wedding bands worth $1 million.
Hrithik, Kareena to reunite on screen?
Karan Johar can do what no one else can. He might bring Kareena Kapoor and Hrithik Roshan together on screen in his biggest production next year. Karan Johar is like a brother to Kareena. They both are extremely close and will do anything for each other. Karan's films like Kabhie Khushi Kabhi Gham and Ek Main Aur Ekk Tuu have done wonders for Kareena's career. So now he has cast her in Karan Malhotra's film next year.

Preity's French avatar
Preity Zinta's comeback film Ishqk in Paris is being made in two languages. Preity will speak and dub in French in the French version and French actress Isabella Adjani will speak and dub in Hindi for the Hindi version. She learnt the language from scratch and insisted on dubbing her own lines.
Olympics 2012 on DVD
Oscar-winning film-maker Danny Boyle is working on a feature-length version of his London 2012 Summer Olympics opening ceremony that will come out on DVD. The DVD will also try to shed light on some of the open questions surrounding the event, which drew a peak audience of 26.9 million viewers, reported a publication. "I hope to make things clearer on the DVD, giving people time to spot additional cultural references in the opening ceremony that people may have missed on TV," he said.

Awesome heroine
Randeep, who will be seen sharing screen space with Kareena Kapoor in Heroine, is all praise for his co-star.
One-man army
Bhojpuri superstar Ravi Kishan, who has so far only done supporting roles in Bollywood films, is happy to be doing his first solo hero Hindi movie Jeena Hai Toh Thok Daal.
A star apart
Actor Clive Owen says he hates being famous. Owen, 47, who did not get into Hollywood for the fame, said it was difficult to adjust to his newfound celebrity status when he first rose to notoriety in 1990 with ITV drama Chancer, reported a publication. "I never wanted to be a movie star. And I didn't become an actor to become famous. I genuinely didn't. It was always theatre for me.
Vivek Oberoi to become a dad
Year 2012 seems to be Vivek Oberoi's year. With films like Kismat Love Paisa Dilli, Jayantibhai Ki Love Story, Krissh 3, Zilla Ghaziabad and Grand Masti on his platter, the actor is to become a father soon.

Satya sequel in making
Candid talk with Ram Gopal Varma Director Ram Gopal Varma is all set to make the sequel of 1998 gangster film Satya. Moreover, the buzz is that John Abraham will be producing it. Why a sequel to Satya now? Is John acting in it too?
chatter box
Perfect imitation!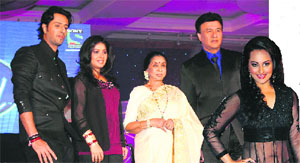 It's very tough to impress a beautiful lady especially if the one in question is Sonakshi Sinha. But Vipul Mehta seemed to have managed that. Sonakshi visited the sets of Indian Idol 6 for a special Independence Day episode. The actress was mesmerised with the top four contestants but when Vipul took stage to sing A R Rahman's Vande Mataram she was blown away.
The judges of Indian Idol 6 with Sonakshi Sinha (exterme right)
The year ahead
If your birthday is August 17...
You'll have to work with autonomy, as superiors won't have time to give you directives. This won't be a problem, but you'll be grumpy and this will cause tension in your relationships. Try to be more affable and avoid imposing your point of view. Health will be fine.
Astro Turf
ARIES: Love, celebration and romance are on the cards. You will be able to accomplish many things today. You are generous and giving in family and personal relationships. Tarot message: You shall prevent a lot of trouble by taking timely action.
Family time
Aamir Khan could not bear to stay away from Kiran Rao and son Azad for three months so he has taken them with him to Chicago. They are staying in a rented apartment instead of YRF's suite at a hotel. Even Abhishek Bachchan is planning to call his wife, mother, and new baby over for sometime to spend quality time with them.

Is she, isn't she?
Anurag Kashyap has said that Anushka Sharma is confirmed for Bombay Velvet but the actress said that she is yet to sign on the dotted line. We hope they are able to work together and the confusion is sorted. Ranbir Kapoor plays the lead in the film.
Director's take: Anurag Kashyap

Who's that girl?
What is Ranbir Kapoor up to? He was spotted smooching a girl at a hotel in New Delhi. The girl is not any of his filmy friends but the daughter of a Bombay-based businessman. We wonder who this girl could be! Both of them are single, by the way.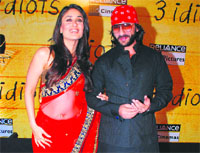 Away they go

Kareena Kapoor and Saif Ali Khan were spotted going to London from Mumbai airport to celebrate Saif's birthday on August 16.
Time off: Kareena Kapoor and Saif Ali Khan