M A I N N E W S
Coal block allocation resulted in windfall for private cos: CAG


Loss pegged at Rs 1.86 lakh crore


Policy absolutely transparent: Minister


Sushma calls it mother of all scams
Aditi Tandon
Tribune News Service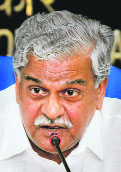 Our policy was aimed to spur growth. The screening committee was represented by end user ministries, states and was the best possible. Of the 57 blocks CAG has assessed, 56 are not operational yet. What gains is CAG talking about?

— Sriprakash Jaiswal, Coal Minister
New Delhi, August 17
Scam-ridden UPA suffered another body blow today with its auditor estimating windfall gains of Rs 1.86 lakh crore to private firms due to non transparent allocation of 57 captive coal blocks to them between 2004 and 2009.
In its report to Parliament today, the Comptroller and Auditor General (CAG) said the loss could have been prevented and some profits accrued to the government had it auctioned the blocks through competitive bidding instead of handing them down on the recommendations of a committee chaired by Coal Secretary. The committee, CAG said, didn't properly evaluate claims or allocate transparently.
The latest estimation of loss is higher than the notional loss of Rs 1.76 lakh crore CAG pegged to the exchequer due to non auction of the 2G Spectrum in 2008. That explains the war which broke out between the Government and the Opposition BJP after the report was tabled today. BJP's Sushma Swaraj called 'Coalgate' the mother of all UPA scams and demanded the resignation of Prime Minister Manmohan Singh, who held the Coal Ministry during the given period. CAG report, however, doesn't name the PM.


Beneficiaries
CAG names 25 companies that made gains; these include Tata Steel, Tata Power, Essar Power, Jindal Steel and Power, Bhushan Power and Steel, Arcelor Mittal India and JSW Steel.
The Government rushed to trash Opposition demands as "cheap politics" with Coal Minister Sriprakash Jaiswal defending UPA-1's allocation policy "as absolutely transparent" and saying that private firms were allowed to mine coal from captive blocks only after Government's Coal India failed to meet the surging demand for growth.
He said the ministry "disagreed with CAG's calculation of loss which didn't appreciate fundamental facts such as the cost variation of coal extraction from different mines".
"Our policy was the most transparent and aimed to spur growth. The screening committee was represented by end user ministries, states and was the best possible," Jaiswal said. He challenged CAG's contention that private firms gained. "Of the 57 blocks CAG has assessed, 56 are not operational yet. What gains is CAG talking about?" the minister said.
CAG names 25 companies that made gains; these include Tata Steel, Tata Power, Essar Power, Jindal Steel and Power, Bhushan Power and Steel, Arcelor Mittal India and JSW Steel.
The auditor further questions the government for direct allocation of captive coal blocks through a committee saying the concept of competitive bidding was introduced way back in 2004 and considered important. Yet it was delayed.
"The then Coal Secretary highlighted in a report that since there was substantial difference between price of coal supplied by Coal India and coal produced through captive mining, there would be windfall gains to private allottees of blocks." CAG also referred to a Law Ministry opinion of July 2006 which said Coal Ministry could introduce competitive bidding by amending administrative instructions and need not go in for amendment of existing laws - a long process.
"Bidding could have been introduced in 2006 but was delayed," auditor said estimating the loss based on the average cost of production and average sale price of Open Cast mines of Coal India in 2010-2011. This loss was lesser than the figure of Rs 10 lakh crore made by CAG in its draft report. "That's because we have not considered state run allottees and several other important factors," CAG officials said today.
The auditor applied average benefit of Rs 295.41 per tonne to the total extractable reserve of 6282.5 million tonne (from 57 coal blocks) to reach Rs 1.86 lakh crore figure. Jaiswal challenged it saying private firms would have gained only if they had the choice of buying coal from Coal India or producing coal from their blocks. "Comparison to Coal India price to reach this gain is notional," the Ministry said.
The government justified delays in bidding policy saying it was opposed by BJP-led Chhattisgarh and Rajasthan and Left-ruled Bengal. "States opposed saying it would lead to higher cost of coal and their lesser say as a higher bidder would get the block," Jaiswal argued. BJP leader Arun Jaitley countered him saying minerals were centrally governed and the Government could have overruled the states.
The Centre added that barring 2006 the Law Ministry never said administrative instructions could be changed to effect auctioning policy.