View from the top
Reviewed by Balwinder Kaur

Turning Points: A Journey Through Challenges
By A.P.J. Abdul Kalam. HarperCollins. Pages 182. Rs 199
The little boy who collected newspapers thrown from a train for distribution in Rameswaram town rose to the highest office in the land. This is A.P.J. Abdul Kalam's phenomenal success story. It is the stuff dreams and legends are made of; inspiring others to aspire. His life and achievements are now part of Indian history but his fascinating story told in his words is what Turning Points: A Journey Through Challenges is all about. The book is a sequel to his bestseller Wings of Fire and picks up where it left off in the year 2002. This book provides tantalising glimpses of his life at the helm of affairs as the 11th President of India. Providing an appreciation of his unique and enviable privileges, but only hinting at his unfathomably heavy burdens. It is also an attempt to communicate with his fellow Indians as he addresses them directly in an effort to share and instil in them the desire to make India a developed nation by 2020.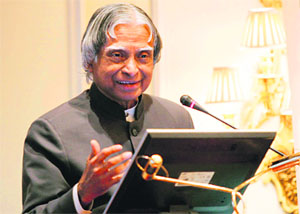 This journey began with a phone call from the then Prime Minister Atal Bihari Vajpayee altering the course of life, forcing him to leave behind a fulfilling academic career at Anna University for a greater calling. To become the President of India. He recalls his five-year term and experiences as being both challenging and enriching as it brought him into contact with people and professionals from all walks of life. We find him both looking back and looking ahead.
With the dedication that has been the hallmark of all he undertakes, he immersed himself in understanding India and within 10 months had toured 21 states. He writes in detail about his breakfast meetings with MPs of various states to gain information and understand the ground realities, while putting before them his own well-researched presentations pertaining to the state's potential.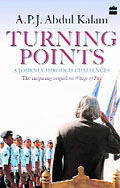 Especially interesting are chapters like Seven Turning Points of My Life which sum up the highlights of his professional career, tracing his trajectory to the preeminent position he enjoys today. The people he has been associated with in various capacities reads like a veritable who's who of movers and shakers. With candour, he also shares the not-so-glorious moments when things did not go as per plan. He talks about the most tragic experience of his life which was the failure of Airborne Surveillance Platform in 1999 which left him feeling utterly bereft. In the chapter Controversial Decisions, he endeavours to set the record straight by giving a detailed account of how events unfolded and what went on behind the scenes.
Power and controversy are no strangers to each other. Many actions taken in the line of duty put him in the line of fire. He explains the reasoning behind some of the Presidential decisions that he took which generated tremendous controversy and still fuel many a heated debate. How the choices which affected a nation affected him, thus answering questions regarding his motivations and intentions. As these decisions such as the dissolution of the Bihar Assembly in 2005, by virtue of their far-reaching consequences have been and will be scrutinised for years to come.
Reform and development of the nation was and is one of his top priorities; and he has a vision of India in 2020 as a developed nation. He clearly outlines his 10 pillars of development, which are fundamental to national advancement. Endeavouring tirelessly to involve a nation in its own growth. As a man of science, his objectives are grounded in research and many of his ideas need to be implemented to improve all-round efficiency. Graciously, he gives credit where it's due from collaborations to team efforts, including all the people who have both actively and inadvertently shaped the future of the nation.
Five years later things may be different but the demands on his time haven't decreased as is evident from the schedule given in the chapter After the Presidency. Shedding the mantle of the President provides him the freedom and latitude to vigorously campaign and marshal support for his vision India 2020 which has now expanded into world view 2030. This octogenarian shows no sign of resting on his enviable laurels or slowing down; he seems to have promises to keep and miles to go before he sleeps.