tete-a-tete
One life, many roles
Nonika Singh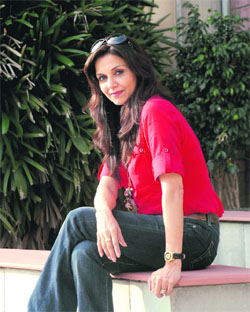 Three-and-a-half-decade-long tryst with the world of creative arts and you would expect actor director Lillete Dubey to look back at her journey with a smug satisfaction. Been there and done it all. However, the lovely lady whose acclaimed plays like Dance Like a Man have clocked over 400 shows feels she is not even half way through.
All set to unveil her new play in October chronicling the life of an actor, she laughs and says "I wonder what demon drives us creative people that we put ourselves in the firing line, to be judged by others time and again." Indeed, she could have rested on her laurels way back when she made her presence felt in movies like Monsoon Wedding and Gaddar. But her theatre training stood in the way. She recalls how she had to decline offers from directors only too eager to make her another Aruna Irani. "The problem with Hindi cinema," she asserts, "is that it is ever ready to put you into a slot and defines an actor by the way he or she looks."
So she is both amused and piqued by the queries of theatre-goers who after viewing her stellar performances in plays like Breathe In Breathe Out quiz: Why don't you do the same work in movies too? To them and all others her repartee is simple, "Where are such roles in films?" She argues Hindi cinema thrives on perpetuating stereotypes and is essentially a male dominated domain.
Of course, today fresh from her stint with 12th Osian's-Cinefan Festival as a jury member, she agrees that Bollywood is changing for the better. She is proud to be a part of movies like Delhi In A Day. While acting in mainstream cinema, including David Dhawan films such as Chashme Badoor, does she find it easy to switch over? She goes down memory lane to the days when acting simultaneously in Monsoon Wedding and Gaddar she had to often snap out of the Gaddar mould. Today, she finds the transition smooth. She considers her association with cinema, even commercial, rejuvenating, Theatre remains her first and last love from where she draws all her energies. After working with Barry John for 15 long years she formed her own theatre group precisely to do the kind of roles and theatre she felt strongly about. But she is no flag bearer who decides one fine day, "Now, I will do a play on dowry or female foeticide." It's the script and not the issue that drives her theatre. So her play 30 Days in September might have brought the hitherto forbidden subject of incest to the fore, it was Mahesh Dattani's writing that had compelled her to stage it.
As over the years her theatre has become an authentic Indian voice of English theatre she is proud to have triggered a snowball effect. Indeed, English theatre has got rid of its elitist tag for she believes. "Today it is talking of issues that concern you and me." Yes even when it takes off from original English classics like the Pulitzer Prize winning play August: Osage County that she brought to Chandigarh recently it connects to Indian audiences. She elucidates, "It talks about universal emotions and urban concerns." A play passes her acid test only when while reading the script she can visualise it on stage. Right now she is excited about making the life of a heroine come alive in her next play.
No, it's not autobiographical nor the story of Zohra Sehgal whose irrepressible spirit has inspired the play. Lillete's own indefatigable attitude stems from her belief, "If you want it strongly enough you can make it happen." As she advocates women must find the individual in themselves, she has realised her self in more ways than one. Yet this "actor at heart" aspires for more. Wearing the director's hat for cinema is one of her wistful wishes.
Best of both worlds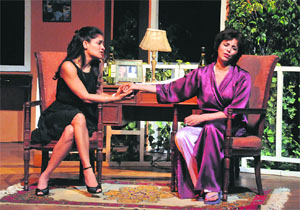 Lilitte Dubey in August:Osage County
Balance is the key to Lillete Dubey's thriving career and happy married life spanning nearly three decades. Mother of two daughters, Lillete says, "One has to make choices and choose one's own balance." Like when she had to decide between attending the Venice Film Festival, where Monsoon Wedding won the Golden Lion, and being with her daughter for the latter's admission in Yale, she let the mother in her win. She adds, "Being a creative person doesn't mean I don't need my emotional anchor." Likewise, her family is very much a part of her theatre life. Her hubby Ravi Dubey and daughters Neha and Ira have acted in her plays. She quips, "Well, we are a nautanki family in the sense that we are discussing creative arts most of the time."