Shefalee Vasudev
Ludhiana Ladies
The DNA of Mercedes is very similar to the DNA of people in Ludhiana
— MD & CEO of Diamler Chrysler
Maharaja Hotel, Ludhiana. 10:30 am
As I entered the hotel lobby, I saw a lady in a scarlet dress and gold stilettos. She was led by an oversized Fendi bag. The diamonds in her ears were sparkling bullets and a series of solitaires glided on her arms as two diamond bangles. Her mahogany hair was prettily blow dried, her nails spoke French, and her make up was flawless. She didn't have the air of a visiting NRI nor did she seem to have walked out of Pankaj Mishra's Butter Chicken in Ludhiana. Before I could place her, I saw another slim built and tall woman, her white Armani shirt tucked into a pair of clinging True Religion jeans and cinched with a Coach belt. Jimmy Choo heels and a Gucci Bag added to her elegance. Her glistening hair was pulled back in a long ponytail. A gorgeous sardarni, she could be from anywhere in the world, I said to myself; except for the giveaway diamonds in her ears and a pair of diamond bangles on her wrists.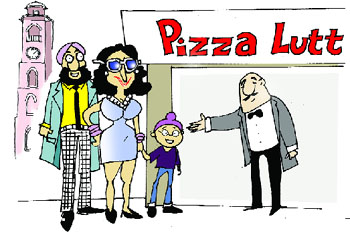 Customers at Radhika Dhawan's First Row, a travelling exhibition of designer wear, these two Ludhianvi women stormed into my notes like gusty hot wind on a summer afternoon in Punjab. They left me speechless, groping for words.
In the next few hours, I saw more international brands in the form of shoes, bags, pins, clips, sunglasses, T-shirts, jeans, belts, watches than I had seen in months. I had seen LV wraps only in magazines before this, but I saw one here. Groups of fashion obsessed women seemed to have walked out of magazine pages into the small banquet hall. Roberto Cavalli tops, Dior bags, Jimmy Choo shoes, Armani dresses, Rock & Republic jeans, Gucci belts, Chanel clutches, Bvlgari sunglasses, Burberry scarves, Vertu phones. Most wore six different labels from head to toe. A majority wore tight fitting designer jeans with the top tucked in and a belt. The rest wore dresses. Watches were mostly Cartier with gold or metallic straps. Infants were wrapped in Burberry blankets and mothers-in-laws came in Monisha Jaising kurtis carrying LV bags.
Everyone wore diamonds on their ears, fingers, arms. A pair of diamond bangles was a constant. As were Swarovski crystals. On T-shirts, cell phone trinkets, shoes and chappals, even on bra straps. One lady wore a sexy, off-shoulder indigo blue Cavalli dress with Swarovski bra straps on display. 'Hello, hello, listen, where did you get these bra straps from?'
I overheard someone asking her.
'Bangkok,' came the reply.
'Do you have an extra pair you can sell me?' said the inquisitive first voice.
'No, but I can get it for you next time. You will also find them in Manish market in Mumbai,' said the lady before striding away on her silver heels, flicking back her hair self-consciously. I looked around. They all looked like clones of each other. Where was Divya Dhanda, I sighed, collapsing on a plastic chair near the payment counter.
I felt miserably out of place. In a white and gold Dhakai sari with a green Sabyasachi blouse, I didn't know if I was over-dressed, under-dressed or what. I felt and looked like a behenji. The ladies were glancing at me too-I was so obviously an odd visitor. Where was Divya Dhanda?
The sale was picking up. 'Tight-fitting dresses sell most,' said Radhika, a girl in her early twenties who started First Row after finishing her fashion education, the last leg of it in London. Now based in Mumbai she runs a fashion portal and also takes previous season's clothes made by Indian designers to small cities and towns to sell them at slashed prices. In most towns she works in partnership with a local socialite, who chips in by drawing up a dashing guest list. The spoils are shared in proportion of the work the two put in.
In Ludhiana, Radhika Dhawan's partner was her namesake:
Radhika Gupta, a 31-year-old mother of two in logo screaming, figure-hugging, Roberto Cavalli jeans with a Cavalli belt, Gucci T-shirt and Coach Shoes.
'Designer' is an infectious word in Ludhiana. In this group, I couldn't spot one person in non-branded clothes. 'Even Mumbai is more conservative when it comes to dressing. So I keep the edgier pieces for Ludhiana,' said Dhawan. Punjab may be the land of the salwar kameez or the 'suit' as it is called here, but designer wear had edged the traditional garment out of wish lists and it now seemed to have second citizen status. The designer boom was also singularly responsible for the kurta being thrown out of favour. It was now the kurti that vowed the older aunties who wore embellished ones with black trousers. Saris attracted a certain clientele but only if they were designer made, in chiffon or crepe, were crystal encrusted, and came with sexy cholis that had plunging necklines. It didn't need a Laila Tyabji to see that the Dastkar society with its consortium of handloom weavers, and craftsmen could never dream of having a Nature Bazaar exhibition in Ludhiana and sell Bhagalpuri silks. This was a different market. As Dhawan pointed out, the fight among the younger crowd was for dresses and gowns.
I noticed a few trays of costume jewellery displayed on a table covered with a white table cloth-cocktail rings, charm bracelets and long, stringy necklaces, but nobody was really interested in buying them. The women picked up the rings like nuts that might taste nice if bitten into, but on second thoughts dropped them back on the trays. These were well to do women dripping with diamonds and faux stuff didn't exactly stoke their desire. They breathlessly asked for big names in Indian labels and Dhawan added that Rohit Bal was the bestselling designer among them. Younger designers whose names had still not been splashed by fashion glossies as must-haves were still to make a debut in the wardrobes of the Ludhiana ladies. Once they were mentioned in magazines or endorsed by Bollywood, their clothes too would start rolling off the hangers, someone explained. 'Hi, where are you from? Are you a designer?' A lady asked me inquisitively.
'Ah, er, no, I am just...'
'Are you from Delhi or Mumbai?'
'I am from...'
'Okay, no problem ji. Listen, can you tell me where I can get the black net and sequins sari with a fuschia border that Katrina Kaif wears in Singh is King? The one she wears when she and Akshay Kumar sing Dil Kho Gaya, Ho Gaya Kisee Ka, that song baba, the one shot around the pyramids in Egypt... "Me? But I have no idea..."
'Oho, the sari that looks like a Manish Malhotra. It is Manish Malhotra? I really want to wear that for my sister-in-law's engagement ceremony,' she went on.
"Don't you think that sari will look better than the usual Armani dress? My friends say I should wear Armani with a beret and a pair of nice, lacy gloves like Sonam Kapoor in Aisha instead of a sari-shaari, but what do you think, what's good for an engagement party? The bride's family is from Mumbai, I want to make a solid impression," she hurried on, barely allowing me to get a word out.
'Yes, no, not sure, can't say,' she went. Right, they chimed. 'See this, see this, I can wear this with the Burberry stole that Biji gave me on Holi,' one young girl said holding up an ochre Shantanu and Nikhil tunic-shirt.
'No, it doesn't suit your skin tone at all, and I think you should buy something more eye-catching if you want to use that dull stole,' said the team leader, diverting her attention to another lady who was holding up a purple dress.
*****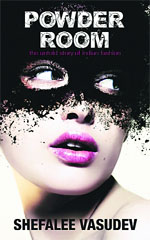 — Excerpted from Powder Room: The untold story of Indian Fashion by Shefalee Vasudev. Random House. Pages 353. Rs 399
The Punjabi culture of 'show-sha' or conspicuous consumption that formerly shone in lavish dowries, the size and splendour of weddings, honeymoon destinations (Switzerland then) or the value of gifts exchanged during the first lohri (Makar Sankranti), the first karva chauth or the first Diwali of a married couple, now plays itself out through luxury labels. Strappy gowns have usurped traditional phulkari suits and Kashmiri kaani shawls. When Divya was a young bride, she says her friends and peers were crazy about salwar kameezes in expensive brocades and silks — Rs 3500 for a metre — accessorized with large diamonds to announce their status. That is pass`E9 now. The attention had completely shifted to luxury brands.
*****
Now a congested but prospering town, with a population of more than thirty-five lakh, it is strewn, like other towns in the country, with star hotels and malls for the rich-night shelters and hospitals for the poor are conspicuous with their absence. The wild spending behaviour of its wealthy class is not just a familiar anecdote for Yves Carcelle, CEO and Chairman of Louis Vuitton, but also for Wilfried Aulbur, managing director and CEO of DiamlerChrysler, makers of Mercedes Benz. 'The DNA of Mercedes is very similar to the DNA of people in Ludhiana!' Albur had told a journalist. Ludhiana reportedly has the highest number of Mercs in India with most of them bought in the last five years. In 2007, it had 550 Mercs with the S Class series that cost Rs 10 million and above, the most in demand.In these circles, fashion is as much about dressing games, as about how much your husband earns, how much pocket money you get, how broadminded your mother-in-law is ('does she allow strapless dresses?'), where your children study (London?), and what their pocket money is. Most adolescents get upto Rs 10,000 per month. Unable to duck the hip wave, Ludhianvi men have turned dandies too and splurge on branded belts, shoes, wallets, ties, and shirts. No wonder, Armani, and Louis Vuitton love Ludhiana.