Canvases re-used

The central theme of an ongoing exhibition of Van Gogh's Studio Practice reveals that the artist regularly made a painting on a canvas he had used before
Nivedita Choudhuri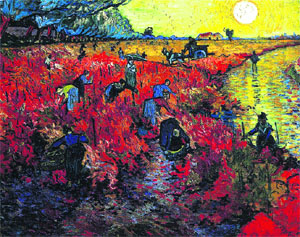 The artist sold The Red Vineyard for 400 Francs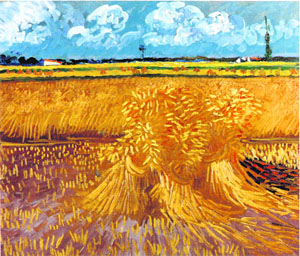 Wheat Field is said to be Van Gogh's final work
From Van Gogh's turbulent emotional life, filled with loneliness and despair, there sprang — in a single, incandescent decade — a profusion of dazzling, vibrant paintings that fulfilled his ambition to create art that might provide consolation for the bereaved, redemption for the desperate. Images that will say something comforting: phosphorescent stars cart-wheeling through a night time sky in the yellow moonlight; a clutch of radiant irises blooming in a lush garden lit by the Mediterranean sun; a flock of crows winging their way across a golden expanse of wheat fields under a stormy sky.
In the 10 years that Vincent van Gogh was active as an artist (1880-1890), he completed a large number of pieces of art, of which more than 860 paintings and almost 1,200 works on paper have been preserved. Most of his works — 201 paintings, 437 drawings and 31 prints — are located in the Van Gogh Museum at Amsterdam.
Research has revealed that the artist regularly made a painting on a canvas he had used before. This is the central theme of an ongoing exhibition — Van Gogh's Studio Practice: Canvases Re-used — at the museum, which is on till September 2012.
When a painting is examined layer by layer, it often transpires that the artist has re-used the canvas or panel. This is hardly surprising since artists' materials such as canvas stretchers, canvas, panel, paint and brushes were expensive, and most artists had to use these sparingly. Some would scrape the canvas or panel clean because they were dissatisfied with the work; others would simply paint over the original or begin with a new painting on the reverse. Thanks to X-ray photographs and pigment analyses, paintings which Van Gogh mentions in his letters but which had been presumed to be lost, can now be traced. A number of hitherto unknown scenes that had been painted over have also been discovered.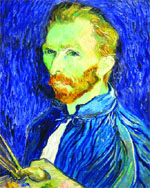 A self portrait by Van Gogh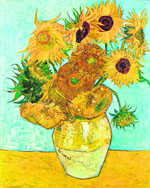 Sunflowers was sold for $39.9 million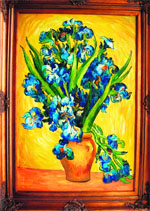 Irises hit the $53.9 million mark
The poverty-stricken Van Gogh started to re-use canvases in 1885 when he was still living in Nuenen, and continued this ritual during his years in Paris (1886-1888). At first, he painted directly over the first composition but gradually went to work differently depending on his ideas for a given painting. Sometimes, he used the relief or the colours of the first image in the new painting but if he wanted to make a thinly painted work requiring a smooth and even surface, he would thoroughly scrape off the first depiction. In some instances, he is also known to have covered the first scene with an opaque layer: a light one for a bright and transparently painted view of Paris, and a dark one for a subdued forest scene.
The exhibition examines these various working methods on the basis of paintings such as View from Theo's Apartment and Basket of Pansies. When re-using certain canvases, Van Gogh applied a particular kind of covering layer that caused the condition of the painted scene on it to deteriorate over the years. The painting Baskets of Potatoes was also executed on a canvas, which the artist had previously used.
The investigation into Van Gogh's re-use of canvases is part of a large project involving a multi-disciplinary team (comprising staff of the Van Gogh Museum and the Netherlands Cultural Heritage Agency) which is examining every imaginable facet of Van Gogh's artistic process and comparing it with that of his contemporaries. The aim is to gain greater insight into Van Gogh's working method and place it in the context of his time.
These discoveries have been made possible because of a revolutionary technique that scientists are applying to reveal spectacular images. Using circular particle accelerators, hundreds of metres across, they fire X-rays 10,000 times more powerful than any hospital scan at the priceless paintings. This has enabled hundreds of masterpieces of not only Van Gogh but other maestros such as Rembrandt van Rijn and Pablo Picasso to be unearthed beneath later works.
Earlier scanning techniques could identify the images that had been painted over, but they were unable to reveal their full glory. The new technique can reveal the image in colour.
The Van Gogh Museum opened in 1973. The collection originally belonged to Vincent's younger brother, Theo van Gogh (1857-1891). The artist had a troubled existence but the one sustaining bond in his life was with Theo, an art dealer, who provided emotional, creative and financial support. The brothers had an intense relationship over the years that ended with Vincent's death in July 1890.
Following Theo's death six months later, the collection passed into the hands of his widow, Johanna van Gogh-Bonger (1862-1925). She sold some work, but retained a representative for Van Gogh's oeuvre. On her death, the artworks passed on to her son, Vincent Willem van Gogh (1890-1978), who loaned these to the museum when it was founded.
Price check
The Fields (Wheat Fields), which was completed on July 10, 1890, just 19 days before Van Gogh died, is believed to be the artist's final piece of work. It hung in his room as he bled to death in his bed, where he had staggered after shooting himself in a field.
The Fields was unveiled at Sotheby's in London in 2007. It had a price tag of `A315 million but it was left on the shelf as the art boom went bust because of the recession.
During the art market boom of the late 1980s and early 1990s, three of Van Gogh's works succeeded each other as the most expensive paintings ever sold: Sunflowers for $39.9 million, Irises for $53.9 million, and Portrait of Dr Gachet for $82.5 million.
Unfortunately, Van Gogh never attained fame during his lifetime and he struggled to make a living as an artist. He sold only one painting during his lifetime — The Red Vineyard. This painting sold in Brussels for 400 Francs a few months before his death.