Odd pairs that set the screen afire
Shoma A. Chatterji
Indian films are famous for creating famous boxoffice pairs that create screen chemistry that sustains through time and boxoffice hits. The first romantic pair that surfaces in terms of eternal romance is the Raj Kapoor-Nargis pairing that began with Barsaat and went on for many films till they went their separate ways to establish their screen personas differently.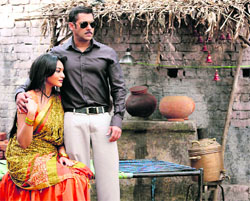 Salman with Sonakshi in Dabangg. She was just two years old when Salman made his debut
In cinema, nothing can be constant, and very often, odd pairings have worked wonders and sometimes, they have not. Ashok Kumar paired up with Madhubala in many films. But he did not have a fixed heroine. He began his career with the legendary Devika Rani, went on to act with Mumtaz Shanti, Leela Chitnis, Madhubala, Meena Kumari, Nargis, Nutan, without depending on any single actress to create screen chemistry. Dev Anand had different heroines too but his major heroines were Geeta Bali in the early stage of his career and Waheeda Rehman in the latter stage. Yet, he produced a boxoffice hit opposite Vyjayantimala in Jewel Thief and opposite Sadhana and Nanda in Hum Dono.
Many famous actors have defied every concept of pairing up with the same leading lady. Among these, the first name that comes to mind is the late Rajesh Khanna, who produced hits with Sharmila Tagore, Asha Parekh, Nanda, Tanuja, Tina Munim, Mumtaz, Hema Malini and Zeenat Aman. Madhuri Dixit and Vidya Balan will split the cake to share it between themselves because their star image has never been attached to a single hero to produce either a good film, or a hit film or both. Madhuri Dixit has acted opposite Sanjay Dutt, Anil Kapoor, Jackie Shroff, Shah Rukh Khan, Aamir Khan, Salman Khan, Akshay Kumar, Ajay Devgn, Mithun Chakraborty, Raj Babbar, Rishi Kapoor, Vinod Khanna, his son Akshay Khanna, Ayub Khan and Sanjay Kapoor. Whew!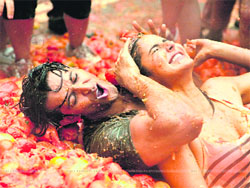 Hrithik & Katrina in Zindagi Na Milegi Dobara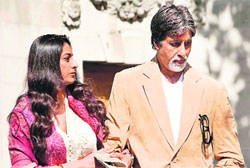 Amitabh and Tabu in Cheeni Kum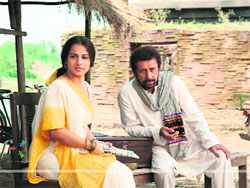 Vidya and Naseeruddin in Ishqiya
It will be interesting to probe into odd pairings that have been boxoffice hits. One of the biggest boxoffice hits with the oddest pair among them all has been the Aamir Khan-Kareena Kapoor pairing in 3 Idiots. The two outstandingly talented actors met each other scene for scene, frame by frame and though Aamir Khan dominated screen space, Kareena came out in flying colours too.
Zoya Akhtar's Zindagi Na Milegi Dobara, one of the biggest hits of 2011 which has bagged awards right, left and centre, threw up one of the most unconventional star pairings where Katrina Kaif and Hrithik Roshan set the screen on fire with their electric chemistry without any sexual innuendo.
Aamir Khan generally shies away from fixed heroines, even if his films hit the boxofficer coffers with heroines like Madhuri Dixit, Juhi Chawla and so on. His Fanaa that paired him with Kajol for the first time was a boxoffice hit. But he did not act opposite her ever again. Yet, Ghajini opposite Asin was also a hit while Shah Rukh produced a hit with Anushka in Rab Ne Bana Di Jodi and another one with Deepika Padukone in Om Shanti Om.
Salman Khan, too, can ensure a big hit with any heroine. If it was Madhuri Dixit in Hum Aapke Hain Kaun, it was Aishwarya Rai in Hum Dil De Chuke Sanam, Kajol in Pyar To Hona Hi Tha, Bhoomika Chawla in Tere Naam, till he cast himself opposite the very young Sonakshi Sinha in Dabangg, who was two years old when Salman made his debut in Biwi Ho To Aisi.
But the top prize goes to Vidya Balan, who has defied any kind of boxoffice screen pairing with a single, definite hero. Her extremely odd pairing with Shiney Ahuja in Bhool Bhulaiya was a pleasant surprise because Akshay Kumar did not have a love angle, and yet the film, dealing in magic, ghosts and possession, did well. In Parineeta, she was cast opposite Saif Ali Khan, which was not ideal by any standards but the commercial success of the film spelt out a different story. However, Kismet Connection with Shahid Kapoor did not go down well with the audience. She continued unabated opposite Naseeruddin Shah and Arshad Warsi in Ishqiya, one of the oddest (triangular) pairings in the recent times and went ahead minus a hero in No One Killed Jessica and in her latest release Kahani while in The Dirty Picture, she had the oddest pairings with Naseeruddin Shah and Emran Hashmi respectively.
Among her male colleagues, Ranvir Kapoor stands tall. It is really difficult to discover a fixed 'formula' for a definite pair. Amitabh Bachchan began his hit pairing first with his wife-to-be Jaya Bhaduri in films like Zanjeer and Abhimaan. He graduated to similar hits with Rekha. His initial pairing with Jaya in films like Ek Nazar bit the dust. His strikingly different pairing with Smita Patil in Shakti created waves of suggestive erotica in a song sequence and the rain song in Namak Halaal followed suit. But they never came together again. In his mellow years, he brought about one of the biggest boxoffice hit in the recent times with his strikingly unusual onscreen romance with Tabu in Cheeni Kum directed by Balki. He also did a romantic role opposite Jiah Khan, who is younger than his two kids, in Nishabd but the film did not do well and was torn to shreds by critics and fans alike. As a character actor, his pairing with Hema Malini has brought about a very big boxoffice hit in Baghbaan.