ULTAPULTA
The mobile revolution
Jaspal Bhatti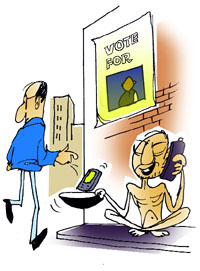 Har haath mein phone — that could very well be the slogan of the UPA for the next general election. It is a well thought out sop by UPA managers. If one hand of a person is busy with the cellphone then with the other hand he/she can cast his/her vote. If everyone has a mobile phone, the government could SMS its development points to all citizens.
We should not always doubt the government's intentions. It really wants every poor man below the poverty line to have a mobile phone. You see, the morale of the people is very low, as India has won only a few Olympic medals. The government wants more and more people taking up games and sports. Now, at least people will be able to play games on their cellphones.
If every person has a cellphone who is going to get the maximum benefit? One category could be reality shows on television in which they invite public opinion. The other could be Kejriwal and his political party while still more could be those whose movement is totally counting on sending SMSes to the aam aadmi.
Beggars are not going to gain much out of this scheme. I asked a beggar if he wants a basic model of the phone that the government wants to give away to the poor. He said, "We already have basic phones. We will request the UPA to give us iPhones or iPads instead."