9-year-old golf prodigy
Vasundhara gets 18th rank in US Kids Championship
Tribune News Service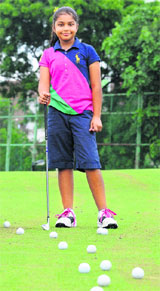 Vasundhara Thiara
Chandigarh, August 24
Vasundhara, a 9-year-old girl from the city has recently returned after playing in the U.S. Kids World Championship 2012 held at Long Leaf Golf and Country Resort in Pinehurst North Carolina, USA. The championship was held from August 1 to 4.
Top golfers from over 50 countries took part in the championship. She competed with the best 80 golfers in the world in her category.
She shot a total of 121. At 13 over par over the three days she played +3, +4 and +6, respectively. Till day two, Vasundhara was playing for the top 10. But her game dropped on the last day due to poor health. At tied 18th the difference between her and the girls ahead of her was only that of a few strokes.
At the World Championship, Vasundhara did exactly what she had to do, plotting her way around the Long Leaf course, intelligently playing the dangerous Par-4.
By virtue of being in the top 20, Vasundhara has received a Green status, which automatically qualifies her to play the European Championship and the 2013 World Championship and a number of tournaments (as per sheet attached).
Now ranked No. 18 in the world, her victories in the past 20 months have been nothing short of exemplary.
This sort of progression would put a bounce in just about any golfer's step, especially one who is so young. Though she remains essentially unaffected by the trappings of success, yet Vasundhara is nonetheless brimming with the kind of confidence that breeds more of it.
None of this has come as a surprise to her coach, Jesse Grewal. He said she was striking the ball well, her short game is going great and her confidence is the key.
Talking about how she intends to focus only on the IGU tournaments and the European Championship in Scotland next summer Vasundhara says, "I think there is a lot more for me to do in the game to reach at the top but no doubt, I feel my game is getting ready for that."
She has already bore the heavy yoke of expectation amongst all of us. Her sports psychologist Irina Singh says, "She has to keep preparing well and keep doing what she is doing at the moment and hopefully put herself in the right situation at the right time."