CENTRESPREAD
mobile magic
Science fiction is suddenly turning into reality. The mobile phone has metamorphosed into a hydra-headed gizmo that comes in various forms and has many accessories
Mukesh Khosla
THE future has arrived. The device in your hand is no longer just a mobile phone. And not even just a fashion accessory. It is also a camera, a video recorder, a remote control, a television, an FM radio, a gaming console, a bottle opener, a chef, a computer on which you can browse the web and send and receive e-mails, a voice activated assistant, an e-reader, a weatherman, a navigator that will safely take you to your destination, and even a heart and blood pressure monitor.
To call it just a mobile phone will be doing it injustice. For long, transforming the mobile phone into a magical gizmo has been the dream of most science fiction writers, sci-fi films and TV series. But not any longer. Over the past few years, engineers and designers working from futuristic design centre have been busy creating what they envision as a device which will not just run your entire house but your entire life as well.
Wearable mobile
With the advancement in technology, the all-purpose mobiles in near future are predicted to become an indispensable tool on which will hinge your very existence. According to researchers, the age is soon coming upon us when mobile phones will become wearable and be as much a part of us as our clothes today.
Mobiles could be worn round the neck like a tie, others strapped round the waist like a belt, some slung from the shoulders, others adorning the arms and legs. But these wearable mobile phones would be far from just adornments. These would make work easier and a user would no longer have the need to carry heavy laptops and notebooks.
With everything on our fingertips, would we really need fingertips to operate them? Perhaps not. We would no longer be required to hold them while operating all the apps associated with them.
Memos could, then, be dictated while travelling, or simply utilising the time while having a cup of coffee. Computations could be done while relaxing at home with a drink, or even on the golf course.
Boost to healthcare
But there would be more serious use of such personal mobile phones. These would greatly enhance the quality of medical services with the doctor always being just the press of button away. He may be sitting miles away, but all he has to do is to get the data of a patient via the handset, and then, communicate back his remedy, all through these wonder communication devices.
Research is going on to develop a mobile phone that would be specific to the needs of a doctor. Specific, because it would incorporate a body sensor for immediate response, a video camera to transmit pictures of a patient, and also a medical encyclopaedia for quick reference.
In a decade from now, mobile phones would be so advanced that they would instantly recognise sounds and handwriting over long distances. These sophisticated devices would also incorporate a host of other features which were far in the domain of science fiction and wild imagination.
Wonder gizmos
Time was when the handset weighed and looked like a brick. Weighing no more than a few grams each, the wonder gizmos of the future could be made from myriad type of materials — steel, plastic, glass, and even paper — and come in various shapes and colours — perhaps to match the clothing of the wearer.
Researchers are also close to developing a handset that would be very handy for those working in large department stores. Strapped to a salesperson's belt, these would transmit data at the flick of a button on inventory, prices of items, sales figures and reading of bar codes.
Science is fast reaching a point of creating mobile phones that would revolutionise the world around us. Whether working in an office or travelling or vacationing, people would no longer need to carry a laptop along. With a touchscreen smartphone, they would have the world in their pocket.
He may have revolutionised the world by inventing the telephone but Alexander Graham Bell could never have imagined in his wildest dream, the way it will metamorphose into a hydra-headed gizmo. If you feel that the new handset designs are mind-boggling, take a look at some of the concept phones, which can become a reality in near future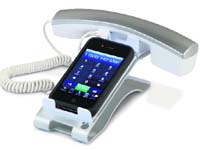 LANDLINE OR MOBILE
The mobile phone has virtually rung the deathknell for the landline. But those who miss the old phone's retro charm can pick up the FD130 that transforms any Android mobile phone into a desktop. With the handset in one hand, your other hand is free to navigate the mobile phone's applications like e-mail and the internet. The headset plugs into the mobile's headphone jack, and lo and behold, you have the good old landline sitting on your desktop…well nearly.
Price: $60 (Rs 3,300)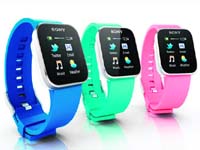 SONY MOBILE WATCH
It's an intelligent watch that tells more than just time. The Sony Smart Watch has the ability to connect to a nearby Android mobile phone via bluetooth, through a free app downloadable from Google Play. Once it has done that, then its OLED touchscreen lets you read SMSs, emails, calendar reminders as well as social networking updates from Twitter and Facebook. It supports about 60 other apps, including Google maps, weather and Gmail. It comes with a black silicone wristband, though five additional colours are available to match your style.
Price: Rs 6,300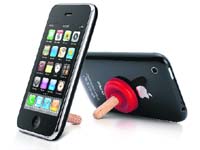 PROP UP YOUR MOBILE
This may be a low tech innovation but a highly effective one for your iPhone or any other mobile handset. Unlike the television set, the mobile phone needs to be held up by hand when viewing a movie or a video. That's where the iPlunge comes in handy. It firmly attaches itself behind the handset and its two-inch stick props up the mobile or iPhone or iPod for comfortable hands-free viewing.
Price: $8 (Rs 440)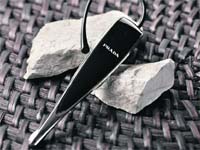 LG-PRADA HEADSET
It's a partnership that is all set to upscale communication products. The tie-up between Prada and LG first resulted in the sleek 3.0 smartphone. Now comes the stylish bluetooth headset HBM-906, which is similar to the phone design. It combines the Italian luxury brand's distinctive style and Korean electronics giant's innovative technology. Featuring the Prada logo, the headset comes in a glossy black finish with metal detailing.
Price: $140 (Rs 7,700)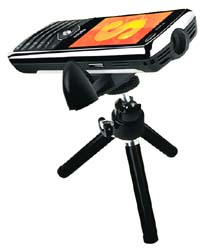 SPICE PROJECTOR
This is not just a mobile phone but a projector in your pocket. Spice Popkorn has a built-in projector, which lets you watch movies, pictures and documents on a large screen or wall. It also has analog TV where you can watch free-to-air TV channels and a wireless FM radio, FM recording and built-in antenna. It can be purchased with a tripod to facilitate projection. But just a word of caution. The projector, TV and FM radio take a toll on its battery life.
Price: Rs 6,000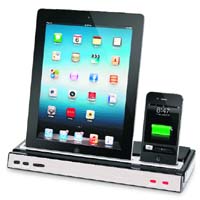 MUSICAL CHARGING SPEAKER DOCK
Mobile charging docks are boring chargers where you dock your handset and forget about it till it is fully charged. However, the charging speaker dock is different. Apart from being a battery charging platform, it also plays music and videos stored in the handset through the unit's dual integrated stereo speakers. So all the while your phone is charging, you can now watch stored movies or listen to music and keep yourself entertained.
Price: $130 (Rs 7,150)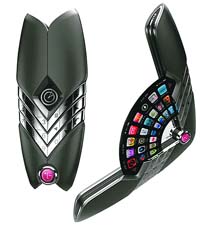 LG Flutter
This one is straight out of a sci-fi film. The LG Flutter concept smartphone opens like a fan and has a flexible OLED touchscreen scrolling display. The ergonomic alternative to the normal rectangular phone, it's an attention-grabbing device that will literally have hearts going aflutter if LG decides to manufacture it.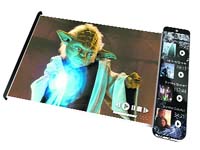 Mobile Script
This phone is being designed to act both as a mobile device and as a pocket laptop. On the face of it, the mobile script looks like any elegant smartphone. But to convert it into a laptop, all you have to do is to pull out the screen from the side of the phone, and, lo and behold, the mobile phone becomes a laptop.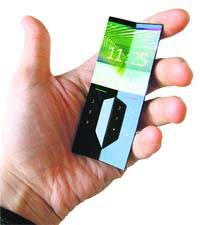 Kambala EarPhone
It's a tiny phone that gets converted into an earpiece. When you press the centrepiece a clip pops out that can be attached to the ear. The Kambala earphone made of multi-layered polymer has a flexi-screen having plenty of sensors, which can transmit images inside of the phone to outside.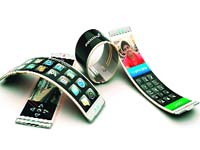 Philips Fluid
This concept phone has an OLED screen which will make it a bendable smartphone. It can be used as a normal mobile or it can be worn round the wrist like a watch. Samsung is another company that is working on the bendable concept and is developing the Samsung Skin that too can take many shapes.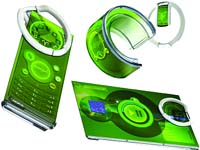 Nokia Morph
Nokia has developed an amazing concept phone that can be bent and moulded into any shape like a watch or a bracelet. The transparent handset will run on a combination of solar power and a tiny battery. This is a self-cleaning and self-preserving phone and its transparent electronics offer a new aesthetic dimension.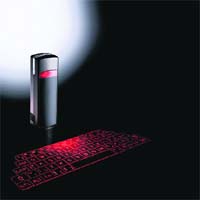 SMART 'TYPE' PHONE
Smartphones and PDAs offer an impressive amount of computing power. But in practical terms, these are not always easy to use. Writing long e-mails can be a pain on the small mobile keyboard. The virtual key board (VKB) can now solve the problem. It uses the latest infrared and laser technology to project a full-size keyboard onto any flat surface. Users can, then, type as they will on a normal keyboard, enabling them to work quickly and effectively, taking the pain and frustration out of minuscule keyboards.
Price: $ 200 (Rs 11,000)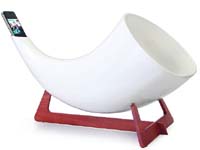 NATURAL AMPLIFIER
Having trouble with the audio of your handset? What you need is an acoustics amplifier. This ceramic amplifier made in Italy produces naturally resonant sounds when you place the mobile in its cradle. Designed in Milan, it is handcrafted entirely of traditional slip-cast ceramic. Replicating the curvature and amplification of a horn, it augments sound from a handset without requiring power or speakers. It even amplifies music from a mobile or an iPod.
Price: $500 (Rs 27,500)